The culture wars of car racing
As Nascar's audience loses interest in the sanitized sport, an ex–Nascar star packs in crowds for dirt racing — the circuit's crude, dangerous, anti-PC challenger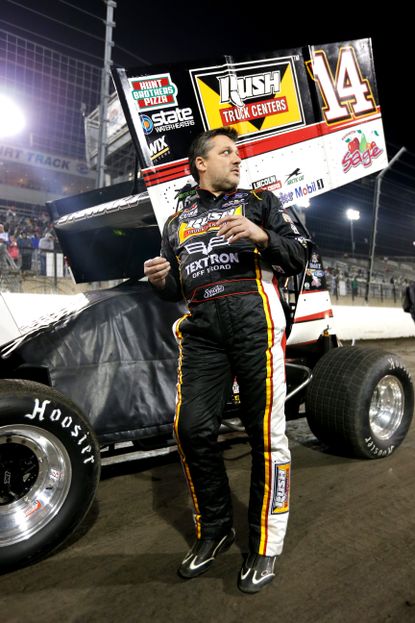 (Image credit: Jonathan Ferrey/Getty Images)
The air was heavy with exhaust and motor oil at Charlotte Motor Speedway in North Carolina as I waited for Tony Stewart to arrive. Charlotte was hosting the 2017 championship weekend for the World of Outlaws, the premier dirt-racing series in the country, and all 60,000 tickets had sold out well in advance. Stewart, the ex–Nascar star, was late — running on "Tony time," a handler told me — so I went for a walk along the dusty pit road to look at the scores of race cars lined up. "You'll probably have to run at some point," I was warned. "And remember: The cars can't turn right." Their larger right-side tires help them around a loop that only bends left, and indeed make it nearly impossible to turn right.
The crowd was young and middle-aged, mostly male and almost entirely white. There were lots of graying goatees and wraparound sunglasses and T-shirts that read "Grabbin gears, drinkin beers, slappin rears" and "God made, Jesus saved, racetrack raised." Until recently, Nascar distanced itself from dirt-track racing. It was a holdover from the sport's Southern past and emblematic of the backwoods image it has spent decades trying to shed. But today, dirt racing is to Nascar a little like mixed martial arts is to boxing, a rough-edged insurgent counterculture that's proud of the pain it deals out.
On dirt, the ovals are short — often a half-mile around, about a quarter the size of most asphalt tracks — which means cars cluster nose to tail, nicking and bumping one another off the road. The track can be the muddy, river-bottom gumbo of the South or the red dust of the Southeast, and it changes with the weather, causing unpredictable slides and skids. It's common to see crashes, fires, or, sometimes, a car flip over the fence into a cornfield.
Subscribe to The Week
Escape your echo chamber. Get the facts behind the news, plus analysis from multiple perspectives.
SUBSCRIBE & SAVE
Sign up for The Week's Free Newsletters
From our morning news briefing to a weekly Good News Newsletter, get the best of The Week delivered directly to your inbox.
From our morning news briefing to a weekly Good News Newsletter, get the best of The Week delivered directly to your inbox.
Stewart finally arrived at the World of Outlaws race around 4:30, looking unusually fashionable in dark fitted jeans and an RVCA T-shirt. Two and a half years ago, he started dating a former Playboy Playmate named Pennelope Jimenez and, he explained as he took a seat on the leather couch in his trailer, "about 80 percent of the clothes that were in my closet got vanished." While he went to change into his black Arctic Cat fire suit, Jimenez lent me a pair of plastic safety glasses and a baseball cap to shield against the spraying dirt. She poured us two paper cups of red wine, and we went to watch from a pair of folding chairs near Turn 2.
The race began at sundown with a prayer for the military and for the safety of drivers and track workers — not an idle concern at a dirt race. Nascar hasn't had a fatality in any of its upper levels since Dale Earnhardt's nationally televised death in 2001, which led it to impose strict safety regulations. But short tracks, which host the dirt races Stewart prefers, are often lethal. Two-thirds of all racing deaths occur on them, with drivers often competing for rewards of $1,000 or less. In 2014, The Charlotte Observer reported that over the previous 25 years, at least 171 people had been killed at dirt tracks.
Nascar's transformation from a Southern pastime to a regulated global business has unleashed a familiar-feeling culture war within its ranks — between the Southerners and the coastal elites, those who came up on dirt tracks and those who came up on pavement. Racing forums today are filled with complaints about how boring it is to watch millionaires turn left and be polite to one another. Television viewership of the Daytona 500, one of Nascar's most important races, is down 45 percent from 2005. The championship cup race in 2017 was the lowest-rated in the series' history.
Many of Nascar's disaffected fans have been flocking to dirt tracks like the one in Charlotte and the one Stewart owns in Ohio, Eldora Speedway. Stewart has become a serious investor in dirt racing. In recent years he has bought two dirt-racing teams, a regional series, a dirt-car manufacturer, and a stake in two other dirt speedways, in Kentucky and Illinois. He drives in about 70 dirt races a year. Where Nascar has lost its emotional resonance with fans, Stewart has handily harnessed it.
Stewart grew up in auto-racing country. Cars in the area were plastered with bumper stickers for Dale Earnhardt and Jeff Gordon; family outings took place at the nearby Indianapolis Motor Speedway, home of the Indy 500. Tony won a national go-kart competition at age 12, soon graduated to sprint cars, and later earned the nickname Smoke because of the way his tires burned rubber on turns.
Tony was a wild teenager, drinking and crashing family cars. At 18, his mom kicked him out of the house, and he took jobs at McDonald's and a concrete-block plant, racing on the side. In 1993, he won second place at a race in Arizona and was awarded $3,500 — far more cash than he saw at his day jobs. In 1994, a Nascar team owner approached Stewart at a dirt race in Ohio and offered him a part-time position in the Busch series (now the Xfinity series) — the second-highest tier in national racing.
Stewart proved himself there, and in 1999 was recruited to race in Nascar's Winston Cup, the top tier of American racing. Stewart and his No. 14 Chevrolet would win three cup races that year, followed by championships in 2002, 2005, and 2011. His talent won him notice, but his hotheaded swagger, a throwback to the sport's rowdier days, made him a superstar.
Still, no matter how much Stewart excelled in Nascar, he could never quite leave his past behind. He refused to stop running dirt races, even after shattering his leg in a 2013 crash that caused him to miss 15 Nascar events. Three years later, he fractured a vertebra in an off-roading accident and missed an additional eight races. "I think if he could've retired 10 years ago from Nascar, he would have," the Nascar driver Kyle Larson says. "He was making a living there so he could play in the dirt."
The sprint cars that Tony Stewart drives are the fastest, most dangerous models in dirt racing. Their 360-cubic-inch iron-block V-8 engines can generate 800 horsepower and speeds of up to 150 mph. With an open cockpit and an uneven pair of rear wheels that sit outside a stripped-down frame, they look like something out of Mad Max.
Because of the staggered wheels, steering is more difficult in sprints. The car's natural inclination is to turn left, which means drivers sometimes have to hit the throttle and pull a hard right just to go straight. Expert car control is even more essential on dirt, where the track changes throughout the night. The groove on the outside or "top" of the track is generally considered the fastest. It's also where, by the end of the race, the dirt tends to get pushed up and hardened into a steep angle known as the "cushion." Hit the cushion too fast, and it could send you into the wall. Instead, to pass a car on the top part of the track, a skilled driver may use a technique known as a "slide job": when a car on the inside track intentionally turns a corner too sharply, causing it to skid to the top with, ideally, enough momentum to slide just in front of the other car.
That's the move Stewart tried on Aug. 9, 2014. That night, Stewart, still a star in Nascar, arrived at the Canandaigua Motorsports Park in upstate New York for a dirt race in the Empire Super Sprints series. Fourteen laps in, Stewart, trying to pass, slid into Kevin Ward Jr.'s car on a turn, edging him off the track. Ward hit a wall and spun around. He climbed out of the car unscathed but angry. He stomped onto the track, pointing toward Stewart's car. The stakes were much higher that night for Ward, who was 20, than they were for Stewart. Ward had dreamed of joining Nascar since he was a boy. But racing Stewart that night would bring Ward as close to Nascar as he would ever get.
The yellow flag flew, signaling that cars should slow down. Drivers passed Ward as he stood there, still pointing at Stewart. Then, just as Stewart reached Ward, he sped up and fishtailed, the right rear wheel hitting Ward and pulling him underneath. Stewart's car dragged Ward for a few seconds before flinging him 50 yards down the track. An ambulance rushed the young man to the hospital, where he was pronounced dead on arrival.
Stewart refused to say anything to me about Ward's death, but he has maintained publicly that he didn't see him until it was too late. The racing community is divided: Stewart's fans call it an accident, while others point to his infamous temper as evidence of malice. Everyone agrees that Ward should not have exited his car on a hot track. To this day, any mention of Stewart on the internet draws comments alternately accusing him of getting away with murder or defending him from character assassination.
The year of Kevin Ward's death was Stewart's worst ever in Nascar. The following season wasn't much better, and in 2016, he quit for good.
I went to see Stewart again in June at his Eldora Speedway, about an hour northwest of Dayton. Stewart is proud of the speedway, which he bought in 2004 and has been gradually renovating since. He gave me a tour, starting with the bathrooms, showing how he had upgraded the men's troughs to urinals. Light sconces now adorned the women's rooms, and he put coat hooks in the stalls. "You go to any dirt track in the country, and they don't have those," he said.
The concessions looked like typical race fare to me — corn dogs, chicken fingers, fries — but Stewart swore that "some of it is better than fast food." Behind the concession area is the grandstand and Stewart's favorite seat in the house. He sat down on a wooden bench looking directly over the start-finish line. "It gives me chills every time," he said. The finish line is also where he tells drivers to go if they want to fight. Often, drivers have it out in the pits, but, Stewart said, "the crowd paid for the show."
Later that night, at the race, Stewart placed badly in the heat, seventh. But around 11:30 p.m., he still had half an hour's worth of autographs to sign. Toward the end, a woman approached him with a little container in her hand. It held her mother's ashes, she told him, and she wanted to spread them on the track. When I asked him about it later, he shrugged. "Happens all the time," he said. Eldora's general manager was standing next to him and nodded: eight or nine times a year, to be exact.
By midnight, all the rigs had hauled out. Jimenez sat in the back seat of the truck, thumbing her phone. Stewart, leaning back in his seat, steered with one hand out toward the parking lot, then stopped. "Want to take a lap around the track?" He drove the truck out onto the dirt, hardened and rutted from the race. He clung to the oval's outer edge, the side of my face just a hair from the wall, and explained how the dirt changes over the course of a race, shifting from the inside to the outside. By the end of the race, the dirt "has no place to go, and it gets that really steep angle. You make a mistake running fast, and you're running into a wall."
When we finished the round, he glanced at the exit, at the black night on the other side of the fence. "Actually, let's make it a few laps." He returned his gaze to the stadium-lit track, emptied of night, emptied of the unknown, hit the gas, and lurched again toward the finish line.
Excerpted from an article that originally appeared in The New York Times Magazine. Reprinted with permission.

Continue reading for free
We hope you're enjoying The Week's refreshingly open-minded journalism.
Subscribed to The Week? Register your account with the same email as your subscription.