Why Cameo is the scariest thing on the internet
This is life in 2019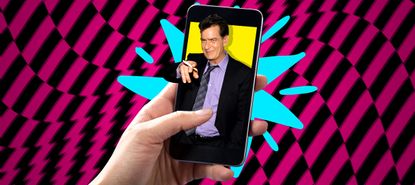 (Image credit: Illustrated | Jason Merritt/Getty Images, AndreyPopov/iStock, StudioM1/iStock, MicrovOne/iStock)
If you want to feel like you're old enough to be, well, the front runner for the Democratic presidential nomination in 2020, go to Cameo.com and see how many of the names you recognize under the "Browse Our Talent" heading.
Cameo is a website created in 2017 by Steven Galanis and Martin Blencowe, a former NFL agent and film producer, where people spend anywhere from $9 to $2500 to have celebrities — I use this word in the broadest possible sense — make shareable content for them. Galanis got the idea after Blencowe asked one of his clients, the defensive back Cassius Marsh, to make a short video for a friend. "The feedback that Martin had got from Brandon was literally like, 'This is the best gift I've ever got.' And it kind of made us think, if you're not that person's agent or you don't know their agent or you don't run into them in real time, it's impossible to get something like that. So at that point we started dreaming up this marketplace," Galanis told the Chicago Tribune last year.
I find a number of things about this statement bizarre, not least Galanis' use of the word "feedback." Is that how a normal person would describe a friend's response to a birthday present?
Subscribe to The Week
Escape your echo chamber. Get the facts behind the news, plus analysis from multiple perspectives.
SUBSCRIBE & SAVE
Sign up for The Week's Free Newsletters
From our morning news briefing to a weekly Good News Newsletter, get the best of The Week delivered directly to your inbox.
From our morning news briefing to a weekly Good News Newsletter, get the best of The Week delivered directly to your inbox.
Most of the "talent" on Cameo are not professional athletes or indeed professionals in any recognized sense of the word. In many cases they are people who have become famous for their Instagram feeds or for their video essays — if that is the right word — on YouTube. (In 2018, one of the most requested videographers was someone called Nick Colletti, who first developed a fan base by recording himself playing music on another website called Vine.) What a world. The only thing that makes less sense to me than paying someone to record a happy birthday video for my wife is why anyone would ask Joana Ceddia, an online "influencer," to do the job.
A fool and his money are easily parted. But there is something more sinister about Cameo than the fact that it allows people to waste money on having D-list celebrities say hello to their friends. In fact, the hustle is the part of it that I mind the least. I for one do not blame Karan Higdon, a tough-sledding Frank Gore-style running back from the University of Michigan who recently signed with the Houston Texans as an undrafted free agent, for seeking to profit from the good will of his many fans. But there is something more than a little sad about the idea of this world-class athlete sitting in a dingy motel room with his shirt off wishing people he has never met a happy Mother's Day for $15 a pop. I would have much rather seen him profit from having his likeness appear in a video game or from the sale of a Wolverines jersey with his name and number on it.
In fourth grade I don't think there was a single boy in school who didn't know that one time my aunt cashed out Barry Sanders at the clothing store in the mall where she worked. She said that he was really nice and that he paid in cash. She also claimed that he politely declined to sign autographs for me and my cousin, though I have always suspected that she actually lacked the nerve to ask him. Most people have stories like this. They were once a universal and more or less innocuous feature of our social life.
I thought of this when I saw that buried among the aging ex-Disney Channel voice actors and '90s-era comedians on Cameo were people like Brett Favre. Why in the world is one of the greatest quarterbacks in NFL history, a Hall of Famer and Super Bowl champion, doing this? I find it hard to believe that he needs the money (at $500 per video, he commands one of the highest rates on the website). Is it that he needs people like us to validate his existence? Are he and Troy Aikman, another Cameo star, no longer recognized at the supermarket? Or is that they, like the rest of us, do not know how to live without the digital version of intimacy that platforms like Cameo provide?
Some of the other names are stranger still. I first learned of Cameo after an acquaintance was sent a video of the infamous Rachel Dolezal wishing him well. For $250, Stormy Daniels will give your friend dating advice full of cringe-inducing double entendres. Who is next? The Octomom? O.J. Simpson?
I could bore you by waxing Heideggerian about all this: how technology is upsetting Mitsein or whatever. This much is true, though: We cannot see the problems technology poses for our society clearly, much less solve them, by ignoring it. I am proud to say that I did not own a smartphone until 2014 and that I have never had a Facebook account, but I live in a society in which every aspect of human relations has been transformed by the internet and social media. Our collective response to these technologies has changed the way we interact with one another in ways that are strange and at times pathetic. Friendships, what used to be thought of as chance encounters, even entire political movements are willed into existence by dark forces over which we have seemingly no control.
Cameo is yet another reminder that our understanding of what it means to be human has changed more rapidly in the last 15 years than it did in the preceding 2000 or so.

Continue reading for free
We hope you're enjoying The Week's refreshingly open-minded journalism.
Subscribed to The Week? Register your account with the same email as your subscription.