Paolo Sorrentino's Loro is the perfect film for our lying times
Fake news comes to the big screen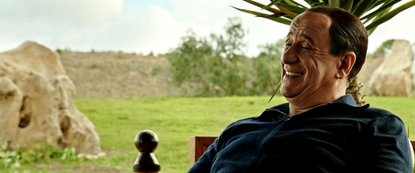 (Image credit: Screenshot/IFC)
The sun is shining over Sardinia, and Silvio Berlusconi is lying to his grandson about Sir Isaac Newton. "Do you know what the great English scientist Isaac Newton said?" he asks with a tone both smug and warmly paternal at the same time. "Appearances only deceive mediocre minds."
Up front, Newton never said this. He did once describe truth as "the offspring of silence and meditation," which is almost the opposite of what Berlusconi claims he said, but of course this matters not a lick to a king among liars. It's baked into his personal ideology: "Truth is the result of our tone of voice and the conviction with which we speak." Thus, if you believe the lies you tell, and if you proclaim those lies lie to others with just the right amount of self-assurance, the lie is made reality. In this case, the reality Berlusconi wishes to write is one in which he has never stepped in poop, the precipitating event of his exchange with his grandson. "Your grandfather has never stepped in poop his whole life," Berlusconi admonishes the boy having just stepped in poop, "and never will."
This is the most innocuous lie Berlusconi tells in Paolo Sorrentino's richly realized and unabashedly filthy new picture, Loro, which finally gets its American release this week after debuting in two parts last year in Italy. But it's also the most instructive lie, the lie that lays bare Berlusconi's molecular-level dishonesty and also his talents for transmuting said dishonesty into fact. He's played, to the surprise of nobody familiar with Sorrentino's work, by Toni Servillo, one of Sorrentino's recurring leading men (a'la The Great Beauty and Il Divo), whose performance is at once a recreation of the Berlusconi people know domestically as well as internationally and a farcical rebuke of everything he stands for. It's satire of highest contempt.
Subscribe to The Week
Escape your echo chamber. Get the facts behind the news, plus analysis from multiple perspectives.
SUBSCRIBE & SAVE
Sign up for The Week's Free Newsletters
From our morning news briefing to a weekly Good News Newsletter, get the best of The Week delivered directly to your inbox.
From our morning news briefing to a weekly Good News Newsletter, get the best of The Week delivered directly to your inbox.
"The film you are about to see was inspired by actual news stories, the public stages of which have been filmed, broadcast, reported, and commented on throughout the media worldwide," reads the foreword that Loro opens on. Here, Sorrentino's covering his bases, confessing to deploying Berlusconi's favorite weapon — fabrication — against him right out the gate. "Any reference to people, other than those depicted in the film as real, is purely coincidental." Berlusconi would admire the brazen display of moxie, assuming he ever gets around to seeing Loro for himself; as he bends truth to suit his agenda and whims, so too does Sorrentino fudge truth for the sake of taking the piss out of both Berlusconi and the corrupt culture he represents, liars all.
Sorrentino starts with a lesser liar, Sergio Morra (Riccardo Scamarcio), a businessman who trafficks young escorts for the purpose of bribing horny politicians; his motivating aspiration is to fall in Berlusconi's orbit and glom onto him like a remora to a shark. Berlusconi himself doesn't even appear until around 45 minutes into the film, and when he does, he's dressed as an odalisque. The audience doesn't even see his face, not at first. When he removes his disguise, he's beaming, a toothy, disarming grin that Sorrentino and Servillo return to throughout Loro's duration. Nothing about this man is genuine, save for his constitutional disingenuousness, his lust for young girls, his desire to rule, and his desperate need to be loved by everyone.
Loro opens in theaters on the heels of a year peppered with movies focused on levers of power and how the people in charge of them tend to spew falsehoods in order to keep their hands on the shaft: Gavin Hood's whistleblower docudrama Official Secrets, the story of Katharine Gun's exposure of illegal U.S. spying operations; Tito and the Birds, Gabriel Bitar, André Catoto, and Gustavo Steinberg's take on political fearmongering in Brazil; and Radu Jude's I Do Not Care If We Go Down In History As Barbarians, a play-within-a-film focused on a reenactment of the 1941 Odessa massacre. In each of these films, people, whether people in office or people governed by people in office, choose lies over truth, comforting themselves with fictions rather than confronting harsh realities of their countries' pasts, presents, and possible futures.
But in Loro, Sorrentino paints the most chilling portrait of how easily lies can subsume truth, best captured by Berlusconi's conversation with his grandson. Berlusconi doesn't flinch. He simply lies. In most scenarios, lying comes as naturally to him as inhaling and exhaling do to the rest of us. In others, it's basic calisthenics. Halfway through Loro, Berlusconi scours the Paginebianche and cold calls a random woman watching television in her kitchen, posing as real estate agent Augusto Pallotta in an attempt at getting her to buy an apartment she neither wants nor needs nor can afford. "I don't only sell apartments," he assures her with an oily hush in his voice, "I sell dreams." Eventually, he succeeds in winning her over.
The lie has ultimate appeal, and Loro knows this well. The apartment is beautiful, but the apartment complex even more so, housing everything — everything! — from tennis, to swimming, to a small amphitheater, to a community center, to a citrus grove, a pizzeria, an ice cream shop, a volcano for birthday parties ("because parties are fundamental," Berlusconi explains, as if there's any rational explanation for building a volcano in a condo complex). Even the price is just right. But that's not the point. The point is the exercise. In fairness to Berlusconi, there's an ancillary point here, too: He wants people to admire him. That's the lie he tells himself — that he's deserving of adoration.
He isn't. Loro never earnestly entertains the thought. Instead it leaves Berlusconi out to dry as he struggles to hang on to his government, stay out of jail, and keep his marriage afloat. "I have a duty to be completely honest with you," his wife, Veronica Lario (Elena Sofia Ricci), admonishes him in her climactic marital standoff with her husband. "You're not good." He reacts to her words like a balloon struck by a pin; he won't admit it aloud, but he knows she's telling the truth. It's in the tone of her voice and the conviction with which she speaks.

Continue reading for free
We hope you're enjoying The Week's refreshingly open-minded journalism.
Subscribed to The Week? Register your account with the same email as your subscription.