Trump got what he deserved
The president abused his power to try to rig the 2020 election. He should be thrown out of office.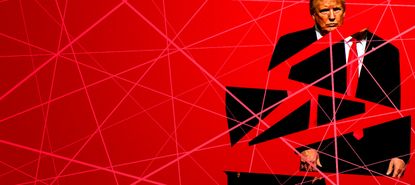 (Image credit: Illustrated | Jeff Swensen/Getty Images)
Donald Trump became the third president in American history to be impeached by the House of Representatives Wednesday evening. He will now be tried by the Senate for abusing his authority as president in attempting to blackmail Ukraine into ginning up a fake investigation into the Biden family and for obstructing Congress in their attempts to investigate the matter.
The Democrats' impeachment case leaves a lot out. But at this point it must be emphasized that Trump is undeniably guilty of gross abuses of power and deserves to be removed from office.
Indeed, you don't need a single piece of testimony from the House impeachment inquiry to see that Trump is guilty. Public statements from his subordinates and Trump himself confirm all the important details. When asked by a reporter about the Ukraine allegations, Trump implied he had withheld the military aid to get an investigation into Biden: "We want to make sure that country is honest ... it's very important to talk about corruption. if you don't talk about corruption, why would you give money to a country that you think is corrupt?"
Subscribe to The Week
Escape your echo chamber. Get the facts behind the news, plus analysis from multiple perspectives.
SUBSCRIBE & SAVE
Sign up for The Week's Free Newsletters
From our morning news briefing to a weekly Good News Newsletter, get the best of The Week delivered directly to your inbox.
From our morning news briefing to a weekly Good News Newsletter, get the best of The Week delivered directly to your inbox.
The memorandum the White House released describing a call between Trump and Ukrainian President Volodymyr Zelensky also contains an obvious blackmail demand. When Zelensky mentioned that "we are almost ready to buy more Javelins from the United States for defense purposes," Trump responded "I would like you to do us a favor though," including the following: "There's a lot of talk about Biden's son, that Biden stopped the prosecution and a lot of people want to find out about that so whatever you can do with the Attorney General would be great."
Administration officials also publicly confirmed the scheme. When pressed by CBS's Chris Cuomo whether he had asked "Ukraine to look into Joe Biden," Rudy Giuliani said, "Of course I did." When a reporter asked acting White House Chief of Staff Mick Mulvaney to confirm the aid was withheld in an attempt to elicit an investigation into the Bidens, he responded, "We do that all the time with foreign policy ... Get over it."
It also bears mentioning that Trump is unquestionably the most personally corrupt president in American history. No previous president has continued to operate a vast business empire while in office, much less spend millions of dollars of public money at his own properties, or collect payments from dozens of foreign countries through them. Both behaviors are flagrant violations of the Constitution. Trump's protestations that his Ukraine actions were based on a genuine interest in "corruption" — the first and only time in his entire life (recall also that in his previous career in real estate, he routinely worked with mobbed-up businesses), and just so happening to involve his top political rival — are utterly preposterous.
Nevertheless, the House investigation also found multiple corroborating pieces of evidence. U.S. Ambassador to Ukraine Bill Taylor testified that "our relationship with Ukraine was being fundamentally undermined ... by the withholding of vital security assistance for domestic political reasons." U.S. Ambassador to the E.U. Gordon Sondland (who was appointed after donating a $1 million to Trump's inaugural committee) testified that he had personally communicated the scheme to Zelensky: "I said that resumption of the U.S. aid would likely not occur until Ukraine provided the public anticorruption statement that we had been discussing for many weeks." Alexander Vindman, a Ukraine specialist for the National Security Council, confirmed that there was "no ambiguity" about what Sondland was asking for — namely, an investigation into the Bidens. Another witness, State Department diplomat David Holmes, testified he overheard a phone call between Sondland and Trump discussing the demands.
Thanks in part to Democratic timidity, we haven't heard sworn testimony from several key players in the Ukraine conspiracy, including Giuliani, Mulvaney, Secretary of State Mike Pompeo, former National Security Adviser John Bolton, and Vice President Pence, because the president forbade them from testifying. Trump himself has also refused to testify. If all this Ukraine stuff was so aboveboard as they all claim, why won't Trump allow them to testify and clear everything up? The answer is obvious.
The Republican-controlled Senate will very likely vote not to convict Trump and remove him from office. But that doesn't change the fact that this is one of the most obvious cases of corruption and abuse of power in all of American history. Unlike Watergate, there is no question whether Trump is personally involved — we have it directly from his own mouth! Indeed, Republican behavior about this scandal is itself telling. Senate Majority Leader Mitch McConnell has promised to work hand-in-glove with Trump during the trial. Conservative media is screaming contradictory nonsense in an attempt to cloud the issue — arguing that the whole inquiry is a farce, that actually it is Democrats who are doing corruption in Ukraine, and actually it's good that Trump did what he did. That is not the behavior of a political party with a clean conscience. It's what happens when an authoritarian movement has to defend the indefensible: a blizzard of shrieking, hysterical propaganda.
Not a single Republican member of the House voted in favor of impeachment Wednesday. They, and every Republican senator who votes to acquit this lawless monster, should have to own that vote for the rest of their lives.
Want more essential commentary and analysis like this delivered straight to your inbox? Sign up for The Week's "Today's best articles" newsletter here.

Continue reading for free
We hope you're enjoying The Week's refreshingly open-minded journalism.
Subscribed to The Week? Register your account with the same email as your subscription.