Let your kids fail. It's good for them.
Try, try again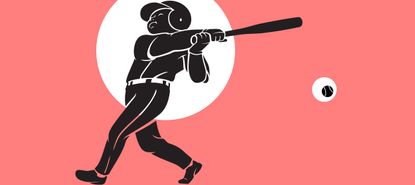 (Image credit: Illustrated | draco77/iStock, oixxo/iStock)
Nobody likes to fail. At best, it's embarrassing and frustrating. At worst, it can cause major career or personal setbacks and lead to a downward spiral into negativity. Basically, failure is no fun. So it's unfortunate that a vast body of research tells us that failing is actually good for us. It provides an opportunity for development, increases resilience, and helps protect against anxiety. Failure, ironically, is crucial to success.
It's hard to change the mindset of a lifetime. But even if we still can't get over the broken marriage or the flunked college entry exam or the work presentation that went horribly, horribly wrong, it might not be too late for our kids.
"We want to protect our children — we don't want them to feel pain or fail, because we want them to live happy and meaningful lives," says Alexandria, Louisiana-based licensed professional counselor Christy Pennison.
Subscribe to The Week
Escape your echo chamber. Get the facts behind the news, plus analysis from multiple perspectives.
SUBSCRIBE & SAVE
Sign up for The Week's Free Newsletters
From our morning news briefing to a weekly Good News Newsletter, get the best of The Week delivered directly to your inbox.
From our morning news briefing to a weekly Good News Newsletter, get the best of The Week delivered directly to your inbox.
And so we teach our kids to avoid failure — a message that's reinforced by society at large and social media in particular. Pennison says she works with an increasing number of kids and teens who display "significant anxiety" around a fear of failure.
"They experience internal (and sometimes external) pressure to not fail," she says. "So when they don't perform to a certain standard, or things don't go according to plan, they are devastated, which can lead to overwhelming emotions or unhealthy behaviors."
If children never experience failure because they're protected from it, when they do fail there's a huge risk they'll perceive failure as a reflection of them as a person, Pennison adds. She argues that failures are often learning opportunities in disguise that can help people develop positive qualities, like persistence, focus, resiliency, flexibility, patience, and positive self-image. In other words, emotional and social know-how they'll draw on their entire lives.
So what can parents do to help their children embrace failure, rather than avoid it at all costs?
First of all, we have to examine our own mindset about failure, Pennison says. (Ok, so maybe it is time to address that long-standing college entry exam ordeal.) She recommends asking questions such as, "How do we respond to failures when they come?" and "In what ways do we talk to our children about our own failures?"
"Helping our children to accept and learn from failure begins with our own reactions," Pennison says. She refers to a family who habitually sat down at dinner time and discussed one "win" for their day and one thing they failed at. After everyone was done sharing, they would high five each other, celebrating the wins and the failures. "This is a great example of how we can help our children view failure as something to be embraced, rather than be afraid of," Pennison says.
Reframing our thinking to view failure as something not just to be tolerated, but as a cause for celebration, is key, agrees Davidson, North Carolina-based therapist Katie Lear.
But it goes beyond redefining failure. It's also about considering how we view — and reward — success. It's common for parents to give their kids rewards for winning. If we truly want to put success and failure on a level playing field, do we need to quit dishing out the dosh for top grades and trophies?
"Small rewards can be a very effective way to help children change their behavior or try a new skill — they can give children the extra push that is needed to feel motivated to try something difficult," Lear says. "But large rewards based on achievement could be demoralizing for a child, especially if the goal isn't realistically attainable for that particular child at that moment."
Lear's concern is that if a child takes away the message that a high score on a test is more important than the effort put into the test, they may feel less motivated in the future to try new things unless they feel confident they can succeed on the first try.
Pennison suggests directing praise towards the effort, not the result. "This allows children to build confidence in themselves despite the outcome," she explains. "Sometimes when we put so much pressure on the outcome, we don't allow children to have the space to fail forward, which can adversely affect their perceived self-worth or self-confidence. Acknowledging the effort it took to at least try gives children permission to try new things without fear of failure." And the bigger picture is that the development of the mindset, "I'd rather try and fail than not try at all," helps them foster a belief in themselves past the outcome, which expands their world of possibilities.
Arguably, sending our kids the right message about failure is one of the trickier aspects of parenting — particularly in the digital age where adolescents are presented with images of "perfection" on every device. Again, bring it back to your own attitude and behavior. Try to develop a healthier relationship with failure yourself, and your kid will take notice.
As Pennison points out, we all fail — how we get up after we fail is what matters.
Want more essential commentary and analysis like this delivered straight to your inbox? Sign up for The Week's "Today's best articles" newsletter here.

Continue reading for free
We hope you're enjoying The Week's refreshingly open-minded journalism.
Subscribed to The Week? Register your account with the same email as your subscription.