Want to vaccinate America? Learn from the DMV.
Why one of the most loathed agencies in the country might actually be key to solving our disastrous vaccine rollout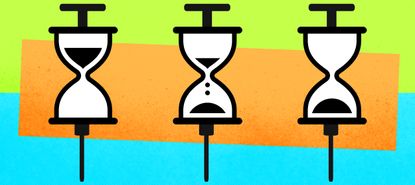 (Image credit: Illustrated | iStock)
Colloquially, about the only thing worse than going to the Department of Motor Vehicles is getting a root canal. Even that, though, may be up for debate: "At the end of the day, a root canal procedure is shorter, and in some cases, less painful," the auto site MotorBiscuit.com quips.
But DMVs and root canals have nothing on the excruciating process of getting an appointment for a COVID-19 vaccine — much less figuring out when you're eligible — in the United States. Conflicting information, dose shortages, and overloaded scheduling websites are holding up what is arguably the most crucial stage yet in our fight against the pandemic. Every delay, mishap, and hiccup means more people will die. But while the DMV long ago became shorthand for bureaucratic red tape, long waits, and government inefficiency, the lessons America can learn about vaccine distribution from the department might, ironically, be our best chance at saving lives.
At the current rate of vaccination, it will take "six, seven, eight years for this country to get vaccinated," Starbucks' CEO Kevin Johnson warned NBC News in an eye-grabbing headline last week. So far, Pfizer and Moderna have delivered a mere 44 million vaccines, while only about 6 percent of the country has received a first dose. Supply issues mean there have been thousands of appointments canceled and postponed from coast to coast. But those people are the lucky ones; at least they briefly had an appointment at all. Questions of eligibility, shifting priority lists, and a lack of clarity over how to schedule an appointment bog down people who are desperate for vaccines — particularly the elderly.
Subscribe to The Week
Escape your echo chamber. Get the facts behind the news, plus analysis from multiple perspectives.
SUBSCRIBE & SAVE
Sign up for The Week's Free Newsletters
From our morning news briefing to a weekly Good News Newsletter, get the best of The Week delivered directly to your inbox.
From our morning news briefing to a weekly Good News Newsletter, get the best of The Week delivered directly to your inbox.
"There were literally 85-year-old, 90-year-old people standing there in tears, with printed appointment confirmations, saying: 'I don't understand why I can't get vaccinated. I'm 85,'" one witness at an especially egregious vaccination site in Philadelphia told WHYY.
Getting a pair of shots into the 200-million-plus arms required to establish herd immunity in the United States was never going to be an easy job, but it didn't have to be this hard. Israel, the global standard-bearer, predicted earlier this month that by March or April, it will have vaccinated everyone who is eligible and willing in the nation of 9 million. Israel's speed doesn't just come from it being a small country; its "socialist-minded" health-care infrastructure, which is already in place and extends coverage to all citizens, is a huge reason for the nation's swift success. The Atlantic recounted one Israeli citizen's experience with getting a vaccine through his health-maintenance organization, or HMO:
Sounds positively blissful. But of course, the United States has nothing close to Israel's universal health-care system — which is bad news when "nations faring well against the virus" are the ones that are "drawing on pre-existing strengths, not flexing muscles suddenly conjured amid the crisis or, say, a change in administrations," The Atlantic continues.
But one existing infrastructure system we do have comes in the form of the Department of Motor Vehicles. In 2018, more than 227.5 million people held valid driver's licenses in the United States — that being roughly the same number of people who need to get vaccinated now to achieve herd immunity. "[T]he DMV database lists virtually every man, woman, and teenager of each state more accurately than the state's own census or tax roles," Wired noted in a 1994 piece on the mind-boggling reach of the agency, adding that "even people who don't drive usually end up getting 'identification' cards, issued by the state DMVs, so they can do simple things like write a check or buy an alcoholic drink."
If you need to organize Americans, the DMV is the place to start.
Most Americans, though, thoroughly despise the department, complaining about everything from its long wait times to its disgruntled employees to the hoop-jumping required for something as simple as renewing a driver's license. Right-wing critics will often cite the department as their "gotcha" that socialism doesn't work. Certainly the DMV has its problems — but that's mostly because it's one of the country's social services that conservatives have gutted to the point of inefficiency. States facing budget crises, for example, will often shutter dozens of DMV locations, exacerbating long wait times at remaining locations and making work harder for the "rude," understaffed employees who have to deal with clients who walk in already irritated. And even though the DMV has a bad reputation, it's far more straightforward than trying to get something sorted out with a massive corporation; as my colleague Ryan Cooper succinctly put it: "Going to the DMV is often a pain, but I'd much rather get my license renewed than try to get Verizon to fix a piece of broken equipment."
Most importantly, the DMV gets the job done. People who want a driver's license can usually get one, paying no more for it than the requisite fee plus potentially a few cranky hours of their time. Though it's the demonized epitome of government bureaucracy, the "take-a-number" approach of the DMV is what is missing from our disastrous rollout of the vaccine so far. Imagine, for example, if there were a department that was able to quickly sort Americans by priority and age, and subsequently assign everyone a number in line, and an estimated wait time for their shot? It would not only alleviate a lot of stress and anxiety, it would prevent line-cutting (the DMV is nothing if not a humbling equalizer!) and give a clear, logical structure to the vaccination process. Not only that, but the majority of Americans already have experience with the department; though there would be the expected grumbling about navigating a similar government system, it sure beats frantically calling your local Publix.
Yes, there is often a lot of waiting at the DMV. But at this rate, the vaccine rollout is going to look like a geological epoch by comparison. In addition to expediting the production of doses, we desperately need a distribution system that is both familiar to most Americans, as well as simple, consistent, and painless.
Or at the very least, easier than a root canal.

Continue reading for free
We hope you're enjoying The Week's refreshingly open-minded journalism.
Subscribed to The Week? Register your account with the same email as your subscription.