The energising allure of Tabayer jewellery
Miami-based founder Nigora Tokhtabayeva discusses her talismanic creations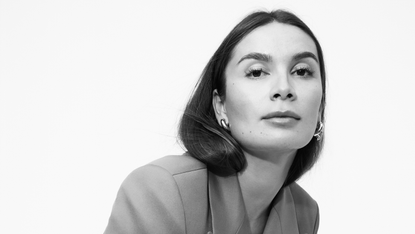 (Image credit: Tokhtabayeva Jewels)
Sign up to our 10 Things You Need to Know Today newsletter
A free daily digest of the biggest news stories of the day - and the best features from our website
Thank you for signing up to TheWeek. You will receive a verification email shortly.
There was a problem. Please refresh the page and try again.
Tabayer is the brainchild of Miami-based/Uzbek founder Nigora Tokhtabayeva, who works with 18ct fairmined gold and ethically sourced diamonds to make smooth sculptural pieces that are imbued with symbolism.
Tabayer's thickly cast Oera pieces are her signature: strong, tubular and sinuous, they hug the skin thanks to a distinctive looping silhouette that creates a compelling contrast between soft feminine curves and robust, almost machine-like heft.
The Oera shape is minimalist but rich in visual references. To the wearer, it may recall the curved sculptures of Barbara Hepworth or Henry Moore, a contemporary slide installation by Carsten Höller or even the gleaming steel triangle that famously graced the cover of Mike Oldfield's 1973 album Tubular Bells.
Subscribe to The Week
Escape your echo chamber. Get the facts behind the news, plus analysis from multiple perspectives.
SUBSCRIBE & SAVE
Sign up for The Week's Free Newsletters
From our morning news briefing to a weekly Good News Newsletter, get the best of The Week delivered directly to your inbox.
From our morning news briefing to a weekly Good News Newsletter, get the best of The Week delivered directly to your inbox.
Indeed, the Oera is reductive design at its best: the solid works with the void to create a visual dynamic, instinctively connecting the mind to high brow associations.
This says a lot about Tokhtabayeva's confidence as a jeweller as she leads her practice with this single, well-defined shape and uses it as a canvas for creativity, embellishing it with pave diamonds, crowning it with statement gemstones and altering its dimensions to suit different jewellery models, some coiled and compact, others more twisted and tangled.
The daughter of an architect father and a fashion designer mother, Tokhtabayeva – who was surrounded by modernist art as a child – says the Oera is also the product of a life-long passion for ancestral jewellery, first brought to her attention thanks to the many cultural influences she was exposed to growing up between Europe and the US.
In particular, her grandmother in Uzbekistan introduced her to the spiritual power of amulets which piqued her interest in historical and mythical talismanic forms associated with strength and self-preservation.
The Oera was born from such an investigation. It is Tabayer's sleek and pared-back interpretation of Inanna's Knot, a Mesopotamian symbol of fertility and protection. Inanna is known as the ancient Sumerian goddess of love, sensuality, beauty and war, which also explains the opposing qualities of Tabayer jewellery, as Tokhtabayeva fuses unfussy elegance with unapologetic edge and attitude.
Here the jewellery entrepreneur talks to TheWeek.co.uk about her most cherished memories and the healing power of wearable sculpture.
What your first and fondest memory of jewellery?
My earliest memories of jewellery are also what inspired me to establish Tabayer and I owe them to my beloved grandmother in Uzbekistan. Her love of jewellery was completely contagious and spending my formative years in her company instilled in me my own obsession and appreciation for the spiritual and protective power of jewellery, specifically amulets.
One piece that comes to mind is a pair of ruby earrings I inherited from her and recently passed onto my eldest daughter who wears them every day. They were special to my grandmother because she inherited them from her grandmother, the wife of a King of Kokand, Azamathan Hudoyarhan III. Fortuitously, ruby represents protection as well as passion, sentiments which have now transcended many generations of my family.
Growing up, did you want to a career in jewellery ?
Jewellery was always a passion of mine and I was lucky enough to be raised by a family that encouraged me to pursue my dreams. As the founder and CEO of Tabayer, I have realised my dream of establishing a brand that is inclusive and responsible.
I work closely with my wonderful design team to research and translate these messages into unique pieces of Jewellery that are crafted from fairmined gold and diamonds that are sourced through one of the industry's most experienced dealers who ensures they comply with the Kimberley Process.
It is of the utmost importance to me that we pursue sustainable practices which comes with challenges but none greater than the desire to have a positive impact on the planet and empower the people who wear Tabayer jewellery.
Have your Uzbek roots influenced your aesthetic?
Yes, greatly. Growing up in Uzbekistan, my grandmother had a profound effect on my aesthetic and future business. One of the oldest usages of jewellery where we are from is wearing jewellery as amulets – symbols of protection – and my grandmother always styled her outfits with jewellery that had meaning. I was in awe of both her and her collection which she was generous enough to allow me to play with!
Moving to the US in my teens, I discovered a different aesthetic. I fell in love with modernist sculpture; the work of the American artist and architect Isamu Noguchi at the Bayfront Park in Miami, where I am based, is one such example. It's the combined inspiration of these two influences that informs the Tabayer philosophy and aesthetic.
Would you call yourself a feminist?
I believe in supporting women and raising my four children – two boys and two girls – the same so that they respect all other human beings equally. Historically, women have had more on their shoulders – from being primary caregivers to maintaining the home and, more recently, working and running their own businesses; the last couple of years have shown us all that in order to not regress as a society, women and women's issues need to be prioritised.
I believe in dreaming big, pursuing your goals and putting in the hard work to do so. This ambition needs to be supported as much as it is celebrated.
Why is female strength the leading symbol in your collections?
Because ultimately it is what allows us to have autonomy and self-determination. In the past, jewellery was often worn by women who didn't have their own agency and independence; my desire is for all women to feel empowered to achieve anything they set their sights and hearts on.
That's why at Tabayer we design jewellery that not only empowers but also protects. We were inspired by Inanna's Knot because it is the Mesopotamian symbol of fertility and protection – a symbol that is universally poignant and relevant especially in this moment in time given that Inanna was a character who had the strength to navigate anything that was thrown at her.
Amalgamated with our contemporary aesthetic, our aim is to empower and convey female strength from the inside out.
Who is the Tabayer woman?
The Tabayer woman isn't just one woman; she is multiple women navigating the complex and embracing the celebratory moments of the different stages of life. I have always been, and continue to be, inspired by my friends and it is they who inspired me to create a new amulet; a symbol of protection that wasn't linked to one specific culture or religion but one that reflected our diverse friendship group.
The result became jewellery that can be worn by anyone. My group of friends are world travellers, people who appreciate fashion, jewellery, design, art and literature in an independent way. They aren't led by trends. Instead, they are attracted to things that speak to their identity and have a positive impact on the planet. Their choices reflect their ethics and they dress for themselves, to make themselves feel good and to satisfy their own mood. Their style is entirely personal and speaks to their hard-working, go-getting and passionate personalities!
Women celebrating other women is central to the Tabayer philosophy and, needless to say, I love meeting our growing community of Tabayer women. I am also delighted to be getting to know the Tabayer man, who is attracted to our brand for all the same reasons.
What is the best advice you've been given?
There are many different answers to this question, but I would say the best and most enduring is, "whatever you do, give it 100%". With this approach, you always know you have done your very best and the rest is up to serendipity to decide.
How did you navigate the pandemic?
Without a doubt, having a great team was key. We faced our challenges both personally and as a professional group of people, but nothing was so difficult that we couldn't overcome it together and of course, there were a lot of Zoom meetings.
The key thing for me was that in the beginning of the pandemic I couldn't be at our factory in Italy all the time and our lead time also became longer. But, on the positive side, the pause and the slower pace gave us the time to work thoroughly to ensure our business is built on strong foundations and it was this that allowed us to be agile and reactive to the changing environment.
Our philosophy of protection and prioritising people and the planet helped us to keep the bigger picture in perspective.
Who would you like to collaborate with?
We are still a young brand, and we are really enjoying exploring what we can achieve and bring to the table from our own studio. When I think of dream collaborators though, it reads much like my dream dinner party guestlist that is comprised of the sculptors our Oera collection is inspired by.
I would love to break bread with Isamu Noguchi and Alexander Archipenko; it would have been a dream to collaborate with these masters of their art.
To see the Tabayer collection, visit tabayer.com
Continue reading for free
We hope you're enjoying The Week's refreshingly open-minded journalism.
Subscribed to The Week? Register your account with the same email as your subscription.
Sign up to our 10 Things You Need to Know Today newsletter
A free daily digest of the biggest news stories of the day - and the best features from our website