Frank Ocean speaks jewellery: 'there are few jewellers who look like me'
In a rare interview, the American charts the rise of his luxury brand Homer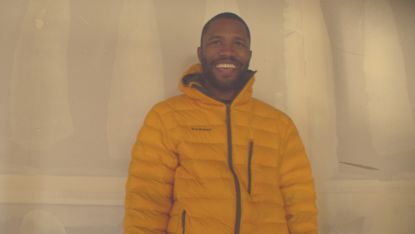 (Image credit: Homer)
"Somehow colours affect the way you feel," said Frank Ocean. On the phone, calling from New York City, Ocean is thinking out loud. He is pondering the meaning of colour, and combinations of colours, in the work he creates. "I surround myself with things that have life, and colour."
Ocean gained recognition with his music first; today, he also produces work that can be seen – as a photographer, for example, or as a model for Milanese fashion house Prada – and tangible things, products. Chiefly among the latter is jewellery (and some accessories) by Homer, the independent American luxury brand Ocean unveiled in August last year.
At Homer, jewellery comes in fantasy hues. On the brand's website, a recently added A-OK pendant is carved by hand from silver before white, blue and green enamel is hand-applied. Next, the geometric gem is dotted with red and pink rubies. It's a striking mix; at once joyous and non-conforming to jewellery traditions. What, in general, inspires his use of colour, I ask.
Subscribe to The Week
Escape your echo chamber. Get the facts behind the news, plus analysis from multiple perspectives.
SUBSCRIBE & SAVE
Sign up for The Week's Free Newsletters
From our morning news briefing to a weekly Good News Newsletter, get the best of The Week delivered directly to your inbox.
From our morning news briefing to a weekly Good News Newsletter, get the best of The Week delivered directly to your inbox.
"The first thing that comes to mind is how I think of green, the colour green," Ocean said. "Green is the stem colour of your typical flower so we use it like a neutral, since every colour of flower that comes out the other end of a green stem compliments green." Ocean, who answers questions slowly and with considered tempo, is quick to add: "That's something I just made up and it's probably not true. But, that's how I see it."
'I like small detailed things'
Ocean was born Christopher Edwin Breaux in Long Beach, California, in 1987; he grew up in New Orleans. In 2006, having dropped out of the University of Louisiana at Lafayette, after being displaced by Hurricane Katrina, Ocean returned to California. In Los Angeles, he found first successes as a songwriter, for among others including John Legend, Brandy and Justin Bieber. Four years later, around 2010 and after having formed a close bond with rapper and producer Tyler, the Creator, he joined Los Angeles-based hip hop collective Odd Future.
He went by Frank Ocean then, a name chosen in reference to Frank Sinatra and 1960 heist movie Ocean's 11. In 2011, Ocean released his debut solo mixtape Nostalgia, Ultra, followed by his debut studio album Channel Orange in 2012. His last studio album Blond was an independent, self-released success, unveiled one day after the launch of visual album Endless. Since then, Ocean has self-released a number of singles – among them, a 2018 cover of Moon River, famous for its scoring of 1961 movie Breakfast at Tiffany's. And he has widened his remit, to include photography and publishing. This has included Boys Don't Cry, a 2016 magazine with contributions by photographers and artists, including Tyrone Lebon, Harley Weir, Tom Sachs and Wolfgang Tilmans.
Ocean had been wearing jewellery for a while himself – a single diamond stud, a small hoop earring or a floral-motif bead bracelet all come to mind – the making of jewellery he delved into deeply about three and a half years before presenting Homer. He launched the brand in the summer of 2021 with a debut collection of more than 25 designs encompassing both entry-level fine jewellery – a line of silver Plus pendants hand-enamelled in hues such as the cherry-like Coco Cola or sky Bubble Blue comes in at $435 – and marquee pieces. Of technically complex construction, a Homer Jaxstones bracelet is cast from yellow gold, detailed with brilliant-cut lab-grown diamonds and prized at just shy of $50,000. And there is high jewellery too: the Homer Sphere Leg necklace in white gold is dusted with a total of 9,226 diamonds. Homer's debut was considered, and ambitious in its completeness.
"It's funny because one of the things that was important for me especially with this kind of project was to counteract what I feel is popular today, that is being everywhere and everything for everyone all at once," he said. "Not the movie but yeah, this type of multiverse multi-discipline multi-task artist… we did not end up counteracting it totally, as our heads still do spin and we're interested in so much. But for now, we make diamonds, and no telling what next. Twenty years of my life was about song-writing and recording music. I'd been in the studio since I was 12-and-a-half years old. My assumption was that some of what I developed in one field of art and business would be useful in the next field, but I still wanted to know more about exactly what I was doing before I did it."
Learning and experimenting freely was a process he found pleasurable. There were similarities to what he had been doing for many years. "I like small detailed things – at the level of a bail engraving or a bracelet closure," he said.
From seeds to finished stones
It was keys – and locks – that segued Ocean's foray into jewellery. In 2019 and in Los Angeles, Ocean and 20 friends – all craftspeople or specialists in fields such as botany – temporarily moved into an empty house, devoid of furniture, wiring or heating. "The Summit project brought together people from various trades into this shell of an old ranch house," he explained. "The goal was to make it a place we could work in. There were steel and wood workers, industrial engineers, architects, ceramicists, graphic designers, painters, even a horticulturist running around and it became our first shop and design studio. We wired the lights ourselves, built our tables, built our chairs, installed our own toilets, our own doors, got the fireplace going. One of the designers, Charlie, wrote out standard operating procedures for the workshop that read like a manifesto. It was strange but we worked there for months and when it was time to leave and go back to New York I definitely missed it, I think a lot of us did."
Those doors eventually the group fitted with locks. "It was one of the smaller objects that we made and we were experimenting with a soft resin as the casing on a steel lock," he said. "The contradiction of those materials I remember being struck by. We kept going smaller and smaller from there. Small, detailed things made out of tough materials."
Today, Homer jewellery is designed in Manhattan and realised by expert workshops in Italy. Gold and recycled silver count among the brand's materials, as do lab-grown diamonds, which are finished by its proprietary factory in the United States. Here, natural diamond seeds become finished stones in a process that takes about four weeks per gem.
"This was an easy decision," Ocean said of choosing to work with lab-grown, as opposed to mined diamonds. "There are few jewellers who look like me. There are few black jewellers in the space of fine jewellery, black family-owned jewellers. More than it being a point of difference it also would not have felt in step with the times to extract diamonds from the Earth and to include mined diamonds in our supply chain. Of course, the value of what we make is not entirely based on the materials we use, no more than this cell phone's value is captured from adding up the cost of silicone and cobalt and glass etc. But man-made diamonds are in fact identical to mined diamonds, they are the same arrangement of carbon. Light moves through them at half speed, same as a mined diamond and our standards for clarity and colour are equal to the best in our business except we don't have to clear forests and send people into the earth to find ours."
Then, there are pieces enamelled by hand or finessed with nano ceramic coating, as seen in Homer's When a Dog Comes to Stay collection. Introduced a couple of months ago, the collection is centred on a four-legged mascot, shaping pendants, rings and bracelets in vibrant tones. A corresponding H-Bone high jewellery necklace in white gold sparkles with a total of 14,904 diamonds of varying cuts.
'In store, you understand the scale'
In New York City, Homer jewellery can be seen, touched and purchased in lower Manhattan. When the brand first made its debut, it did so with an 84-page catalogue featuring photography by Ocean and Tyrone Lebone. At the same time, a Homer shop opened in the New York Jewelers Exchange at 70-74 Bowery, a five-storey building with retail spaces on the ground floor. Here, Homer's neighbours include traditional watch and jewellery repair workshops and specialised retailers. "In store, you understand the scale, the weight," Ocean said of his business' strategy. "We've noticed people coming into the store knowing exactly what they want from seeing it online but they come to see it in person anyway."
Now in store and available via the Homer website: a new poster book – XXXL: When A Dog Comes To Stay – and new additions to the Sphere collection. A handful of signet rings stand out, rendered in bright tones of canary yellow, cadmium red or the two-tone cody green. But what pieces of jewellery is Ocean wearing himself, today? "Today, I'm wearing a uroboros ring, the snake eating itself, a symbol of infinity. It's silver and gold," he said. "I have a nano ceramic bracelet in my hand while we're talking but I'm looking at it, not wearing it. It's gradients of greens, lime to more of a Kelly green, white gold with some white diamonds on the connections. And – I actually have on three yellow diamonds today, in my ears."

Continue reading for free
We hope you're enjoying The Week's refreshingly open-minded journalism.
Subscribed to The Week? Register your account with the same email as your subscription.