Secrets unveiled: the legend of the Royal Oak watch
As Audemars Piguet's iconic timepiece turns 50, an archivist explains its enduring appeal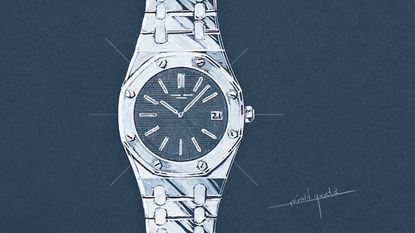 (Image credit: Audemars Piguet )
Aside from musical fame, what do Jay-Z, Justin Bieber, John Mayer and Stormzy have in common? The answer is a shared love of the Royal Oak timepiece which celebrates its 50th anniversary this year. With more than 500 iterations to date, this sporty favourite, which is noted for its octagonal case punctuated by eight hexagonal screws and named after a trio of British warships, was introduced by Swiss watch manufacturer Audemars Piguet with a view to changing the course of horological history.
It did so with verve and imagination – in fact, such is the ongoing interest in this model, that it now has a dedicated section on the brand's website called AP Chronicles, an expansive online encyclopaedia more than 100 chapters long that required the input of ten people, including historians, archivists, watchmakers and specialist collectors.
To say that people are passionate about this watch is an understatement. It is without a doubt one of the most enduringly sought-after objects in the history of luxury design. And yet, it started out as a bit of a wild card. Designed in 1970 by late watchmaker Gérald Genta (who later conceived Patek Philippe's equally iconic Nautilus model among other chart toppers), the original 5402 model was conceived as a disrupter, one that would shake up a flagging market. The quartz crisis had almost brought the whole industry to its knees, and the only mechanical or automatic watches deemed worthy of a higher price tag were cast in gold. It was an incredibly bold and audacious move by Audemars Piguet to champion a prestige watch hewn from steel at a time when steel tool watches were increasingly powered by battery.
Subscribe to The Week
Escape your echo chamber. Get the facts behind the news, plus analysis from multiple perspectives.
SUBSCRIBE & SAVE
Sign up for The Week's Free Newsletters
From our morning news briefing to a weekly Good News Newsletter, get the best of The Week delivered directly to your inbox.
From our morning news briefing to a weekly Good News Newsletter, get the best of The Week delivered directly to your inbox.
The gamble paid off, albeit gradually and over the course of a decade. In fact, it was not until the early 1980s that the model – industrial-looking yet elegant, sporty yet smart – was truly considered as the driving force behind a paradigm shift in the field of watch design. Dubbed the "Jumbo" on account of its 39mm case, which was considered oversized for the time, the Royal Oak 5402 was noted for its two-part monocoque case, integrated bracelet, ultra-thin mechanism and criss-cross "tapisserie" dial. Since its inception, there have been all manner of dial colours and sizes for both men and women, with versions released in gold, platinum, brush gold, steel and gold or set with diamonds.
To celebrate the golden jubilee, the watchmaker has released an array of anniversary models including four versions directly inspired by the original Jumbo 39mm style. These models come in stainless steel, platinum, as well as 18-carat pink and yellow gold, and each one is fitted with a dedicated Royal Oak "50 years" oscillating weight matched to the hue of the case. Most noteworthy is what is hidden from view: for the first time in five decades, the Royal Oak Jumbo is powered by a new ultra-thin calibre known as ref. 16202, which ramps up the power reserve from 40 hours to 55 hours. In all, there will be 72 anniversary releases throughout the year, comprising open worked models, chronographs, diamond set pieces and skeletonised flying tourbillon masterworks.
'Royal Oak opened the door to countless interpretations'
To dig deeper into the roots of this cult classic, The Week spoke to Sebastian Vivas, heritage and museum director at Audemars Piguet, who explains the mythology of this very special design.
Is it true that Gérald Genta sketched the Royal Oak in a single evening?
When we started to study the Royal Oak origins, we gathered all the available sources including first-hand archives, orders, registers, publications, testimonies and interviews. Gérald Genta's personal testimony provided the backbone of the article dedicated to the 5402 model genesis, published in AP Chronicles. All sources of information have been carefully studied to establish the facts. Your readers will discover in this small online encyclopaedia that reality is always more surprising, complex and nuanced than expected. To answer your question, all sources converge to confirm that the watch was designed overnight – simply because that was Genta's usual way. We have good reason to believe Genta, when he tells us that a diving scaphander inspired the visible screws on the bezel. But contrary to popular belief, the octagonal shape of the design was not inspired by the portholes of the Royal Oak warships, because the watch shape predates the watch name by more than a year and a half.
Why is it called Royal Oak?
From the first drawing in April 1970 to mid-1971, the watch was often named "Safari" internally, and sometimes "Excalibur". Genta advocated for a name inspired by the world of diving. On 3 September 1971, a meeting was organised to find a perfect name, evoking sport, wide open spaces or virility. Among the suggestions, we find "Grand Prix", "Surfrider", "Kilimandjaro" or "Oxford" – nothing particularly convincing. All witnesses of the time agree that it was the Italian agent Carlo de Marchi who came up with the name "Royal Oak". It was brilliant. Royal Oak opened the door to countless interpretations, including naval battles, conquest at sea, noble armour and saving trees. It recalls the story of Charles II, King of England, who owed his life to an oak tree that had sheltered him from Cromwell's troops and which subsequently became a symbol of strength and beauty. [This act of elevation] is a little like how watchmakers ennobled the steel by crafting it very finely.
Why was a women's model so pivotal in the success of the Royal Oak?
Even at Audemars Piguet, many people did not remember that the first Royal Oak, model 5402 launched in 1972, was not modified for the first four years of its existence. It was 39mm, cast in steel with a dark blue dial and an ultra-thin calibre 2121. Today, who would launch a revolutionary watch, supported by a dedicated campaign and events calendar without evolving or changing it for so long? Georges Golay, the former CEO of Audemars Piguet had understood that the "enfant terrible" of high watchmaking needed time and space to exist and to be accepted. Designed by Jacqueline Dimier and launched in 1976, Model 8638 (29mm) for women was the very first variation of the Royal Oak. It created a second wave of surprise by becoming the brand's most masculine watch to be dedicated to women. Its success opened up all sorts possibilities. It demonstrated that the Royal Oak could evolve and become a creative playground. The following year, a gold version was introduced, as well as a medium sized model with a 35mm case.
Why was a luxury steel watch such a bold move in 1972?
In the late 1960s, although society was changing fast, the world of watchmaking was still very much attached to tradition. Casual luxury did not really exist in the watch industry. Sport and trendy watches were produced in large quantities, made in steel, signed by Omega, Rolex, Tag Heuer and many others. Luxury watches were in gold, signed by Patek Philippe, Vacheron Constantin and Audemars Piguet. The Royal Oak bridged these two worlds. Its oversized case was inspired by sport. Its ultra-thin prestigious movement and its refined dial belonged to the world of tradition. Both worlds met in the high-end finishes of the extremely complex steel case and tapered bracelet. This level of sophistication had never been achieved on a steel case before. Because steel is much harder than gold, it required the development of a new know-how. It was so difficult to produce that the steel Royal Oak was more expensive than many gold watches. The market soon realised that value was in the craftsmanship. The watch was warmly welcomed because it was the first that could be worn on a sailboat, as well as in the boardroom. Simultaneously cool and formal.
Which model did Gérald Genta wear himself?
Gérald Genta wore the first jumbo model, 5402 series A175. In an interview recorded in 2011, he explained that he had replaced the bezel of his steel watch with a yellow gold bezel: "Georges Golay [then managing director of Audemars Piguet] didn't know about this gold bezel, but I made one for Les Ambassadeurs [a famous Geneva retailer]." Evelyne Genta, the designer's widow, has decided to sell this watch at Sotheby's Geneva in May 2022, in order to finance the Genta Foundation, and offer the possibility to young designers to realise their projects.
Sourcing pieces for the AP museum and researching for the AP Chronicles must have drawn you towards some interesting characters...
This brings me back to the first question. Listening to the long interview Gérald Genta recorded in 2011, a few months before his death, went beyond the search for information. It really allowed us to connect with this incredible personality. His deep voice, his slow tone, his energetic Genevan accent, his dark humour. made us feel very close to him. When we met with Evelyne Genta, who was not only his wife but who had run the Genta company for many years, this personal dimension became even deeper. She shared some great stories with us. Genta was an artist with a strong personality, a genius. He often designed watches for specific clients, with their character in mind. When the client asked to modify the design slightly, he would apparently just walk away from the discussion, saying that they could design the watch themselves, whether they were simple entrepreneurs, sultans or kings!
Tell us something most people may not know about the Royal Oak
We have just discovered that most of the [vintage] Royal Oak models were produced in very small quantities. This is a real surprise. Of the 86 models we have individually and intricately studied, only 18 were produced in quantities of more than 200 examples and only eight have a production of more than 1,000 watches. Fifty-two models were produced in quantities of less than 50 – 37 of which account for ten watches each. And the rest – that's 19 – are unique pieces! Although the Royal Oak 5402 was the first watch produced in larger quantities by Audemars Piguet, the numbers have always remained relatively limited, in particular to preserve our crafts.

Continue reading for free
We hope you're enjoying The Week's refreshingly open-minded journalism.
Subscribed to The Week? Register your account with the same email as your subscription.