A tour of Alain Ducasse's chocolate factory in Paris
Star chef has spent a decade transforming chocolate – now it's coffee, ice cream and biscuits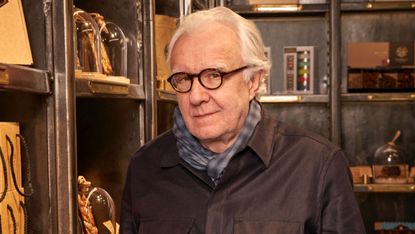 Sign up to our 10 Things You Need to Know Today newsletter
A free daily digest of the biggest news stories of the day - and the best features from our website
Thank you for signing up to TheWeek. You will receive a verification email shortly.
There was a problem. Please refresh the page and try again.
Each time I try to write a word about Alain Ducasse chocolate, I look to the box beside me. In itself, a work of simple art: crisp-edged cardboard that folds out of itself with ASMR-levels of soft swish and glide that sigh laser-cut satisfaction.
Beneath, the branded sticker holds together leaves of filmy black paper that unfold to reveal rows upon rows of ganaches, pralinés and nougatines. Each one has been painstakingly patterned or sprinkled to denote its individual interior.
Whenever I try to type, my hand instead reaches for one of these enrobed little rascals. No sooner have tongue and teeth begun than my eyes roll, rapture sets in and all words fly fully from my mind. Writing about Alain Ducasse chocolate has proven difficult. Researching it has not.
Subscribe to The Week
Escape your echo chamber. Get the facts behind the news, plus analysis from multiple perspectives.
SUBSCRIBE & SAVE
Sign up for The Week's Free Newsletters
From our morning news briefing to a weekly Good News Newsletter, get the best of The Week delivered directly to your inbox.
From our morning news briefing to a weekly Good News Newsletter, get the best of The Week delivered directly to your inbox.
La Manufacture
These life-changingly good chocolates began life in France, much like the man himself. Ducasse is the second-most Michelin-awarded chef on the planet. Heading up a bevy of acclaimed restaurants and cafés across the globe, he's also responsible for training multiple generations of extraordinarily talented chefs. To tally the awards that have waterfalled from his wisdom would be a full-time job in itself. So it's little surprise that when Ducasse sets out to do something, he does it seriously well.
Step up La Manufacture – the Ducasse brand that began ten years ago in 2013 with Le Chocolat. Ducasse claims a life-long love of chocolate – a confection he justly describes as "terribly sensual and bewitching" – as well as a dedication to meticulous, rigorous product sourcing. In trying to find a chocolate provider to meet his standards, Ducasse concluded he needed to produce his own.
"We are the only chocolatiers to make 100% of the chocolate we use," said Francois-Xavier Germain, the general manager of Les Manufactures Alain Ducasse. "Even other bean-to-bar companies sometimes buy in chocolate – we control the experience end to end. Making our own blend enables us to adjust a recipe and control perfectly the experience and taste of chocolate. It's in our hands."
Le Chocolat
In 2013 Le Chocolat opened in Paris near Place de la Bastille, and has kept its sustainable bean-to-bar philosophy to this day. The workshop looks far from Wonka-esque; it's a sleek brick and iron-lined space that exudes warmth and wafts a rich wallop of cocoa out onto Rue de la Roquette. The set-up, headed by chocolatier Quentin Francis-Gaigneux, is run with extraordinary efficiency; in part because it's Ducasse and you'd expect nothing less, but also because the place is tiny.
Old-fashioned bean sorters, second-hand milling machines and recycled furniture lead you from the first sack of unsorted cocoa to troughs of satiny chocolate. Le Chocolat may not look Dahl-ian, but there's a definite magic about it as you walk through the entire process, dipping digits into each passing pool and pile of chocolate. Controlling every step means Francis-Gaigneux (and by extension Ducasse) can innovate and explore the ingredients however they like.
When Francis-Gaigneux hands me a spoon of freshly made almond praliné, I have to stifle a groan it's so good. A buttery hit of toasted caramel and roasted almond that makes every other praliné I've tasted seem like a tawdry pretenders to the throne. We try making our own bars, littered with caramelised pistachios, hazelnuts and almonds – more make it to my mouth than the block, but I can only muster Piaf-levels of regret.
L'histoire
The only downside is that Le Chocolat proved too successful. Despite having shops in France, Japan and recently London's Borough Market and Coal Drops Yard, Ducasse needed to expand production. The new Paris manufacturing site – a far more up-to-date operation of silver machines in a clean white warehouse – retains all the experience and diligence of the original but with a few more mod-cons.
"It was very important to Mr Ducasse that our chocolate still be produced inside Paris," said Germain. "The city has a long tradition of industry inside its walls, for centuries, and we are a French manufacturer. Producing inside Paris is something very important to us – to recreate this tradition of artisanal production."
Though La Manufacture is relatively new, Parisian history is at the heart of what the team and Ducasse are hoping to achieve. Headed up by Adonis Bioud, the site at Place de la Nation opens in September, but is already firmly part of the family.
"The sister at Rue de la Roquette, and now at Place de la Nation, are two historical places in Paris," said Germain. "We have the story of the neighbourhood, of where we are, how we do cocoa. Everything is connected!" He explained, winding his speech to the most French conclusion possible: "It's like the correspondence of Baudelaire, non? Between the senses."
Le Café and La Glace
Thankfully I don't have time to unravel unexpected French philosophy: there's far better things to fill my head with. While La Manufacture began with chocolate, the ever-busy, ever-entrepreneurial Ducasse wasn't finished. His next venture in 2019 turned to coffee, a natural bean-to-bean metamorphosis.
Le Café Alain Ducasse is run by two-time coffee roasting champion Veda Viraswami and a team as dedicated to caffeine as Le Chocolat is to cocoa. Though Le Café is just as serenely svelte, the young team have much more of a mad-scientist manner to them. Here you can try coffee made to seem like whiskey, another to be like a beer (served in pints), and tea coffee too. The tea coffee – a revolutionary drink made with the usually discarded outer part of the bean – is sensational, a hybrid of both drinks' best bits.
The Ducasse manufacture machine kept moving. In 2021 came La Glace, an ice cream and sorbet shop born from his meeting with Bolognese gelato master Matteo Casone. Nothing at Casone's tangerine-coloured counter is "normal", naturally. Even the seemingly traditional flavours have been stratosphered to new, supreme levels – the vanilla contains three different continental origins of the orchid pod. The mix of sorbets, granitas and ice creams can be paired by Casone's team, making the most of dual flavours. The standout, above and beyond, is the most suspicious-sounding – a sensationally tart five herb sorbet that has me daily considering popping to Paris for just one more spoonful.
Le Biscuit
In 2022, the newest (and so far final) addition to La Manufacture was born. Le Biscuit brings the humble and remarkably overlooked biscuit into the gourmet world. They've been overhauled at the hands of pastry chef Flora Davies, who presents an array of types to try: biscuit and cookie bars, slim "hexas" hexagons and sandwich-style palets. The crowning glory, however, is the freshly-topped biscuits that are garnished on-demand with toppings and trappings that are as over-the-top as they are superb. The lemon is the easy highlight; a candied-lemon biscuit topped with lemon marmalade, lemon paste, slices of candied lemon and grated zest. It tastes like Sicilian summer.
At Le Biscuit, it feels like Ducasse had fun; he's reimagined his wife's favourite shortbreads and baked things to tempt his childrens' friends with. The results are far from homely though; the biscuits are baked with the finest of Breton butters, Japan-inspired buckwheat, smoked vanilla and linden honey. Of course the coffee and chocolate come from the sister shops, the four heads regularly wandering into each other's domains to beg, borrow and brainstorm the next madcap mouthful.
The entire enterprise is, as the world has come to expect from Ducasse, remarkable. Having set out to make the best, he's done it repeatedly by bringing together and trusting other experts in each field – arguably Ducasse's greatest talent. So what comes next for La Manufacture? It's hard to predict, hard not to wishfully imagine, but such musings are best left to others and the man himself. The chocolate box beside me has been left in peace for too long. Bon appetit…
Jo Davey was a guest of Le Chocolat Alain Ducasse; lechocolat-alainducasse.com
Continue reading for free
We hope you're enjoying The Week's refreshingly open-minded journalism.
Subscribed to The Week? Register your account with the same email as your subscription.
Sign up to our 10 Things You Need to Know Today newsletter
A free daily digest of the biggest news stories of the day - and the best features from our website