10 things you need to know today: March 9, 2022
Biden bans Russian oil imports, the first trial of a Jan. 6 defendant ends with a guilty verdict, and more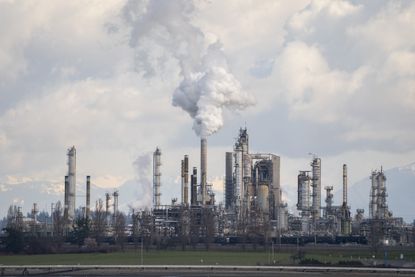 (Image credit: David Ryder/Getty Image)
1. Biden bans Russian oil imports
President Biden on Tuesday announced a ban on Russian oil imports in retaliation for Russian President Vladimir Putin's invasion of Ukraine. The United States produces most of its oil domestically but gets about 8 percent of its crude imports from Russia, so the ban could push already record gasoline prices even higher. Biden acknowledged the potential pain for Americans, but said, "Defending freedom is going to cost." Bipartisan support for a Russian-oil ban has risen as Russia intensified its attacks on Ukrainian cities, as lawmakers argued that sanctions were incomplete if they didn't include the nation's lucrative energy industry because it provides Moscow with money to pay for its military offensive. "We will not be part of subsidizing Putin's war," Biden said.
2. Guy Reffitt found guilty in 1st Jan. 6 jury trial
A jury on Tuesday found Guy Reffitt guilty for carrying a handgun while trying to disrupt the certification of President Biden's victory over former President Donald Trump, and for later threatening his teenage children if they turned him in. It was the first jury trial stemming from the deadly Jan. 6, 2021, attack on the Capitol by a mob of Trump's supporters. Reffitt, a recruiter for the Texas Three Percenters militia group, encouraged rioters to battle police but didn't enter the Capitol himself. He could get up to 20 years in prison when he is sentenced in June, but will likely serve much less time. The case was considered a key test for the Justice Department's effort to hold people accountable for the riot.
Subscribe to The Week
Escape your echo chamber. Get the facts behind the news, plus analysis from multiple perspectives.
SUBSCRIBE & SAVE
Sign up for The Week's Free Newsletters
From our morning news briefing to a weekly Good News Newsletter, get the best of The Week delivered directly to your inbox.
From our morning news briefing to a weekly Good News Newsletter, get the best of The Week delivered directly to your inbox.
3. Zelensky tells U.K. lawmakers Ukraine will fight Russia invasion 'whatever the cost'
Ukrainian President Volodymyr Zelensky told members of British Parliament in a video speech on Tuesday that Ukraine would "continue fighting for our land, whatever the cost." Zelensky repeated calls for tougher sanctions against Russia in response to its invasion of Ukraine a week and a half ago. He also called for a no-fly zone over Ukraine. Lawmakers gave him a standing ovation, and British Prime Minister Boris Johnson reiterated his promise that the U.K. would keep sending humanitarian aid and military support and maintain sanctions against Russia "until Ukraine is free," although he did not respond to Zelensky's pleas for NATO to impose a no-fly zone, which Western leaders worry Russia would use as an excuse to broaden the war.
4. Florida Senate passes 'Don't Say Gay' bill
Florida's Republican-controlled Senate on Tuesday approved a bill seeking to restrict discussions of sexual orientation and gender identity in schools. Gov. Ron DeSantis (R) is expected to sign the legislation, officially called the Parental Rights in Education legislation, which critics call the "Don't Say Gay" bill. "Clearly right now, we see a lot of focus on the transgenderism, telling kids that they may be able to pick genders and all that. I don't think parents want that for these young kids," DeSantis said on Friday. Critics said the bill would endanger LGBTQ students, who already face a higher risk of depression and suicide.
5. U.S. turns down Poland offer of MiG fighter jets for Ukraine
The United States on Tuesday rejected Poland's surprise offer to send its 28 Russian-made MiG-29 fighter jets to a U.S. base in Germany so they could be delivered to Ukraine. Sending combat aircraft from NATO territory into contested airspace to replenish Ukraine's air force and help it fight Russian forces "raises serious concerns for the entire NATO alliance" and is "not tenable," the Pentagon said. The U.S. has been pushing to accelerate weapons deliveries to Ukraine, which has been fighting a Russian invasion for two weeks. The proposed donation of warplanes would bolster Ukrainian forces, but risks expanding the war, because Russia has said it considers supporting Ukraine's air force to be tantamount to joining the war.
6. Venezuela releases 2 American prisoners
Venezuela on Tuesday released at least two imprisoned Americans following a rare visit by a high-level U.S. delegation last weekend. The men released were Gustavo Cárdenas, an executive at the American branch of Venezuela's state oil company, and Jorge Alberto Fernández. The American officials met with the South American nation's authoritarian president, Nicolas Maduro, to discuss resuming U.S. purchases of Venezuelan oil to replace U.S. imports of Russian oil, which President Biden banned on Tuesday. Biden administration officials said the prisoner release was not part of any developing deal to restart Venezuelan oil imports, which were banned under the Trump administration. Venezuela is Russia's staunchest ally in the Western Hemisphere, and the United Nations has accused Maduro's government of human rights violations.
7. Proud Boys leader Enrique Tarrio arrested
Henry "Enrique" Tarrio, a longtime leader of the right-wing-extremist Proud Boys group, was arrested Tuesday on a conspiracy charge connected to the Jan. 6, 2021, attack on the Capitol by a mob of former President Donald Trump's supporters. He is accused of plotting with followers who tried to prevent Congress from certifying President Biden's election victory over Trump. The indictment against Tarrio, who lives in Miami, Florida, came on the same day prosecutors won their first jury trial in a Jan. 6 case. Tarrio, 38, is the second leader of a radical group to be charged in connection with the attack, joining Oath Keepers founder Stewart Rhodes. Neither Tarrio nor Rhodes is accused of entering the Capitol during the riot.
8. Police charge 6 teenagers in connection with deadly Iowa school drive-by shooting
Police on Tuesday charged six teenagers with murder in a Monday drive-by shooting outside an Iowa high school that left a 15-year-old boy dead and two teenage girls wounded in critical condition. The attackers were targeting the boy who died, not the girls, said Sgt. Paul Parizek, spokesperson for the Des Moines Police Department. Witnesses said several armed attackers opened fire from several vehicles. Police identified the suspects as Octavio Lopez, 17; Nyang Chamdual, 14; Manuel Buezo, 16; Romero Perdomo, 16; Alex Perdomo, 15; and Henry Valladares-Amaya, 17. "While this incident occurred outside of a school, it could have occurred in any one of our neighborhoods. The school is where the suspects found their target," Parizek said.
9. McDonald's, Starbucks, and Coca-Cola halt Russia operations
McDonald's, Starbucks, and Coca-Cola on Tuesday became the latest major American companies to announce that they were suspending operations in Russia in response to its invasion of Ukraine. "McDonald's has decided to temporarily close all our restaurants in Russia and pause all operations in the market," CEO Chris Kempczinski said in a statement. Starbucks also will close all of its coffee outlets, and Coca-Cola will suspend all operations in the country. Most McDonald's restaurants around the world are owned by franchise operators, but in Russia the fast-food giant operates 84 percent of its 847 locations, employing 62,000 people. Pepsi-Cola said it was suspending sales of its beverage brands in Russia but continuing sales of some products, including baby food.
10. Aaron Rodgers reportedly to become highest paid player in NFL history
Aaron Rodgers will return as the Green Bay Packers' quarterback next season after agreeing to a four-year, $200 million contract extension that will make him the highest-paid player in NFL history, the NFL Network's Ian Rapoport reported Tuesday. The news ended weeks of speculation about Rodgers' future, after he fueled rumors of his possible retirement last month with an Instagram post thanking his past and current teammates, telling them they were "the icing on the beautiful cake we call our job: football." Last week, NFL Network reported that Rodgers planned to play in 2022 but was "torn" on whether to do so with the Packers. Rodgers was embroiled this year in a controversy after he revealed that he was unvaccinated against COVID-19, after saying in an earlier interview that he was "immunized."

Continue reading for free
We hope you're enjoying The Week's refreshingly open-minded journalism.
Subscribed to The Week? Register your account with the same email as your subscription.