10 things you need to know today: August 31, 2022
Biden condemns GOP lawmakers over response to Jan. 6 and Trump raid, former Soviet leader Mikhail Gorbachev dies at 91, and more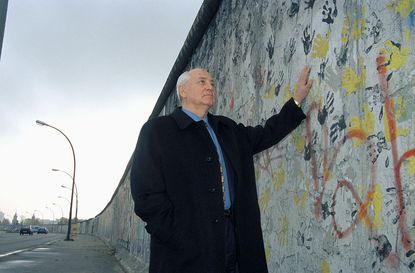 (Image credit: Micheline Pelletier/Sygma via Getty Images)
1. Biden defends FBI, condemns GOP rhetoric
President Biden on Tuesday defended the FBI and criticized Republicans who have failed to condemn the Jan. 6, 2021, Capitol attack by a mob of then-President Donald Trump's supporters. "You can't be pro–law enforcement and pro-insurrection," Biden said, and it is "sickening" to see people calling to "defund" the FBI over its search for improperly retained and highly classified documents at Trump's Mar-a-Lago home in Florida on Aug. 8. Biden also said that warning of "blood on the street" took partisan rancor to a dangerous new level, an apparent response to Sen. Lindsey Graham's (R-S.C.), recent prediction there would be "riots in the street" if Trump is prosecuted for mishandling classified documents.
The New York Times The Washington Post
2. Ex-Soviet leader Mikhail Gorbachev dies at 91
Mikhail Gorbachev, the last leader of the Soviet Union, died Tuesday. He was 91. Gorbachev had battled a "serious and protracted disease," Russian media reported, without providing specifics. Gorbachev played a central role in winding down the Cold War, with his trademark glasnost and perestroika policies opening the Soviet economy and leading to increasing engagement with the West in the late 1980s. He also presided over the withdrawal of Soviet troops from Afghanistan and the Soviet Union's response to the Chernobyl nuclear disaster. He was awarded the Nobel Peace Prize in 1990. At home, he had fans for his liberalizing of society, and critics who blamed him for the Soviet Union's collapse.
Subscribe to The Week
Escape your echo chamber. Get the facts behind the news, plus analysis from multiple perspectives.
SUBSCRIBE & SAVE
Sign up for The Week's Free Newsletters
From our morning news briefing to a weekly Good News Newsletter, get the best of The Week delivered directly to your inbox.
From our morning news briefing to a weekly Good News Newsletter, get the best of The Week delivered directly to your inbox.
3. DOJ says secret documents at Trump home moved, 'concealed'
The Justice Department said in a Tuesday night court filing that "efforts were likely taken to obstruct the government's investigation" of former President Donald Trump's handling of classified documents he kept after leaving the White House. The claim was included in a 36-page document objecting to Trump's request for an independent special master to review documents FBI agents seized during a court-approved search of Trump's Mar-a-Lago club in Florida. DOJ lawyers said Trump representatives handed over an accordion file of documents on June 3, and attested in writing the government had received all the classified documents covered under a subpoena. But the FBI later found top-secret records that apparently had been moved from a storage room and "concealed" in Trump's office.
4. Iraqi cleric tells followers to go home after deadly clashes
Iraqi cleric Moqtada al-Sadr on Tuesday ordered his followers to stop protesting in the wake of his retirement from politics. Supporters of the powerful Shiite Muslim religious leader had clashed with security forces and rival Shiite factions backed by Iran, leaving at least 22 people dead and deepening the country's political crisis. "This is not a revolution because it has lost its peaceful character," Sadr, who led an insurgency early in the U.S. occupation of Iraq, said in a televised address. "The spilling of Iraqi blood is forbidden." After Sadr's remarks, many of his followers were seen leaving the area around the fortified Green Zone in Baghdad, where many government offices and foreign embassies are located.
5. North Korea's Kim Jong Un sick with COVID
North Korean leader Kim Jong Un is infected with COVID-19 and has "suffered in high fever in the middle of the anti-pandemic battle," state-run newspaper Rodong Shinmun announced Tuesday, according to a translation by the South China Morning Post. Rumors have circulated about Kim's health for weeks after his numerous exposures to infected people, including a visit to workers stricken with COVID-19. "When the great leader visited the state emergency epidemic prevention headquarters on the first night since the maximum emergency anti-pandemic measures have been in place, some of the officials there were already infected with the 'malignant epidemic,'" Rodong Shinmun reported. Kim's sister, Kim Yo Jong, said he was "seriously ill" but didn't confirm he had tested positive for the coronavirus.
6. Ukraine claims gains in southern counteroffensive
Ukrainian officials said Tuesday that their forces have recaptured four villages in a counteroffensive aiming to reclaim control over the southern Kherson region that Russia seized early in its invasion. Ukraine's president, Volodymyr Zelensky, warned Russian soldiers to "run away, go home." One of his advisers, Oleksiy Arestovych, said the effort would "not be very fast," but would "end with the installation of the Ukrainian flag over all the settlements of Ukraine." Arestovych said Ukrainian forces had "broken through the frontline in several sectors." Russia's defense ministry acknowledged Kyiv's counteroffensive but said Ukrainian forces were suffering "heavy losses." The Kherson region is crucial to controlling access to the Black Sea.
7. Jackson, Mississippi, drinking water system failing
The drinking water system in Jackson, Mississippi, has started failing as the city struggles with flooding from heavy rains. The system in Jackson — Mississippi's capital and largest city, with about 160,000 residents — had been in a bad state for years, due largely to aging infrastructure. But the current crisis has left many residents with little or no water pressure, and no access to safe drinking water as the city's largest water treatment plant breaks down. The city is rushing to fix the problem while tackling the "massively complicated task" of distributing bottled water. Schools switched to virtual learning, and hospitals started bringing in portable restrooms as the city ran short of water for basic needs, like flushing toilets and fighting fires.
Mississippi Today The New York Times
8. Texas reports 1st U.S. death linked to monkeypox
Texas health officials on Tuesday announced the first death of a monkeypox patient in the United States. The unidentified patient in Harris County, which includes Houston, was "severely immunocompromised." Local health authorities were still investigating the role monkeypox played in the death, so it is too early to say how directly the death was linked to the global outbreak of the virus. A spokesperson for the Centers for Disease Control and Prevention told The Texas Tribune it is important to note that infections with the type of monkeypox virus identified in this outbreak are "rarely fatal." So far, only 15 deaths have been reported globally, out of about 47,000 cases this year.
9. COVID fuels historic decline in U.S. life expectancy
U.S. life expectancy fell to its lowest point since 1996 last year, capping the biggest two-year decline in nearly 100 years as the coronavirus pandemic fueled a sharp rise in early deaths, according to a government analysis published Wednesday. Americans born in 2021 are expected to live 76.1 years, down 2.7 years from two years ago. American Indian and Alaskan Native people were hit particularly hard. Their life expectancy dropped from 71.8 years in 2019 to 65.2 years in 2021. Robert Anderson, chief of the mortality statistics branch of the National Center for Health Statistics, said his "jaw dropped" when he saw that 6.6-year decline over two years, similar to the national drop in life expectancy after the 1918 Spanish Flu pandemic.
10. Taiwan fires warning shots at Chinese drone
Taiwan on Tuesday fired warning shots at a Chinese drone that buzzed a small island off the democratic, self-governing island, which China considers part of its territory. Taiwanese President Tsai Ing-wen said earlier in the day that she had ordered Taiwan's military to take "strong countermeasures" against what she considered provocations by China, pointing to the extensive military drills Beijing held around Taiwan in response to House Speaker Nancy Pelosi's (D-Calif.) visit to the island. The warning shots were the first fired since tensions started rising between China and Taiwan over the visits by Pelosi and other U.S. lawmakers. The Chinese drone reportedly headed back to the mainland after the incident. Beijing had no immediate comment.

Continue reading for free
We hope you're enjoying The Week's refreshingly open-minded journalism.
Subscribed to The Week? Register your account with the same email as your subscription.