Channel 4 part-privatisation still in the frame
Reports suggest Downing Street intervention has now ruled out a full sell-off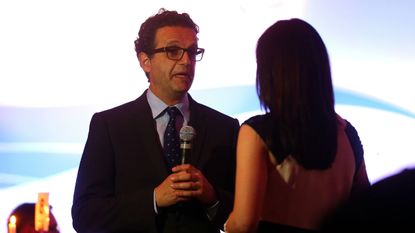 (Image credit: Alexander Hassenstein/Getty Images)
Channel 4 could be partially privatised through the sale of a stake to a "strategic partner" such as BT, as reports claim a full sell-off has now been taken off the table.
An article in the Daily Telegraph claims the public-service broadcaster will "escape full privatisation" after direct intervention from Downing Street. This follows a recent report that suggested a £1bn-£2bn price tag for the channel was overly ambitious and that the government would be more likely to raise £500m or less from a sale.
Bosses at C4 are not celebrating, however, as senior sources also told the Telegraph that other radical reforms are still being considered, including the sale of a minority interest to a private sector operator.
Subscribe to The Week
Escape your echo chamber. Get the facts behind the news, plus analysis from multiple perspectives.
SUBSCRIBE & SAVE
Sign up for The Week's Free Newsletters
From our morning news briefing to a weekly Good News Newsletter, get the best of The Week delivered directly to your inbox.
From our morning news briefing to a weekly Good News Newsletter, get the best of The Week delivered directly to your inbox.
This was the option derided as a "Six Years a Slave, Two Weddings and Half a Funeral" fudge by chief executive David Abraham earlier this year. He revealed the option was being discussed back in March and said: "Part privatisations are like crossing the Rubicon and realising you're on a sinking ship".
Other reforms could see the Channel 4's not-for-profit status watered down with the requirement to pay a dividend to the Treasury each year, or greater scrutiny of its finances introduced by handing oversight powers to the National Audit Office in the same way as is being proposed for the BBC. It may also be forced to move its headquarters from London to Birmingham or Manchester.
The Telegraph says the final decision on the broadcaster's fate will not come until after the BBC's charter renewal is completed. A white paper on the future of the corporation, including proposals to retain the licence fee model until 2027 but shake up the organisation and replace the governing trust, will be unveiled on Thursday.
At the launch of its annual report today, Channel 4's chief and its new chairman, Charles Gurassa, hit out at the government again over the "prolonged uncertainty" it is causing with talks of a sale. Gurassa pointedly told the Radio Times he had not been approached by officials and that there were "no plans to meet with the government soon".
"It's not good for our staff, it's not good for our business market, it's not good for our advertisers," he added.
Channel 4 sale would fetch 'only £500m', says report
04 May
Channel 4 would "only" fetch £500m if privatised, rather than the £1bn figure which has been estimated before, according to a report conducted for the broadcaster.
Culture Secretary John Whittingdale last month raised the prospect of privatising the station, which has been self-funding but publicly-owned since it launched in 1982.
Speaking before the House of Lords communications committee, he said the channel was vulnerable to technology shifts because of its younger audience and would be more sustainable with private investment, reported The Guardian.
US media companies including Discovery and Viacom are understood to be likely purchasers, but the new report says BT would be a "more attractive buyer politically" because it is UK-based, says the Daily Telegraph.
The academic report, led by Professor Patrick Barwise of the London Business School, was commissioned by Channel 4 chief executive David Abraham, who is leading the fight to keep the broadcaster public.
It concludes that selling the station would be "overwhelmingly negative for the overall economy, the broadcasting ecology and creative industries, technology adoption and commercial innovation, Channel 4's consumer surplus and advertiser surplus, and wider society".
It argues that Channel 4 would be more likely to fetch between £400m and £500m, rather than earlier estimates of £1bn, and that any private owner would seek to make a profit, which would inevitably mean watering down the channel's public service remit.
"Given the risks and the need for the buyer to make a profit on the deal, a realistic maximum price for C4… would be £400-500m – around the same as Channel 4's £443m book value. Anything above this could only come from the buyer's ability to get more 'bang for the buck' (revenue per pound) from Channel 4's content budget," says the report.
Whittingdale, who tried to privatise the channel under John Major's government in 1996, told the Lords that no decision has been made on selling the broadcaster and that it will be decided by cabinet.
Channel 4 attacks 'Six Years a Slave' part-privatisation
24 March
David Abraham, the chief executive of Channel 4, has revealed the government is mulling a "part privatisation" plan that would raise money for the public purse while retaining the station's public service broadcaster (PSB) remit.
But the broadcaster's boss has railed against the option, saying history shows that halfway house solutions are merely a fudge and that "once you've started you can't go back."
"You'd end up being neither one thing or the other – or half the thing you used to be," he said, according to the Daily Telegraph. "Six Years a Slave, Two Weddings and Half a Funeral, Channel 2 News" would be the result, he joked, adding that "part privatisations are like crossing the Rubicon and realising you're on a sinking ship".
His comments came as Channel 4 presented a report it commissioned from Ernst & Young into its sustainability that called into question any change to the current model of the station being run as a self-financing, not-for-profit organisation within strict PSB confines.
"Given government's commitment to continued PSB status for Channel 4, any consideration of privatisation options needs to be accompanied by a clear statement of the problems that government is trying to address, and the outcomes that government is seeking to achieve," the report said.
"In particular, there is a need to balance the potential (but inherently uncertain) benefits that privatisation may bring against the potential risks to remit delivery if Channel 4 moves from a not-for-profit to profit-maximising status."
The government has been known to be reviewing the future of Channel 4 since at least last autumn.
The Telegraph reckons Culture Secretary John Whittingdale is in favour of selling to the private sector, but as the government is in parallel undertaking a full review of the BBC under its latest charter renewal - and is engaged in a fierce battle over the upcoming EU referendum - a "decision… is not expected for some time".
Is Channel 4 set to be privatised?
11 November
Last week the potential sale of Channel 4 hit the headlines again. The broadcaster has faced rumours of privatisation for over 20 years, so are there any truth to the stories this time around?
Are there plans to privatise Channel 4?
This time, yes. Prime Minister David Cameron confirmed during last week's Prime Minister's Questions that the government is considering selling off Channel 4. It's not definite, however, so there is plenty of time for those on either side of the debate to press their case.
"I think it is right to look at all the options, including whether private investment into Channel 4 could help safeguard it," Cameron said. "Let's not close our minds like some on the opposition front bench who think that, you know, private is bad and public is good."
A government insider told The Times that the Department for Culture, Media and Sport is to consider the options for Channel 4, but hasn't yet appointed external advisers.
Hang on, it's not private already?
Most people may assume, due to the ad breaks, that Channel 4 is a privately-owned broadcaster. In fact, it is owned by the public, in the same way as BBC One and BBC Two. The difference is that Channel 4 isn't funded by the licence fee. Instead it is permitted to fund itself via advertising, but must still adhere to the principles set out in a public service charter.
"There is no weirder fish in the broadcasting seas than Channel 4: state-owned but commercially funded, forced to make uncommercial programming and banned from making a profit," says Jane Martinson in The Guardian.
Why sell it now?
"As with the £700m raid on the BBC's licence fee, the reason given is that the government needs to pay off its debt and reduce its annual interest payment, or deficit," says Martinson. It's all part of the review of government spending, for which departments are looking at asset sales as a way to meet targets for savings.
"Channel 4, with its glossy premises in Westminster and highly paid executives, must look very shiny to the... officials tasked with working out which bit of the family silver to sell off," Martinson adds. "They look at the £450m Viacom paid for Channel 5 and think the back-of-an-envelope £1bn often mentioned for a channel with a bigger, younger and wealthier audience is easily achievable."
Is it really worth £1bn?
It is difficult to say. Critics point out that laws prevent Channel 4 from being as profitable as it could be. It is not allowed to make its own content, for example - it has to use independent production firms.
It also "must continue to fulfil a public service remit that includes encouraging the independent sector and focusing on harder-to-reach audiences such as minorities," says Martinson.
"I think privatisation would be a mistake," says Channel 4 newsreader Jon Snow in The Telegraph. "We cost the public nothing, the amount of money that could be realised is frankly not that much, and in realising it there is a very serious danger that what is special about Channel 4 will be lost. You tell me of any other entity that can generate £900m of revenues a year, without costing the taxpayer a bean."
Who would buy it?
Despite the shackles that bind it rumours abound that both media giants and private investors are "circling Channel 4", says Christopher Williams in The Telegraph.
Discovery Communications, owner of the Discovery channels and Eurosport, BT and a private equity consortium headed by Channel 4's former chairman Luke Johnson, a high-profile private equity investor, are all said to be interested.
"Sources familiar with thinking at Discovery, the global television giant behind pay-TV programmes such as Deadliest Catch, said it was keeping a close eye on government plans for Channel 4 and weighing a bid," says Williams.
But, selling to an overseas company could "prove politically challenging," Whitehall sources told Williams. If Channel 4 does hit the market it is more likely it would go to a UK firm such as BT, which already has strong commercial ties with the channel.
So that'll be that for the public's involvement?
Not necessarily. An alternative proposal for a sale could see the government sell to private retail investors in a repeat of the popular "Tell Sid" campaign when British Gas was sold off in the 1980s.
"That might mean the Government got a little less money, but if it meant a new generation of investors had a stake in the system, it would be a lot more valuable than an extra hundred million on the price," says Matthew Lynn in The Telegraph.

Continue reading for free
We hope you're enjoying The Week's refreshingly open-minded journalism.
Subscribed to The Week? Register your account with the same email as your subscription.