10 things you need to know today: September 21, 2023
Biden extends temporary protections to 470,000 Venezuelans, Republicans grill Garland on Biden and Trump investigations, and more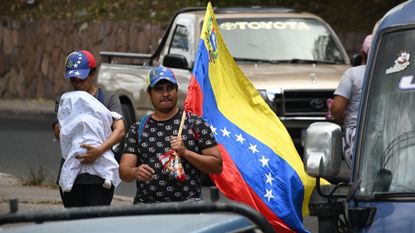 (Image credit: Orlando Sierra / AFP via Getty Images)
1. Biden extends protections, work permits to 470,000 Venezuelans
The Biden administration on Wednesday extended temporary protected status to 470,000 Venezuelans who arrived in the U.S. by July 31, allowing them to live and work in the country for 18 months. The policy, which previously applied to people who arrived by early March, had been set to expire, but Homeland Security Secretary Alejandro Mayorkas said a review determined that conditions in Venezuela still "prevent their safe return." New York Gov. Kathy Hochul and New York City Mayor Eric Adams had lobbied for the change, saying letting migrants work would help them and provide relief to overwhelmed social services agencies. The New York Immigration Coalition estimated the change would affect about 60,000 Venezuelans in New York. Politico, CBS News
2. Republicans grill Garland about Hunter Biden, Trump investigations
House Republicans accused Attorney General Merrick Garland on Wednesday of "weaponizing" the Justice Department to protect President Biden's son, Hunter Biden, and target former President Donald Trump. "There's one investigation protecting President Biden. There's another one attacking President Trump," House Judiciary Committee Chair Jim Jordan (R-Ohio) claimed. "The Justice Department's got both sides of the equation covered." Garland defended the Justice Department's independence and its more than 115,000 employees, many of whom have faced rising threats in an increasingly politicized atmosphere. "Our job is not to take orders from the president, from Congress, or from anyone else, about who or what to criminally investigate," Garland said. "The Justice Department works for the American people." The Associated Press
3. Zelenskyy says Russia's veto stymies UN Security Council
Ukrainian President Volodymyr Zelenskyy told the United Nations Security Council on Wednesday it was powerless to resolve global conflicts as long as Russia wields veto power. "Veto power in the hands of the aggressor is what has pushed the U.N. into deadlock," Zelenskyy said. His appearance on his first trip to the U.N. in New York since Russia invaded his country last year set up a high-profile confrontation over the war. Russian Foreign Minister Sergey Lavrov sat in for Russia's U.N. ambassador, and Secretary of State Antony Blinken took the seat of America's ambassador. Zelenskyy will meet with Biden at the White House on Thursday, and visit Congress and the Pentagon. The New York Times, The Washington Post
Subscribe to The Week
Escape your echo chamber. Get the facts behind the news, plus analysis from multiple perspectives.
SUBSCRIBE & SAVE
Sign up for The Week's Free Newsletters
From our morning news briefing to a weekly Good News Newsletter, get the best of The Week delivered directly to your inbox.
From our morning news briefing to a weekly Good News Newsletter, get the best of The Week delivered directly to your inbox.
4. Conspiracy theory target Ray Epps pleads guilty to Jan. 6 charge
Ray Epps, a former Marine accused by conspiracy theorists of being an FBI informant, pleaded guilty Wednesday to a misdemeanor charge of disorderly conduct in a restricted area during the Jan. 6, 2021, Capitol riot. In a deal with federal prosecutors, Epps, 62, admitted to his role in the storming of the Capitol by a mob of then-President Donald Trump's supporters trying to block the certification of President Biden's electoral victory. As part of a plea deal, prosecutors agreed not to pursue other riot charges against Epps. The conspiracy theories emerged after a video surfaced showing Epps on Jan. 5 talking with a man accused of being among the first to cross police lines the next day. The Hill
5. Fed leaves rates unchanged but keeps door open for another hike
The Federal Reserve left its benchmark short-term interest rate unchanged on Wednesday, but kept the door open to another hike later this year to continue fighting inflation. The central bank has raised rates 11 times since March 2022, the fastest pace in four decades. The Fed also indicated at the end of its two-day policy meeting that it would likely have to keep rates high for longer than previously hoped to prevent prices from rising too much, indicating that households shouldn't expect relief from high borrowing costs any time soon. "I'm worried for the consumer," said Tomas Philipson, University of Chicago economist and a former chair of the White House Council of Economic Advisers. CNBC
6. Senate confirms new Joint Chiefs chair despite Tuberville blockade
The Senate on Wednesday managed to confirm Air Force Gen. Charles Q. Brown Jr. as the next chairman of the Joint Chiefs of Staff, using a parliamentary maneuver to separate the vote from a monthslong blockade of military promotions by Sen. Tommy Tuberville (R-Ala.). Tuberville is using the obstructive hold to protest a Pentagon policy on abortion access for service members. The Senate confirmed Brown 83 to 11. Senate Majority Leader Chuck Schumer (D-N.Y.) also moved to force votes on Marine Corps Gen. Eric Smith and Army Gen. Randy George. Democrats previously resisted voting on the nominations individually, but relented because the current chair of the Joint Chiefs, Gen. Mark Milley, is legally required to step aside on Sept. 30. The New York Times, The Washington Post
7. White House to create gun violence prevention office
The White House this week is unveiling plans to create the first federal office of gun violence prevention, two sources confirmed to The Hill on Wednesday. Anti-gun-violence activists and Democratic lawmakers applauded the move. "This is an idea I have been pushing relentlessly for some time, and I'm thrilled President Biden is making the Office of Gun Violence Prevention a reality," said Sen. Chris Murphy (D-Conn), who is known for focusing on measures to reduce gun violence. President Biden is expected to formally announce the new office Friday at the White House. The White House did not immediately comment on the plans. The Hill
8. US offers free Covid tests again
The Biden administration announced Wednesday that the federal government would offer Americans a fifth round of free Covid-19 tests ahead of the viral season. The program will help Americans spot infections but also boost a domestic testing industry struggling with plummeting demand. The federal government will release the tests from the Strategic National Stockpile and provide $600 million to help 12 domestic test manufacturers increase capacity for rapid test production for Covid and other potential health threats. Demand for rapid tests was high early in the pandemic but manufacturers scaled back production starting in 2021 as vaccines became widely available. Stat News, PBS
9. Biden, Netanyahu meet on sidelines of UN
President Biden and Israeli Prime Minister Benjamin Netanyahu met on the sidelines of the United Nations General Assembly on Wednesday in their first face-to-face talk since Netanyahu returned to office in December. Biden said before the meeting that he and Netanyahu, who has assembled what many consider the most right-wing government in Israel's history, would discuss "some of the hard issues," including preserving "checks and balances" needed to uphold democracy — a nod to Netanyahu's controversial judicial overhaul. But Biden said despite lingering differences, "my commitment to Israel is ironclad." Analysts said the fact they met in New York rather than the White House indicated strained relations, but Biden told Netanyahu he hoped to see him in Washington by year's end. The Wall Street Journal, Axios
10. India issues travel advisory for Canada
India on Wednesday issued a travel advisory warning its citizens of "growing anti-India activities" in Canada. India also suspended visa services for Canadians, escalating a diplomatic clash between the two countries after Canadian Prime Minister Justin Trudeau said investigators had uncovered "credible" evidence of "potential" involvement of Indian agents in the assassination of Sikh separatist Hardeep Singh Nijjar on Canadian soil. India called the allegation "absurd," and the two countries announced tit-for-tat expulsions of top diplomats. Canada has the biggest Sikh population outside Punjab. Sikh activists in Canada have held several big demonstrations calling for establishing a Sikh homeland, Khalistan, in India's Punjab region. The Globe and Mail, BBC

Continue reading for free
We hope you're enjoying The Week's refreshingly open-minded journalism.
Subscribed to The Week? Register your account with the same email as your subscription.