The week's good news: Sept. 21, 2023
It wasn't all bad!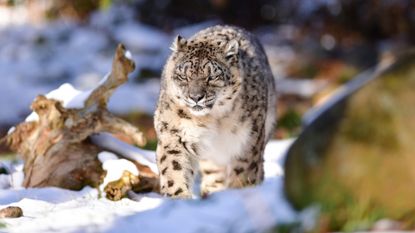 (Image credit: James Devaney / Getty Images)
Snow leopard population in Bhutan up nearly 40% in 'milestone achievement'
The proof is in the numbers: conservation efforts in Bhutan have led to a 39.5% increase in the snow leopard population, the World Wildlife Fund said. The National Snow Leopard Survey for 2022- 2023, supported by WWF-Bhutan and Bhutan for Life, found that there are now at least 132 snow leopards in the country; in 2016, the first year the survey was conducted, 96 snow leopards were counted. Snow leopards, which are considered a vulnerable species, can be difficult to study because they live in steep mountain terrain, and 310 camera trap stations were set up across their habitat in northern Bhutan. Officials use what they learn from the survey to fill in knowledge gaps about snow leopards and shape conservation policy. This is a "milestone achievement for Bhutan's conservation journey," Chimi Rinzin, country director for WWF-Bhutan, said. World Wildlife Fund
Recording studio offers an affordable space for aspiring Boston musicians
The Record Co. in Boston, Massachusetts, was created to give musicians from all backgrounds the chance to lay down beats and bring their tunes to life. "We don't care if you're good or trying to do it for a living," founder Matt McArthur told The Christian Science Monitor. "Our philosophy is that every single person deserves to express their musical creativity." He started the recording studio in 2010, taking out loans and getting donations to open a space inside a tiny basement. Today, the nonprofit studio is in a 12,000-square-foot facility with production suites and rehearsal spaces, where musicians can book recording time for as little as $10 an hour; the typical price in Boston is $100 an hour. About 3,500 musicians make use of the affordable studio every month. "That moment of creation where something now exists that didn't exist before — watching other people have that experience — is magic," McArthur said. The Christian Science Monitor
'Inverse vaccine' shows promise treating MS, other autoimmune diseases
Researchers at the University of Chicago completely reversed a multiple sclerosis–type autoimmune disorder in mice, using a new technique that tricked the liver into neutering a specific immune response, the team reported in the journal Nature Biomedical Engineering. With autoimmune diseases, the protective T cells that attack antigens actually attack the body's own healthy molecules, called self-antigens. The University of Chicago team found that by attaching a sugar protein, N-acetylgalactosamine (pGal), to the self-antigen under assault, they could send it to the liver, which would teach the immune system to tolerate the molecule. "Rather than rev up immunity as with a vaccine, we can tamp it down in a very specific way with an inverse vaccine," lead author Jeffrey Hubbell said in a statement. The hope is that these "inverse vaccines" will prove effective at treating autoimmune disorders like MS, lupus and rheumatoid arthritis. A company Hubbell co-founded recently completed a phase 1 trial using this technique on people with celiac disease and has started a phase 2 trial. Nature Biomedical Engineering, Science
Subscribe to The Week
Escape your echo chamber. Get the facts behind the news, plus analysis from multiple perspectives.
SUBSCRIBE & SAVE
Sign up for The Week's Free Newsletters
From our morning news briefing to a weekly Good News Newsletter, get the best of The Week delivered directly to your inbox.
From our morning news briefing to a weekly Good News Newsletter, get the best of The Week delivered directly to your inbox.
For his final flight before retiring, pilot has a very special first officer
Ruben Flowers' final flight as a commercial pilot was one to remember, thanks to who was sitting next to him in the cockpit. Flowers' first officer was his son, also named Ruben Flowers. "That was an awesome feeling," he told CNN Travel. "To look over there and see my son, next to me, for my last landing." The elder Flowers worked at Southwest Airlines for more than three decades, while the younger Flowers more recently joined the company. "It was a dream of mine to make it to this point to fly with my dad, it was probably my No. 1 aviation goal," he said. Before their flight together from Omaha to Chicago, they recreated a photo taken in 1994, when the younger Flowers was just a toddler; in the picture, he's staring at his father, who is smiling broadly at the camera. Flying is a family affair for the Flowers crew — the older Ruben's three sons, brother, nephew, and cousin are all pilots. CNN
RNA recovered from extinct species for the first time
For the first time, geneticists have been able to recover RNA, the genetic material present in all living cells, from the remains of an extinct species. The RNA came from a Tasmanian tiger, or thylacine, that died 130 years ago and is in the Swedish Museum of Natural History's collection. "We had previously thought only DNA remained in old museum and ancient samples, but this paper shows you can also get RNA from tissue," Andrew Pask, a professor at the University of Melbourne and head of the Thylacine Integrated Genetic Restoration Research Lab, told CNN. "This will add significant depth to our understanding of the biology of extinct animals and help us to build much better extinct genomes." RNA has structural similarities to DNA, but is more delicate, and this study could open up new research into recreating extinct species or determining what caused previous pandemics, Reuters reported. CNN, Reuters

Continue reading for free
We hope you're enjoying The Week's refreshingly open-minded journalism.
Subscribed to The Week? Register your account with the same email as your subscription.