How Leap Year's hilariously stereotypical portrayal of Ireland made me feel closer to my ancestral home
'Leap Year' gets almost nothing about Ireland right. I still love it.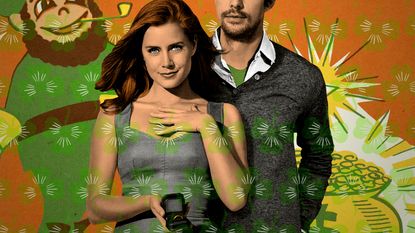 (Image credit: Illustrated | iStock)
Sign up to our 10 Things You Need to Know Today newsletter
A free daily digest of the biggest news stories of the day - and the best features from our website
Thank you for signing up to TheWeek. You will receive a verification email shortly.
There was a problem. Please refresh the page and try again.
By many and possibly all accounts, Leap Year — the long-forgotten Amy Adams vehicle chronicling one woman's odyssey to propose to her boyfriend on Feb. 29 — is a bad film.
During its theatrical run in 2010, The New York Times called it "so witless, charmless, and unimaginative that it can be described as a movie only in a strictly technical sense." Time labeled it the worst film of the year. "As if economic downturn and the confederacy of dunces at the top weren't bad enough," wrote Dublin-based music magazine Hot Press, per Irish Central, in its review, "Leap Year revives some horrors of old. Remember the crap Ireland from movies of yesteryear? Well, crap Ireland is back on screen and crapper than ever."
Inspired by an old Irish tradition that I, for one, had never heard of, Leap Year follows the well-to-do, Boston-based Anna Brady (Amy Adams), an apartment stager whose desire to wed is only outmatched by her drive to move into a selective new apartment with her boyfriend of four years, Jeremy (Adam Scott). But when Jeremy flies to Dublin on business at the last minute without popping the question, Anna decides to take romantic matters into her own hands: To turn this boyfriend and impending roommate into a fiancé, she'll propose to Jeremy in Ireland on Feb. 29, as is apparently permitted by Irish tradition. And, per the lore, Jeremy will supposedly have to say yes.
Subscribe to The Week
Escape your echo chamber. Get the facts behind the news, plus analysis from multiple perspectives.
SUBSCRIBE & SAVE
Sign up for The Week's Free Newsletters
From our morning news briefing to a weekly Good News Newsletter, get the best of The Week delivered directly to your inbox.
From our morning news briefing to a weekly Good News Newsletter, get the best of The Week delivered directly to your inbox.
Of course, upon departure from Boston, Anna's journey is immediately littered with roadblocks, including but not limited to: a vicious storm that forces her plane to land in Wales, a canceled ferry, an electric socket-fried Blackberry, and, most importantly, a rugged Irish cynic named Declan (Matthew Goode), who agrees to assist Anna in her trek from Dingle to Dublin so as to earn the cash needed to save his bar. Spoiler alert: They fall in love.
Among countless other flaws, the film's plot leans heavily on Irish stereotypes from the get-go, beginning with the Leap Day tradition and continuing with Goode's terrible accent and the filmmakers' poor understanding of the country's geography. "[I]t appears no one considered consulting a map of Ireland while making the film," writes Irish Central. "At one stage, the characters walk from Dingle to Tipperary in about an hour ... but it takes three days to get from Dingle to Dublin?!" Other highlighted tropes of note include characters that actually say "top of the morning," Declan's obsession over his mother's Claddagh ring, and the depiction of most Irish roads as "dirt tracks."
"I'll give them credit for one thing," conceded Katy Harrington, who rewatched the film for Refinery29 in 2020: "There is no mention of leprechauns."
But, all that said … I … love it. I unabashedly and quite full-heartedly love the movie Leap Year. And so do my parents. And my brother and sister. And honestly, a few friends of mine. As for the issues with Irish tropes, well, I'm hardly the one to make that call; I defer to those in Dublin, Dingle, Tipperary, and the rest of the country Anna and Declan so stereotypically traversed. As both a casual, Irish-American viewer and a lover of romantic comedies, however, Leap Year to me is a cinematic treasure that ticks so many comforting-bad-movie boxes, both conventional and atypical.
Firstly, the movie almost makes it a point not to reinvent the rom-com formula, leaning heavily on the genre's classic principle that if you give two people who possess even an ounce of attraction to one another enough time, they will fall in love, no matter their differences. And yes, perhaps that's a myopic way of looking at relationships, but I'd argue it's a premise baked into so many of our favorite on-screen love stories precisely because we know it's not real.
So no, I don't mind that Anna and Declan — who in real life would be bitterly divorced in the span of one Kardashian — fall deeply, madly, and passionately in love after just three days together. No, I'm not concerned if our protagonists are moving about the country in a similarly unrealistic fashion. Honestly, I'm not thinking that hard about it! Whoever told you rom-coms are for thinking probably also tells children Santa Claus isn't real; what that sort of person has against turning their brains off and letting the comfort of an Extremely Regular Movie wash over them I will never understand. Listen, if every film was The Godfather, The Godfather wouldn't be The Godfather! With Leap Year, I was promised a cheesy love story, and I got one. Case closed.
But back to the stereotypes.
Seeing this film as the child of an extremely Irish father (who, along with my Italian mother, opted to give me an extremely Irish name) afforded me an almost parasocial connection with a place to which I'm heritably linked. I've been lucky enough to visit family in Ireland a few times now, and have witnessed far fewer Claddagh rings or trademark Irish catchphrases than Leap Year might have you believe. In other words, I've experienced a version of the country the film chooses not to examine.
But I also know how overjoyed I was to first visit the rolling green hills behind my great-grandfather's decaying house, or how excited I felt finding a bar tucked away in the mountains (much like our protagonist, Anna). Cows blocking the road? I love it! Castles and old-fashioned B&Bs? Sign me up! There's certainly valid criticism about how focusing on just these experiences runs the risk of unjustly reducing Ireland to nothing more than pubs and vistas. But it's true that these were the quintessential parts of the country that I looked forward to experiencing on my first visit, and often continue to miss when I'm gone. They're why my dad's eyes light up when he watches Anna's boat sail toward the beach in Dingle — we were there! They're why my family doesn't mind Declan's oddity of an accent, especially when he tells Anna he'll make her a "hang sandwich" — because we call it that too!
The annoying amount of ancestral pride my family carries, even from across the ocean, means that nearly any movie featuring any version of Ireland — metropolitan, rustic, unrealistically full of leprechauns — is one that fills us with unbridled joy. And Leap Year, for all its flaws and failings, does that just as well as any Oscar-winner ever could.
You might call that bad taste. I prefer to call it meeting a bad movie halfway.
Continue reading for free
We hope you're enjoying The Week's refreshingly open-minded journalism.
Subscribed to The Week? Register your account with the same email as your subscription.
Sign up to our 10 Things You Need to Know Today newsletter
A free daily digest of the biggest news stories of the day - and the best features from our website
Brigid is a staff writer at The Week and a graduate of Syracuse University's S.I. Newhouse School of Public Communications. Her passions include improv comedy, David Fincher films, and breakfast food. She lives in New York.