'British interest in Israel-Palestine is representative of something bigger'
Your digest of analysis and commentary from the British and international press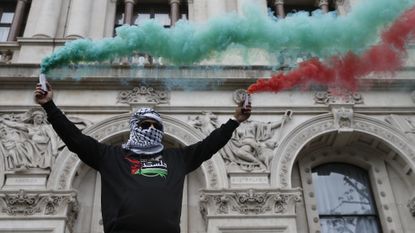 (Image credit: Hollie Adams/Getty Images)
Sign up to our 10 Things You Need to Know Today newsletter
A free daily digest of the biggest news stories of the day - and the best features from our website
Thank you for signing up to TheWeek. You will receive a verification email shortly.
There was a problem. Please refresh the page and try again.
1. Why the Left gave up on Israel
Ed West on Unherd
on a proxy conflict
"The good news from Israel is that there were just 40 new cases of Covid on Monday," writes Ed West on Unherd. But "barely has one horseman of the apocalypse disappeared when a new one turns up". While "people might not understand why Israelis and Palestinians are firing rockets at each other", West says, "that doesn't stop them choosing a team" in the conflict. However, "among certain English conservatives" there was once a "strong affinity and natural sympathy with the aristocratic Arab world, while most of the Zionists were radicals, socialists and feminists of various kinds". So why did they swap sides? The answer, West says, lies in the Left's "overriding interest in the power of victimhood", which has seen it become "representative of something bigger". In his book From Fatwa to Jihad, "Kenan Malik interviewed some British-born Muslims fuming at the Zionist entity, and observed that none of them could point to Palestine on a map or mention a single fact about it", West writes. "But the same is true of most culture warriors on the issue, who all see it as a proxy for a debate closer to home."
Subscribe to The Week
Escape your echo chamber. Get the facts behind the news, plus analysis from multiple perspectives.
SUBSCRIBE & SAVE
Sign up for The Week's Free Newsletters
From our morning news briefing to a weekly Good News Newsletter, get the best of The Week delivered directly to your inbox.
From our morning news briefing to a weekly Good News Newsletter, get the best of The Week delivered directly to your inbox.
2. Why the one new feature of Grant Shapps's rail proposals is also the most important
Stephen Bush in the New Statesman
on train planning
"There is not much that is new in the government's new review of British rail provision," writes Stephen Bush in the New Statesman. In fact it is "pretty much exactly what any transport wonk, in any party, who has sat down to discuss the problems with the British railways, would recommend". But what makes it different from previous policies is that "the secretary of state, Grant Shapps, has put his name on the review". While dwelling on the "slightly unwieldy" name, the "Williams-Shapps plan for rail", may seem "trivial", this distinction is key because "one recurrent problem is that often when these proposals emerge, they're widely welcomed but difficult to deliver" and "lack proper buy-in at a ministerial level". "The big hope with this set of proposals is that having a committed Secretary of State means that these proposals actually happen", Bush says. Though the fear remains that "Shapps will face the same fate as so many other Secretaries of State", namely "being reshuffled out into another job for which he has less enthusiasm, and being replaced by a less committed minister".
3. Why nostalgia beats living in the moment
James Marriott in The Times
on golden memories
"I have long understood that I am a chronic nostalgic," writes James Marriott in The Times. "The nature of my condition makes me a sort of obsessive tourist of my own past: incapable of passing the vicinity of an old flat without making a detour to stand on the doorstep." While "nostalgia has suffered by its reputation as an emotion for the senile", it is "common in children as young as seven". "And while it is, yes, most frequent in old people, the next most nostalgic demographic are young adults; thinking about the past apparently provides stability in times of change." "The present, in which we are so frequently advised to live, is fleeting and trivial," Marriott says, but "our pasts are richer, more filled with lessons and associations and meaning. We should spend more time there."
4. Our museums are bent on 'decolonisation' at the expense of showing us beauty
Ben Lawrence in The Telegraph
on preaching to the public
"This week, our cultural awakening should have made me approach the arts with a renewed vigour, a sense of optimism," writes Ben Lawrence in The Telegraph, "It hasn't. Instead, I have found myself without much inclination to enter any of the museums or galleries that have reopened." Modern museums and galleries have been "affected by the postmodern disease of relativism", with curators increasingly buying in to "the ever-growing cult of mass-appeal social science and new historicism" where "artworks must be viewed in the context of the history of their creators, and the works' relationship to the here-and-now". "In order for objects to survive and not be pulled down or hidden from view", the new orthodoxy says "they must have wordy explanations that go some way towards atonement", Lawrence adds. "Straightforward enjoyment, it seems, is no longer an option."
5. India's suffering isn't just the fault of a new Covid variant
Rukmini S in The Guardian
on patriotic bluster
"The variant that threatens the British summer has already done far more damage in India," says Rukmini S in The Guardian, adding that "this new variant played a significant role in India's overwhelming second wave". First discovered in the western state of Maharashtra in October 2020, the strain "was sequenced and uploaded to Gisaid, a global database of Covid-19 samples from across the world". Since then, "the sheer number of infections has overwhelmed India's health systems", but "the suffering was also caused by India's costly mistakes. Religious and political mass gatherings such as a month-long election campaign and the Kumbh Mela festival went ahead", while "the country's vaccination drive, which already seems to be having a positive effect on the number of Covid cases, has been impeded", she adds. "There are already signs this wave could be peaking in India", and if the country is to "prepare for the next public health crisis", the "government must stop hiding behind a veil of nationalism" and rely instead on "India's most respected virologists".
Continue reading for free
We hope you're enjoying The Week's refreshingly open-minded journalism.
Subscribed to The Week? Register your account with the same email as your subscription.
Sign up to our 10 Things You Need to Know Today newsletter
A free daily digest of the biggest news stories of the day - and the best features from our website