'Boris Johnson must not hand power over Britain back to the Blob'
Your digest of analysis from the British and international press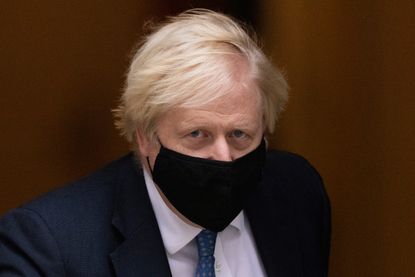 (Image credit: Getty Images)
1. The Blob is taking back control and destroying Boris Johnson's premiership
Allister Heath in The Telegraph
on Boris and the bureaucrats
"Boris Johnson isn't in power because he can crack the best Peppa Pig jokes, recite The Iliad in Ancient Greek or ad lib his way out of after dinner speeches," writes Allister Heath in The Telegraph. It is because he fought the election campaign as an "anti-establishment revolutionary" and "reinvented himself as the leader of the anti-Blob resistance". The more comedic Boris is now back but "the old shtick no longer works" because "Red Wall voters want results, not eccentric humour". Johnson now presides over a nation in which "taxes are shooting up, the economy is stagnating, with no plan to eliminate any of the unnecessary regulations weighing it down". Meanwhile, the NHS "has reverted to bureaucratic type, sucking in billions while failing patients on a scandalous scale". Johnson can now go back to war with the elite or allow the bureaucrats "slowly to drain the life out of his government", concludes Heath. "If he chooses the latter, not only will it be a betrayal of the very voters who gave him his majority, he will have handed power over Britain back to the Blob."
Subscribe to The Week
Escape your echo chamber. Get the facts behind the news, plus analysis from multiple perspectives.
SUBSCRIBE & SAVE
Sign up for The Week's Free Newsletters
From our morning news briefing to a weekly Good News Newsletter, get the best of The Week delivered directly to your inbox.
From our morning news briefing to a weekly Good News Newsletter, get the best of The Week delivered directly to your inbox.
2. PC Andrew Harper's killing was appalling, but changing the law won't protect key workers
Zoe Williams in The Guardian
on false dichotomies
Harper's law, named after PC Andrew Harper who was killed in the line of duty in 2019, introduces mandatory life sentences for anyone whose crimes result in the death of an emergency service worker. But Zoe Williams feels that it is "highly questionable" whether it will actually protect public servants. "By definition, this new law will predominantly affect criminals whose actions accidentally resulted in death, since murder carries a mandatory life sentence anyway," she said, and poses the "practical question of whether it's possible to be deterred in advance from an act that you didn't intend". The Guardian columnist adds that she finds the new law "unsettling" because it "ties the hands of judges and disregards their expertise" and sets up "false dichotomies: are you in favour of our brave service personnel or do you prefer lowlifes and defence barristers? Are you for good or for evil?"
3. I demonstrated against Tzipi Hotovely's appearance at LSE. This is why
Sayf Abdeen in The Independent
on a 'moral obligation'
Sayf Abdeen was one of those who demonstrated against Israeli ambassador to the UK Tzipi Hotovely's controversial appearance at the LSE. "The protest was loud, energetic, and rightfully outraged," he writes, "but it wasn't violent." Writing for The Independent, he says Hotovely "has incited against Palestinians, claiming they are 'thieves of history' with no heritage, and has portrayed Islam as an enemy of Israel". She opposes marriage between Palestinians and Jews, and has denied the Nakba, the "violent ethnic cleansing committed by Zionist militias during Israel's establishment in 1948, which saw the displacement of 80 per cent of the Palestinian population", he writes. As a Palestinian, Abdeen argues that protesting Hotovely's "platforming" at the LSE was "not only justified, it stemmed from a moral obligation". He adds that the LSE protest, "like the Palestinian struggle overall, is rooted in universal values – freedom, justice, and equality".
4. Don't fall for Rishi Sunak's leader-in-waiting spin
Iain Martin in The Times
on a dubious chancellor
Tensions between Nos. 10 and 11 Downing Street "may not yet be as serious as they were during the worst of the psychodrama involving Tony Blair and Gordon Brown", writes Iain Martin, but they are "pretty bad". As the Treasury is portraying itself as the "sensible, knowing, orderly establishment department run by the prime-minister-in-waiting, in contrast to the shambolic operation at No 10", Martin writes that he is "not swallowing that spin". Sunak is "implicated in ill-judged tax rises and numerous dubious policies". Although the Treasury "deserves much of the blame for the difficulties we face going into winter", the chancellor's "needy obsession" sets out to obscure that. We should not consider him a "leader-in-waiting", says Martin, because he is to blame for an economic policy that is "confused and wrong-headed".
5. Paedophilia is not progressive
Ayaan Hirsi Ali for Unherd
on dangerous destigmatisation
"In America of all places," writes Ayaan Hirsi Ali, activists are campaigning for "the destigmatisation of paedophilic desires" and arguing that "to remain horrified is bigoted; we need to feel empathy for the 'suffering' that paedophiles face". Writing for Unherd, she says that "what makes this movement even more disturbing is that its advocates are not confined to some progressive fringe: even those whose jobs it is to end child sexual abuse now support it". She writes that she is "a firm defender of academic freedom", who believes "the problem of paedophilia needs to be studied". However, she qualifies, "that does not mean that we can ignore the danger destigmatising paedophilia poses to children" and "we should not be normalising the idea that it is tolerable to fantasise about sex with children". Having been "a vocal advocate" for women, children, homosexuals, apostates and religious minorities for the past two decades, Hirsi Ali "believes in giving the voiceless a voice" but she feels "there must be a red line".

Continue reading for free
We hope you're enjoying The Week's refreshingly open-minded journalism.
Subscribed to The Week? Register your account with the same email as your subscription.