'US companies must help employees access reproductive health care'
Your digest of analysis from the British and international press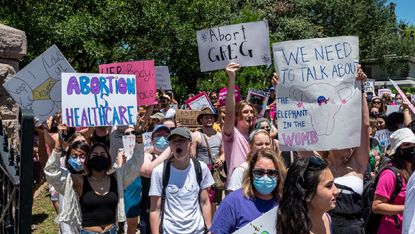 (Image credit: Sergio Flores/Getty Images)
Sign up to our 10 Things You Need to Know Today newsletter
A free daily digest of the biggest news stories of the day - and the best features from our website
Thank you for signing up to TheWeek. You will receive a verification email shortly.
There was a problem. Please refresh the page and try again.
1. Yes, abortion is your business's business
Reshma Saujani for CNN
on the private sector's responsibility
Mississippi's Dobbs v Jackson Women's Health Organization, the latest attempt to legalise abortion bans across the United States, is "an assault on reproductive freedom, and it looks like it'll work", says Reshma Saujani on CNN. Congress's failure to codify abortion rights into law, along with state abortion bans and their increasing success, sends "a message to 40 million American women of reproductive age: your rights are not the government's problem". As "horrifying" as that sounds, Saujani continues, "there is at least another group of leaders who can help protect women's lives and livelihoods in even a post-Roe v. Wade America: employers". For a long time, business leaders have stepped up "to protect their employees when the government has failed, from guaranteeing a living wage, to offering paid parental leave, to providing high-quality health care to all employees" – but the private sector has "barely touched reproductive rights". "As business leaders," Saujani continues, "we have the responsibility to look out for our people when politics leave them behind." That's why, if necessary, "companies must give their employees enough paid sick days and medical leave to access reproductive health care, even if it's states away".
Subscribe to The Week
Escape your echo chamber. Get the facts behind the news, plus analysis from multiple perspectives.
SUBSCRIBE & SAVE
Sign up for The Week's Free Newsletters
From our morning news briefing to a weekly Good News Newsletter, get the best of The Week delivered directly to your inbox.
From our morning news briefing to a weekly Good News Newsletter, get the best of The Week delivered directly to your inbox.
2. England should tolerate, not criminalise, protest
The Financial Times editorial board
on a bill that will 'erode freedoms'
One way you can measure democracy is by "how well it tolerates dissent", says the Financial Times editorial board. If the government is successful "in its attempt to shoehorn clauses into a mammoth piece of legislation that would treat protesters like criminals", then England and Wales's tolerance will be "severely diminished". The amendments to the Police, Crime, Sentencing and Courts Bill "erode freedoms that are a mark of a healthy democracy", the paper continues. The government's "method of trying to pass contentious amendments at the last minute" proves once again that its instinct is to "evade accountability". But even without the bill's amendments, it's still "problematic", the piece continues. "It criminalises protesters who cause inconvenience, even without causing damage", so much so that even "being too noisy could trigger police intervention". In the face of criticism, the government has "doubled down", says the FT. Downing Street "displays contempt for established checks and balances on power, be it from parliament, the courts, journalists", or, in the case of this bill, "from protesters, who are defined highly subjectively".
3. It's time to confront the immorality of lockdowns
Fergus Butler-Gallie for The Daily Telegraph
on the plight of the marginalised
During lockdown, when people were told to stay home and many businesses closed, "the Church didn't make a robust case for being essential, it closed its doors", writes clergyman and author Fergus Butler-Gallie in the Telegraph. "Just when the country needed spiritual succour more than ever, dignified clergy retreated to their kitchens." Some people considered this to be "an abrogation of leadership", he continues, "but it is par for the course for much of the last century". According to Butler-Gallie, during times of "political upheavals, wars and terror attacks", leaders have "largely acted as supporting actors to prime ministers". At the start of the pandemic, Boris Johnson "talked in terms of moral responsibility, of our duty to others", but it "did not take long for that language to change", with lockdown soon becoming couched in terms of "the economy" or "the science". At the same time, the plight of the marginalised – who, says Butler-Gallie, "often have most cause to rely on the church" – has been "to a large extent ignored". "Our leaders seem to have forgotten those for whom staying at home is a type of hell," he adds. Now, "as another Christmas looms", he concludes, "how can Covid not now become a question of morality?"
4. English football has a long way to go, but LGBT+ support is growing
Chris Paouros for The Independent
on being your authentic self at work
"I'm often asked why there are no openly gay players at the professional level of the men's game," writes Chris Paouros for The Independent. Yes, it's "eye-opening" that there's not even one in England, but that's "not the only yardstick on which to measure LGBT+ inclusion in football". Of course, we'd like to see someone like Adelaide United player Josh Cavallo "come forward in this country", she continues, but "we must remember that there are many people out in our game – from fans, coaches, club and governing body staff and of course players in the women's game". It's "difficult to pin down" exactly why there are so few openly gay male football players. "Is it career progression, fan approval, media attention, or concerns about the acceptance of teammates and peers?" she asks. "It's likely all of them and more." But, she continues, "what we do know is that being your authentic self at work improves performance". It's certainly possible "that there are and have been many young men in the game who don't make it to the top flight because they have not felt comfortable or welcome to be themselves fully in football".
5. Don't assume that young people like cancel culture
Vicky Bingham for The Times
on 'self-censoring' students
"Young people care about fighting discrimination and about combating the climate crisis," writes Vicky Bingham, the headmistress of private London girls' school South Hampstead High School, in The Times. "So do I and so should we all." But, she continues, "let's not reduce these burning issues to a simple generational conflict". Most of the young people Bingham knows, she says, "abhor 'cancel culture'. They see it as performative, virtue-signalling and frightening" and "would much rather focus on meaningful action, little by little". This summer, Bingham and staff asked their pupils how easy they found it "to express their views in school". In response, pupils "admitted to self-censoring" and said that they "did not want to grow up in an echo chamber". As teachers, we must help students "to distinguish between fundamental human values, such as respect for our fellow human beings, and sociological theories, such as critical race theory or the idea that sex is a social construct rather than a biological reality", continues Bingham. It's important to remember "that young people are not a homogenous group with one set of views, as we often like to portray them".
Continue reading for free
We hope you're enjoying The Week's refreshingly open-minded journalism.
Subscribed to The Week? Register your account with the same email as your subscription.
Sign up to our 10 Things You Need to Know Today newsletter
A free daily digest of the biggest news stories of the day - and the best features from our website