'Breakthrough on abortion rights could be there if Biden reaches for it'
Your digest of analysis from the British and international press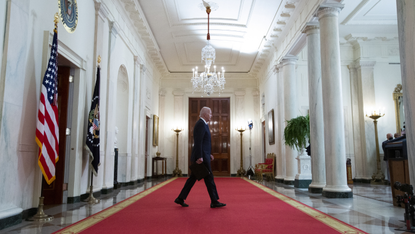 (Image credit: Oliver Contreras/Sipa/Bloomberg via Getty Images)
Sign up to our 10 Things You Need to Know Today newsletter
A free daily digest of the biggest news stories of the day - and the best features from our website
Thank you for signing up to TheWeek. You will receive a verification email shortly.
There was a problem. Please refresh the page and try again.
1. Does Joe Biden want to protect women's rights – or his majority?
Kate Andrews in The Spectator
on political power
"The US Supreme Court has not banned abortion," says Kate Andrews in The Spectator. The point made by its "pretty reasonable" ruling last week was that the issue "should be decided by elected politicians, not by appointed judges", so if women's rights are to be protected, "pass a law to do so". But "for pro-choice Americans like me, there's little comfort to be found in the Court's nuanced ruling", Andrew continues. The "gulf" between the opinion "and what's actually happening" can only be explained by what "fills it: extreme, divisive politics". It has suited both Republicans and Democrats "to use the Supreme Court to play politics", and now "the question is whether they really want to stop". A "breakthrough" on legislating for abortion rights "could be there", Andrews argues, if Joe Biden "reaches for it". It's "worth trying". Yet "the fear and panic in the air is not due to the Supreme Court ruling, but because it really now is down to the politicians to act".
Subscribe to The Week
Escape your echo chamber. Get the facts behind the news, plus analysis from multiple perspectives.
SUBSCRIBE & SAVE
Sign up for The Week's Free Newsletters
From our morning news briefing to a weekly Good News Newsletter, get the best of The Week delivered directly to your inbox.
From our morning news briefing to a weekly Good News Newsletter, get the best of The Week delivered directly to your inbox.
2. I didn't think going car-free would be possible for me: but it has changed my life
Funmi Shonibare in The Guardian
on transport choices
Funmi Shobinbare has "always been a driver at heart". Writing for The Guardian, the mum of one says she became "dependent" on her car after becoming a parent and "couldn't imagine a world where I didn't get around on four wheels". But "that all changed when I tried going car-free" for three weeks after signing up to a climate charity's challenge. "It was daunting," she says, but "being a motorist isn't always a piece of cake" either. Of course, giving up driving "didn't come without its challenges", writes Shonibare, who had to "lug" her bike up the stairs to her London flat owing to a lack of secure street storage. But "simple tweaks in investment and infrastructure could make it so much easier to give up the car for good" and "the benefits outweighed the downsides". After getting fitter and saving some money while helping to protect the environment, Shonibare now feels it's "my duty to get on my bike whenever I can".
3. Why the Tories don't care about the future
Simon Kuper in the Financial Times
on thinking ahead
Perhaps no other country "has a happier relationship with its own past than Britain", writes Simon Kulper in the Financial Times, "and the self-appointed guardian of that relationship is the Tory party". Yet while Britons have "consistently helped invent the future", neither of our main political parties "now offers a vision" for one. "Britain's transformative postwar leaders – Attlee, Thatcher and Blair – were futurist almost by definition." But the "sunlit uplands" of Brexit that these former leaders' "heirs" sold to the UK electorate have "evaporated", Kulper argues, and it's "hard to concoct a futurist narrative without economic growth". The Tories' "long-standing love affair with older voters has climaxed under Boris Johnson", and "once you're an old people's party, you're free to ignore many things: the dearth of new homes, record low birth-rates" and "even the economy". Somewhat "perversely", the Tories "may be the future", and it seems "future politicians can ditch futurism".
4. R. Kelly's prison sentence is the least men like him deserve
Victoria Richards in The Independent
on life sentences
As rapper R. Kelly is hit with a 30-year prison sentence for sex trafficking and racketeering, Victoria Richards argues that "the most striking thing about this case, sickening as it is", is that "it's not striking at all". The Independent's Voices editor has lost count of "how many times" we have heard "women sob and recount harrowing episodes of trauma at the hands of older, more powerful men". The sad reality is that "this story is as old as the ages". Richards believes there is something "very, very rotten in the cult of male celebrity", and "it doesn't end with abuse". This type of behaviour has a "ripple effect", and "not just for the victims themselves, but all those who see what men like this can get away with for so long – and assume they can do the same". The rapper's sentence "isn't nearly enough". The women he abused are "suffering a life sentence because of what he did", she writes, and he "deserves the same".
5. NHS must take risks and innovate or die
David Aaronovitch in The Times
on 'an impossible dream'
Tony Blair's Institute for Global Change has published a report that argues the NHS "as currently run" is "not fit for the mid-21st century", writes David Aaronvitch in The Times. "There are extraordinary opportunities available in technological and medical advances and in our understanding of public health, but the NHS is in no position to make significant use of them." Aaronvitch emphasises that "this is not a tilt at NHS staff, or at the current taxpayer-funded, risk-pooled health system". But "when it comes to results, the NHS is not the glory of the world". Stroke survival rates are "poor", and satisfaction with the service is down by 17% in a year. The newly published report "furnishes some examples of different ways of doing things", and "when you look around for instances of successful innovation, they are out there", he adds. But Aaronvitch has to agree with the report's verdict that "given our current political governance", a "wholesale" move to a system based on higher transparency and innovation "seems almost an impossible dream".
Continue reading for free
We hope you're enjoying The Week's refreshingly open-minded journalism.
Subscribed to The Week? Register your account with the same email as your subscription.
Sign up to our 10 Things You Need to Know Today newsletter
A free daily digest of the biggest news stories of the day - and the best features from our website