'G7 leaders missed a golden opportunity'
Your digest of analysis from the British and international press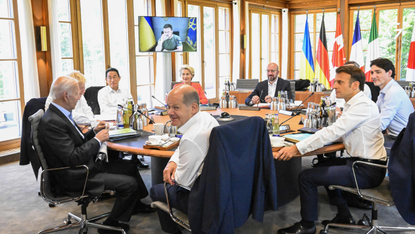 (Image credit: Tobias Schwarz/Pool/AFP via Getty Images)
1. The world needs more than crumbs from the G7's table
Mark Malloch-Brown in The New York Times
on global concerns
The G7 summit ended last week with world leaders pledging to support Ukraine for "as long as it takes". Mark Malloch-Brown, former UN deputy secretary general, says: "There is no question that Ukraine should receive that help," but these leaders "are missing the bigger picture" and that is "terrifying". Writing in The New York Times, he says the "ripple effects of the war now threaten to cause hunger and suffering on an enormous scale", but the G7 has "failed to respond with anything like the level of commitment required to stave off a human catastrophe". The world needed a "Marshall Plan", akin to the US aid given to Western Europe after the Second World War, but what it got was "a Band-Aid". The "rich-country disconnect" was also evident in the summit itself, which was "held in a luxury resort and spa nestled in the Bavarian alps", says Malloch-Brown. During the three-day gathering, just 90 minutes were dedicated to discussing food, health and climate with G7 partner countries. World leaders missed "a golden opportunity".
Subscribe to The Week
Escape your echo chamber. Get the facts behind the news, plus analysis from multiple perspectives.
SUBSCRIBE & SAVE
Sign up for The Week's Free Newsletters
From our morning news briefing to a weekly Good News Newsletter, get the best of The Week delivered directly to your inbox.
From our morning news briefing to a weekly Good News Newsletter, get the best of The Week delivered directly to your inbox.
2. Pop-up leaders and flexible staff are ready for a new crisis
Andrew Hill in The Financial Times
on stress-tested employees
"Wanted: managers with hands-on experience of double-digit inflation and economic recession," writes Andrew Hill in the Financial Times. "Fluency in 1970s industrial relations an advantage. Knowledge of the business impact of war in Europe desirable." Financial executives "have raised the alarm about a lack of senior employees" with experience of "the sort of economic gloom not seen for 40 years". But bosses can "calm down", says Hill. The workforce has "just taken a global stress-test that ought to have left them better prepared for the next crisis". During the pandemic, chief executives told this writer that they relied on their response to the 9/11 attacks, the 2008 financial crisis and their preparations for Brexit. "They did not need to find managers who had lived through a global pandemic", instead looking "to other high-stress moments for clues about how to handle this one". The last two years have made clear "the danger of pulling an old plan off the shelf".
3. The past stinks
Sam Leith in The Spectator
on sniff tests
Historians in several European countries have spent two years "working to synthesize the smells of the past", writes Sam Leith in The Spectator. "These Dr Strangeloves of the sinus" have reportedly reconstructed "the odour of the canals of old Amsterdam". Another of their "successes" includes the smell of St Paul's Cathedral pre-refurbishment. We're often told that smell is "most deeply and directly" connected to memory – "but smell's connection to memory is a personal one – not a shortcut to tribal or species memory". Leith says that while paintings and drawings of historical events can teach us "all sorts of things", a "whiff of Queen Elizabeth I's armpit will only tell us that when she boasted that she took a bath once a month whether she needed it or not, she needed it". Should "millions" have been spent learning the lesson of "how much nicer it is to live in the modern day"?
4. With the world getting back to normal after Covid, I've got summer FOMO again
Bryony Gordon in The Telegraph
on social engagements
Bryony Gordon has been "searching for some time for the silver lining to the gigantic black cloud that was the pandemic". Writing in The Telegraph, she says she "might have finally clutched a straw chubby enough to hang on to" – that while "locked away in our homes, with only Netflix for company, we at least didn't have to experience FOMO". The "fear of missing out" describes "the constant sense of social inadequacy we can feel in this social media age", when a "quick scroll" can make you feel you are the "only person on the planet not out and about having a good time". During the pandemic, Gordon "no longer needed an excuse to skip a party and go to bed early", doing so "safe in the knowledge" that everyone was "having a really bad time without me". Now, seeing people out enjoying themselves makes this writer think she would "like to start socialising again" now.
5. Protecting old trees: respect your elders
The Times editorial board
on counting trees
"Exceptionally old trees are worth preserving," says The Times. They offer "a unique way for Britons to connect with their national history". Visitors to "the 2,500-year-old Ankerwycke Yew in Surrey can gaze at the tree that bore witness to King John's decision to put his seal to Magna Carta" more than eight centuries ago. These great trees are "beautiful natural moments", their "gnarled, girthy trunks" a "testament to a resilience and fortitude that is worthy of our respect". A study published by researchers at the University of Nottingham has indicated that "hundreds of thousands of exceptionally old trees are unidentified" and are "vulnerable" as a result. Only 115,000 ancient or veteran trees are currently on record, but the true number could be in the millions. "Root-and-branch reform is needed", and a national register of Britain's oldest trees "would be a good start".

Continue reading for free
We hope you're enjoying The Week's refreshingly open-minded journalism.
Subscribed to The Week? Register your account with the same email as your subscription.