'Police tactics are not getting worse, they are simply being filmed'
Your digest of analysis from the British and international press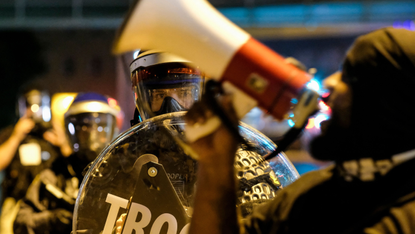 (Image credit: Matthew Hatcher/AFP via Getty Images)
1. Growing list of sickening tales that show Black lives still don't matter
Darren Lewis in The Mirror
on police and black men
"We are still dying, hurting and being humiliated," writes Darren Lewis in The Mirror. In the US and UK, "Black men's lives are being taken with impunity by police who always seem to have a reason but are repeatedly seeing that reasoning exposed." On Monday, 25-year-old Jayland Walker became "the latest victim", shot 60 times by police in Ohio during a traffic stop. "How you even shoot someone during a traffic stop 60 times – even if they have a firearm – takes some explaining." Two years after the death of George Floyd, "Black lives still appear not to matter", says Lewis. "The list of Black men killed instead of being apprehended" is "getting longer". Look at "some of the evidence in the litany of cases for which London's Metropolitan Police was placed into special measures this week" to see this is true in the UK too. The "tactics are not getting worse. They are simply being filmed."
Subscribe to The Week
Escape your echo chamber. Get the facts behind the news, plus analysis from multiple perspectives.
SUBSCRIBE & SAVE
Sign up for The Week's Free Newsletters
From our morning news briefing to a weekly Good News Newsletter, get the best of The Week delivered directly to your inbox.
From our morning news briefing to a weekly Good News Newsletter, get the best of The Week delivered directly to your inbox.
2. Labour cannot 'make Brexit work' – and Keir Starmer should be honest about that
The Independent Editorial
on an 'impossible' project
"Keir Starmer should know better than to launch a European policy with the slogan 'Make Brexit Work'," says The Independent. "That's because it is, in fact, impossible to make Brexit work." The project is "inherently damaging", and "incompatible with a stable economy, the Good Friday Agreement, and amicable relations with Britain's closest neighbours and allies". Brexit is a "disaster" and Labour can't turn it into a "success with a five-point plan", as the party's leader has suggested. Starmer "fought Brexit all the way in the Commons" and the subsequent shift in stance is Labour's attempt to "'neutralise' the issue in preparation for regaining its Leave-leaning seats in the North" at the next election. "Labour should be honest with itself and with the public" and "at least advocate re-entering the European single market and/or customs union". But "it would require the party to have the courage of its convictions and a hunger to win the argument".
3. Lock up your cats
Sam Leith at Unherd
on feline friends
In the last century, cats were considered "resilient, free-roaming predators, at home in the world", says Sam Leith. Writing at UnHerd, he says that's "no longer" true. This writer hunts around his house to ensure his cats are "safely indoors" each evening. "My mind roams to images of my cats being torn to bits by urban foxes that slink along the fence." The internet "is saturated with cat adoration", and our feline friends "now occupy a peculiar position in our minds", considered "cuddly creatures utterly dependent on us for protection". Leith says it's "a recipe for paranoia", and "there's a buck to be made feeding it". ITV's How to Catch aA Cat Killer was eaten up by audiences, he says. "Pet cruelty seems to hit a sweet spot: it's at once deeply emotive" but also "low-level crime". Leith thinks "prevention is better than cure", so "lock the doors at night, and make sure the cats are in".
4. The Guardian view on lone parents in poverty: austerity lives on
The Guardian Editorial
on living standards
News that lone parents and their children are almost twice as likely to be living in relative poverty is "dismaying, though not really surprising", says The Guardian. The last decade or so has seen work on reducing child poverty "comprehensively undone". Cuts to benefits made by the Conservatives "have disproportionately harmed many already vulnerable groups". The fact that around 1.5 million children and their lone parents "face such hardship should shame the ministers responsible". These households have seen "the sharpest falls in living standards", according to expert analysis: "they are more likely to go hungry, skip meals and be in debt; and less likely to be able to afford their homes". The support package announced by Rishi Sunak recently "falls short of what is needed". Child benefit should go up, as should the benefit cap, the newspaper continues. A "broader recognition" of how care and needs "continue to be overlooked and penalised by the government" is needed too. "We all have a stake in the future."
5. Let's make like the French and take the entire month of August off work
Phoebe Luckhurst in the Evening Standard
on holiday making
There is a "long, undeniable list of things that les Francais just do better", Phoebe Luckhurst writes in the Evening Standard. "Food, obviously; wine, of course; weather, in much of the country." One particular thing "sticks out, and it is not culture nor cuisine nor even their innate chic". It's "the fact that they don't work in August", says Luckhurst. "Ask a Parisian to do something productive" that month – "Pah! How they will laugh, sending Gauloises smoke up your nostrils in the process. Come August 1 – at the very latest – and the collective OOO is on; the city is demob happy". This year, summer "is a maelstrom, mayhem, diary-ageddon" and "if something has to give – why not work?" Luckhurst is "imagining a sort of collective, voluntary furlough" where "no one has to feel guilty about skiving off because everyone is skiving off". This writer says: "Workers of London unite – we have nothing to lose but our chain emails."

Continue reading for free
We hope you're enjoying The Week's refreshingly open-minded journalism.
Subscribed to The Week? Register your account with the same email as your subscription.