What homebuyers need to know as mortgage rates hit a 21-year high
How much longer will mortgage rates stay this steep, and what can you do to secure a lower rate if you need to buy now?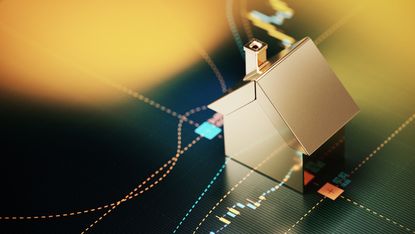 (Image credit: MicroStockHub / Getty Images)
Sign up to our 10 Things You Need to Know Today newsletter
A free daily digest of the biggest news stories of the day - and the best features from our website
Thank you for signing up to TheWeek. You will receive a verification email shortly.
There was a problem. Please refresh the page and try again.
In mid-August, the average rate on 30-year mortgages soared to 7.31%, marking the first time since May 2001 that they've topped 7.30%, according to Bankrate. And on top of this, median home sale prices are also trending upward. Per Redfin, the median home sale price is up 3% from a year earlier, sitting at $381,225 as of early August.
Between those two factors, monthly mortgage payments are steep — Redfin reported that they're an average of 18% higher compared to a year prior. So how much longer will mortgage rates stay this steep, and what can you do to secure a lower rate if you need to buy now?
Why are mortgage rates so high right now?
A big piece of why mortgage rates are as high as they are has to do with inflation, coupled with the Federal Reserve's response to fight it by repeatedly raising the federal funds rate. As Kiplinger reported, the Fed has raised this rate in an "attempt to combat the highest inflation seen in almost 40 years" by effectively trying to "drive down spending as consumers realize higher commercial interest rates on not only mortgages but credit card APRs and other loans."
Subscribe to The Week
Escape your echo chamber. Get the facts behind the news, plus analysis from multiple perspectives.
SUBSCRIBE & SAVE
Sign up for The Week's Free Newsletters
From our morning news briefing to a weekly Good News Newsletter, get the best of The Week delivered directly to your inbox.
From our morning news briefing to a weekly Good News Newsletter, get the best of The Week delivered directly to your inbox.
When you apply via our links, we may earn an affiliate commission.
Of course, as Bankrate pointed out, the Fed "doesn't directly set fixed mortgage rates," but "it does set the tone." And it has been doing the "most aggressive raising of interest rates in 40 years," Lawrence Yun, a chief economist at the National Association of Realtors, told Bankrate. Come September, the Fed is expected to hike rates once again, marking the 12th rate hike since March 2022.
How long will interest rates stay so high?
This latest spike in mortgage rates, which follows a retreat earlier this year after mortgage rates rose above 7% in 2022, could mark the start of an upward climb. "We might not yet be at a peak for mortgage rates given recent economic momentum and lack of clarity on Federal Reserve policy," Mark Hamrick, Bankrate's senior economic analyst, told Bankrate.
As far as when rates could start to come down, according to Bankrate, many housing economists are "hopeful that mortgage rates will fall later this year as inflation comes under control." Still, there isn't a guarantee that will happen, as the "resilience of the U.S. economy has thrown a wrinkle into those expectations," per Bankrate.
As CNN Business put it, citing George Ratiu, a chief economist at real estate market insights and content company Keeping Current Matters, "With inflation still a concern for the Fed, home buyers can expect borrowing costs to stay elevated."
What can you do to get a lower rate if you're buying now?
Between steep mortgage rates and high home prices, now isn't an ideal time to be a homebuyer — or a seller, for that matter. Per Kiplinger, citing a recent survey by Redfin, "homeowners with a mortgage rate above 5% are almost twice as likely to say they plan on selling their home in the next three years than those paying a rate below 5%," leading to a "mismatch between supply and demand" that's contributing to higher home prices.
But sometimes you don't get to decide when you need to move to another home. If you're currently in the market for a mortgage, these are some tips to keep in mind to try to get the lowest rate you can.
Work to increase your credit score before you apply: Per Kiplinger, the "most important factor in determining your mortgage rate is your credit score." A higher credit score can help you secure a lower rate, as lenders will view you as a lesser risk. You'll usually need a minimum of a 760 FICO score to get access to the lowest possible rates, according to Kiplinger, so take steps to get your credit score as close to that as possible before you apply. Ways to increase your credit score include making sure you're on time with payments, paying down existing balances, reviewing your credit report to resolve any potential errors, and holding off on opening or closing any accounts.
Shop around and compare different lenders. When looking for a mortgage, don't just take the first offer you get. Instead, shop around a little bit and get quotes from multiple lenders to see what rates they can offer. One easy way to do this comparison shopping is with a mortgage comparison tool, and Kiplinger also suggested that you can "often find lower mortgage rates from local lenders and credit unions" compared to big banks.
Make a bigger down payment if you can afford to do so. If you're able to put more money down without stretching yourself too thin elsewhere, that's another way you can potentially secure a better rate on your mortgage. As Experian explained it, "When you put down a significant percentage of the purchase price, you lower the loan-to-value (LTV) ratio for the home," which in turn lowers the risk involved for the lender. When a lender sees you as a safer borrower, "the more likely you'll be to secure a lower interest rate," per Experian.
Think about a rate lock once you're approved. Especially given the fact that mortgage rates might keep trending upward, you may consider locking in your mortgage rate once you get approved for a loan and have signed the purchase agreement. Doing this allows you to avoid paying a higher rate if interest rates go up over the weeks it can take for the closing process to wrap up. That said, there's a caveat involved here, according to Experian: "Just as a rate lock prevents your interest rate from changing when interest rates rise, it could also mean you'll miss out on a better rate if interest rates decline." One way around this is to get a float-down option, but that might cost you additional money on top of the fee you might already have to pay for a rate lock.
Becca Stanek has worked as an editor and writer in the personal finance space since 2017. She has previously served as the managing editor for investing and savings content at LendingTree, an editor at SmartAsset and a staff writer for The Week. This article is in part based on information first published on The Week's sister site, Kiplinger.com.
New tax rules for 2023: Download your free issue of The Kiplinger Tax Letter today. No information is required from you.