Wordle alternatives: 16 best games, puzzles and apps
There's now a Wordle spin-off to suit almost everyone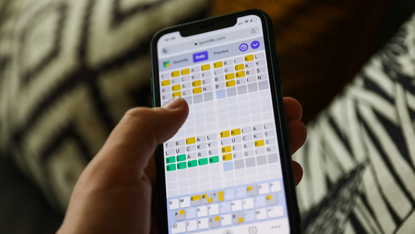 (Image credit: Jakub Porzycki/NurPhoto via Getty Images)
Wordle, the online word guessing game that took the internet by storm, celebrates its first anniversary this month.
The word game was born out of the pandemic, when former Reddit software developer Josh Wardle designed the game for his partner Palak Shah, "who was absorbed by word games like the New York Times Spelling Bee and Crossword", said tech website The Street.
The five-letter puzzle, which appears simple but is often fiendishly difficult, grew from 90 players in November 2021 to more than two million in early January.
Subscribe to The Week
Escape your echo chamber. Get the facts behind the news, plus analysis from multiple perspectives.
SUBSCRIBE & SAVE
Sign up for The Week's Free Newsletters
From our morning news briefing to a weekly Good News Newsletter, get the best of The Week delivered directly to your inbox.
From our morning news briefing to a weekly Good News Newsletter, get the best of The Week delivered directly to your inbox.
Soon after that, The New York Times bought Wordle for a "low-seven-figure" sum as part of its gaming division and the puzzle even helped rescue a pensioner held hostage in their basement.
But if you've tired of the original, here are some of the alternatives that have sprung up in the last 12 months and should you get bored of any of these, there is also The Week's very own Quiz of The Week too.
1. Dordle
A "devious word game that doesn't let you off easy", Dordle challenges players to guess two five-letter words at once, "but you can only input one word guess at a time", said CNET. "Confused? Play it and you'll get it." And unlike Wordle, you can play new puzzles on the same day, so newbies can take multiple turns to get the hang of things. While Wordle is more of "a calm, breezy experience", the reviews site continued, Dordle "should give you some exciting moments. Or anxious moments. Or both." It's "a different beast", with "a bit of an attitude". But "that's what makes it fun and challenging".
2. Quordle
Want even more of a challenge? Quordle presents players with four Wordle-style puzzles to solve. So while the principle is "the same", you have to guess "four five-letter words at the same time", said The Independent. You get nine attempts, "with each guess appearing in all four fields", and you can take a practice turn too. According to Quordle creator Freddie Meyer, his game has attracted more than 500,000 players daily, but he has insisted that there are no plans to monetise the puzzle.
3. Heardle
Heardle is billed as "a respectful homage to Wordle, with a musical twist". Players hear the first second of a song "semi-randomly plucked from a long list of popularly streamed artists", before trying to name the tune. With each wrong guess of the song title, they unlock a little more of the clip. Unlike Wordle, players can skip a go and automatically hear a few more seconds of the song – though they can't win a "virtuoso" rating with that strategy… The game has some high-profile players, with Ahmir Khalib Thompson – aka musician and producer Questlove – sharing a recent win with his 3.3m Twitter followers.
4. Byrdle
While Heardle is perfect for pop lovers, Byrdle is designed for the classical crowd. Named from Renaissance composer William Byrd, the game follows the same principle and allows the same number of goes as Wordle, but the words are related to choral music. According to the game site, Heardle gained 50,000 players within three weeks of launching. "Much like a delightfully dissonant English cadence, we're lost for words," said Classic FM.
5. Who Are Ya?
A Wordle for football fans, Who Are Ya? is a browser-based game hosted on the website Missing11.com that challenges players to identify a blurred-out professional footballer in eight goes using a limited number of clues. With each turn, players are told whether the nationality, league, club, position or age is right, and the image gets a little less blurred. "It's a lot harder than it sounds," said the Daily Express. There's a version with players from the big five European leagues too, and a Premier League alternative if that's a bit too tricky…
6. Framed
This new guessing game is giving "movie buffs the chance to flex their frame-by-frame muscles", said GamesRadar+. Players are shown a still from a film, and have six guesses to identify the title. With each wrong turn, they're shown a new still. Despite the similarities to Wordle, Framed is "more of a trivia game than a puzzle challenge", said IndieWire. Either way, the film-focused game is said to have already gained millions of daily users.
7. Worldle
French software developer Antoine Teuf had "a eureka moment when he saw Wordle's success", The Guardian's education editor Rachel Hall reported. Teuf has told how having previously tried without success to build web games, he realised "'it's better to keep it simple'". The result was Worldle, which tasks players with identifying a different country's silhouette in six goes each day. The game has even spawned its own spin-off in the form of Globle, which is a "bit more hi-tech", according to Metro.
8. Crosswordle
"Sure, Wordle is fun," said CNET, "but what if there was a crossword element to it?" Cue Crosswordle, in which players try to guess two words of varying lengths that crossover each other – just like, you guessed it, a crossword. There's one puzzle each day, but no limits on the number of guesses. And "unlike other Wordle-based games, Crosswordle lets you create your own custom Crosswordle puzzle to share with your friends", added the reviews site. For more ambitious players, "developers are working on a hard mode" too.
9. Absurdle
Described by The Guardian as a "much more confrontational, brain-burning" version of Wordle, Absurdle also revolves around trying to guess a five-letter word but "sharpens the original premise into a horrific machiavellian scheme". The key difference is that "the target word changes as you play", said Tom's Guide. "Essentially, you're competing against a malevolent AI which uses your guesses to narrow down the possible answers, discounting anything that contains a letter you've used." And "the more guesses you make, the smaller the answer list gets", The Guardian explained, until "there is only one word in the dictionary that fits the algorithm that you and the game have created". "Voila, you've beaten Absurdle at its own game" – but in how many goes?
10. Nerdle
"The title pretty much sums it up here," said the New York Post. This maths game challenges players "to find a daily sum by creating a logical equation of multiplication, subtraction, division and/or addition in six or less attempts". There are 17,723 valid outcomes, and success "relies on a proper order of operations in solving" the numbers conundrum, the paper explained. Nerdle was created by London-based data scientist Richard Mann. "We think it's just as fun playing with numbers as playing with letters. See if you agree," he says on the game site.
11. Sweardle
Billed as "the sweary" guessing game, Sweardle was invented as a "joke parody of Wordle", swapping five-letter words for four-letter expletives, with approximately 50 swear words used in rotation. A message on the game site explains that its creator "wishes to remain anonymous because this really isn't the sort of thing you want to have come up in a future job background check".
12. SpellTower
Like Boggle mixed up with Tetris: players make words out of adjacent letter tiles to clear the play space. It tests vocabulary as well as spatial planning skills, with words used as tactical objects. Free on iOS and Android.
13. Wurdweb
This is a take on Scrabble. Players are given a selection of words which have to be placed on the board without running out of playable spaces. There's a more challenging "precise mode" where players have to finish on a specific square. Free on iOS.
14. Letter Quest: Grimm's Journey
A combination of word puzzles and dungeon-delving adventure, with players guiding a grim reaper through dungeons defeating monsters by conjuring words from a panel of letter tiles. Free on iOS and Android.
Play Letter Quest: Grimm's Journey
15. Typeshift
You have to guess the word by spinning a wheel of different letters with your finger. There is also a mode with crossword-style clues. Free on iOS and Android.
16. Lewdle
Are you a fan of Wordle and an aficionado of vulgar vocabulary? Then Lewdle is an appropriately inappropriate option for you. "It gets explicit, wild, suggestive, and torrid at every turn, making it a big No-No in family-friendly or professional settings," said Nerds Chalk, which describes the game as a "grossly inappropriate and oddly engrossing wordle variant". As a bonus, you can even suggest words to the team behind the game.

Continue reading for free
We hope you're enjoying The Week's refreshingly open-minded journalism.
Subscribed to The Week? Register your account with the same email as your subscription.