'In England, the economy matters more than people's lives'
Your digest of analysis and commentary from the British and international press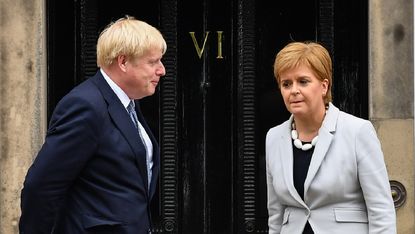 (Image credit: Jeff J Mitchell/Getty Images)
Sign up to our 10 Things You Need to Know Today newsletter
A free daily digest of the biggest news stories of the day - and the best features from our website
Thank you for signing up to TheWeek. You will receive a verification email shortly.
There was a problem. Please refresh the page and try again.
1. Nicola Sturgeon is listening to scientists while Boris Johnson puts economy over people's lives
Professor Harry Burns for The Scotsman
on England's 'Freedom Day'
Why is it taking longer to end Covid restrictions in Scotland than in England, asks Professor Harry Burns in The Scotsman. Is it because Nicola Sturgeon "pays more attention to scientific and medical advice", while Boris Johnson prioritises the economy over people's lives? The UK's vaccination programme has certainly had a "tremendous impact" but it's "not quite finished", Burns writes. "There are still many young people and a fair number of older people who should be vaccinated if we want to achieve maximum protection." Thousands of people are being admitted to hospital each day, with the virus "spreading most rapidly in the young". Before opening up society "in a responsible and sensible way", we need to get them vaccinated "as quickly as possible", he argues. "Scotland and Wales are both being more cautious than England" and that caution is "entirely justified by the evidence".
Subscribe to The Week
Escape your echo chamber. Get the facts behind the news, plus analysis from multiple perspectives.
SUBSCRIBE & SAVE
Sign up for The Week's Free Newsletters
From our morning news briefing to a weekly Good News Newsletter, get the best of The Week delivered directly to your inbox.
From our morning news briefing to a weekly Good News Newsletter, get the best of The Week delivered directly to your inbox.
2. I used to disagree with Disability Pride Month, but I am grateful for it now
Kate Rice for The Independent
on coming to terms with a disability
Kate Rice's experience with Disability Pride Month has not always been a positive one. When she first came across the concept, "the idea that I could feel anything but resentment towards the conditions I struggled with was alien to me", she writes in The Independent. "So pride was not exactly an emotion that came to mind." But over the past year, "a lot of learning experiences" have changed her perspective "immeasurably". When Rice started using a mobility aid, "degrading comments and intrusive questions" became a daily occurrence. These responses forced her to confront her identity as a disabled woman, "instead of shying away from it", and to "interact with people who didn't live with shame, but with a sense of pride and community in support of each other". Rice has been "compelled to discover more about myself and my identity", and to recognise that "disabled voices are valid and valuable, and they deserve to be treated as such".
3. Cuba's apologists need to face the grim reality
David Aaronovitch for The Times
on Cuban protests
The government of hurricane-prone Cuba was hit by a political "earthquake" last Sunday, when thousands of protesters hit the streets of towns and cities "calling for change", says David Aaronovitch in The Times. The island's "rattled" authoritarian leaders blamed the demonstrations on "foreign powers stirring up trouble", as the country's foreign minister denied reports of a "social uprising". Instead, "there had been 'riots, disorder, caused by a communications operation that has been prepared for some time … with funds from the United States government'", ministers claimed - an argument also "trotted out" by a British academic on the BBC. "Such dictator-forgiveness is surprisingly common," writes Aaronovitch. "I get it, of course. I was brought up in the 1960s to think of Fidel Castro and his revolutionaries as the great hope for mankind." But the first thing "any keen-eyed person" will notice when visiting Cuba "is the utter dysfunctionality of its economy". And the blame for this dysfunctionality lies not with US sanctions, "deployed as an endless self-exculpation", but rather the island's economic system itself.
4. How to raise kids who won't be racist
Melinda Wenner Moyer for The New York Times
on banning critical race theory in schools
"If race is largely a social construct," says scientist and author Melinda Wenner Moyer in The New York Times, "then teaching children about it will only perpetuate racism - right?" Actually, "wrong: studies show precisely the opposite," she writes. "Open conversations about race and racism can make white children less prejudiced and can increase the self-esteem of children of colour." Across the pond, a number of US states are attempting to ban the teaching of critical race theory in schools. If successful, "it's imperative that parents pick up the slack", argues Moyer. Even though these conversations might be uncomfortable, especially for "white people like me", parents should challenge harmful biases and educate their kids about how centuries of systemic racism have resulted in social inequities. "Attempts to suppress discussions about race and racism are misguided," she warns. They won't eliminate prejudice and may even "make it worse".
5. Middle-aged women can be the worst online trolls – as part of that demographic, I can understand why
Esther Walker for the i news site
on social media envy
This week, a 27-year-old Instagram influencer called Em Sheldon revealed that the trolls who most regularly abuse people like her online are "not dark, murky people sitting in filthy basements, eating their own bogeys", but rather middle-aged women with families, says Esther Walker on the i news site. "I am bang on the demographic of Sheldon's trolls", writes 41-year-old Walker, and can understand the temptation. "I have never been rude to anyone online, and I never would", but "it doesn't mean I don't have dark thoughts about certain characters, on Instagram or elsewhere", she admits. "Being a middle-aged woman can be horrible. Even if you have the good job and the seemingly good life, the process of moving from being young to being old can really sting." And the "net effect" of Instagram is to make everyone feel bad about themselves. But the "trick is to understand that the bad feelings come from within, not without", Sheldon concludes. Social media influencers are not making you feel rotten on purpose, and "your anger is just collateral damage from your reverse pubescence".