Will Matt Hancock survive his affair revelation?
Health secretary apologises after breaking Covid restrictions during kiss with aide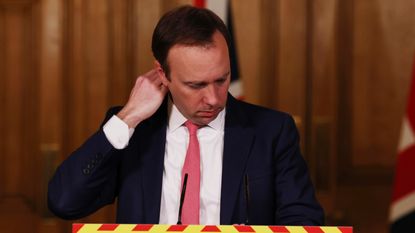 (Image credit: Ian Vogler/WPA Pool/Getty Images)
Matt Hancock has said he is "very sorry" for breaching social distancing rules after images emerged of him passionately kissing a senior aide.
Department of Health and Social Care (DHSC) CCTV footage obtained by The Sun shows the health secretary and adviser Gina Coladangelo "in a steamy clinch at his Whitehall office" on the day of the local elections in May.
Whistleblowers within Hancock's department told the paper that he "had been ­spotted cheating on his wife of 15 years" with his closest aide Coladangelo multiple times, claiming "the pair have regularly been caught in clinches together".
Subscribe to The Week
Escape your echo chamber. Get the facts behind the news, plus analysis from multiple perspectives.
SUBSCRIBE & SAVE
Sign up for The Week's Free Newsletters
From our morning news briefing to a weekly Good News Newsletter, get the best of The Week delivered directly to your inbox.
From our morning news briefing to a weekly Good News Newsletter, get the best of The Week delivered directly to your inbox.
'He was so brazen'
According to The Sun, the security footage shows Hancock "checking the corridor is clear before closing the door and then leaning on it to ensure he cannot be disturbed". Once the pair are alone in his "distinctive ninth-floor office", Coladangelo then "walks towards him and the pair begin their passionate embrace".
A DHSC source told the paper that "they have tried to keep it a secret but everyone knows what goes on inside a building like that", adding: "I'm just amazed he was so brazen about it as he was the secretary of state.
"It has also shocked people because he put her in such an important, publicly funded role and this is what they get up to in office hours when everyone else is working hard."
Hancock met Coladangelo, the wife of millionaire Oliver Bonas founder Oliver Tress, while they were students at Oxford University. She is the director and major shareholder of lobbying firm Luther Pendragon and was appointed to a taxpayer funded role as a non-executive director at DHSC by Hancock last year.
The appointment sparked questions over "chumocracy", with The Sunday Times reporting in November that the health secretary "failed to declare that he appointed his closest friend from university" to the £15,000-a-year role on the board of his department.
At the time, a source told the paper that she had accompanied him to confidential meetings with civil servants and visited No. 10, adding: "Before Matt does anything big, he'll speak to Gina. She knows everything."
Hancock has apologised for breaching the government's social distancing rules during the tryst reported by The Sun, telling the paper: "I accept that I breached the social distancing guidance in these circumstances.
"I have let people down and am very sorry. I remain focused on working to get the country out of this pandemic, and would be grateful for privacy for my family on this personal matter."
Boris Johnson's spokesperson told reporters this afternoon that the prime minister has accepted his apology, adding that he "considers the matter closed".
But coming so soon after Dominic Cummings' allegations against Hancock during his explosive select committee appearance and subsequent blog posts, the latest scandal has raised questions over how long Hancock can survive in his cabinet role.
'Poor man'
Earlier this week, during her first face-to-face meeting with the prime minister since the outbreak of the pandemic, the Queen reportedly expressed sympathy for the beleaguered Hancock, calling him a "poor man".
But if things were looking bad for him then, things have got a whole lot worse with The Sun's expose of his private life.
Labour and the Liberal Democrats have called on Johnson to sack the health secretary over his decision to appoint a personal friend to such a high-powered role and "Hancock did not appear at a planned constituency event this morning", Sky News reports.
An organiser of the event at Newmarket Racecourse told the broadcaster "he won't be coming", adding that his planned appearance had been cancelled "early this morning".
Labour Party Chair Anneliese Dodds said: "If Matt Hancock has been secretly having a relationship with an adviser in his office – who he personally appointed to a taxpayer-funded role – it is a blatant abuse of power and a clear conflict of interest.
"The charge sheet against Matt Hancock includes wasting taxpayers' money, leaving care homes exposed and now being accused of breaking his own Covid rules", she continued, adding: "His position is hopelessly untenable. Boris Johnson should sack him."
Lib Dem leader Ed Davey joined in with the criticism, describing Hancock as a "terrible health secretary" who "should have been sacked a long time ago for his failures".
"This latest episode of hypocrisy will break the trust with the British public. He was telling families not to hug loved ones, while doing whatever he liked in the workplace", Davey said.
"It's clear that he does not share the public's values. Rules for them and rules for us is no way to run a country. From the PPE scandal, the crisis in our care service and the unbelievably poor test and trace system, he has utterly failed. It is time for the health secretary to go."
The Telegraph's health and science correspondent Henry Bodkin says that the pictures will "have inevitably fuelled speculation as to whether he can hold on to his job", but adds that perhaps the "more interesting question" is how Hancock has "managed to cling on this long in the first place".
Cummings, Johnson's former right-hand man and his closest adviser in No. 10, told MPs that he felt Hancock should have been fired "15 or 20 times" during the pandemic, yet his "eagerness to act as a punchbag for the media" may go "some way to explaining why his stock in government had risen since the grim days of last autumn", Bodkin says.
But that was before this latest scandal, which may remind the public of "his reaction to last year's Neil Ferguson scandal, where he suggested it could be a matter for the police", as well as "countless hugs with loved-ones missed over recent months", he adds.
New Statesman political editor Stephen Bush suggests that "no minister is going to be asked to resign for having a 'steamy clinch' outside the bounds of marriage", adding that a dismissal would "be humiliating for the prime minister personally".
However, he adds that "there are two factors that could change things", namely "whether or not evidence emerges that Hancock acted improperly in hiring Coladangelo" or whether "Hancock's unpopularity among Conservative MPs", who associate him with "continuous lockdown and endless restrictions", comes back to bite him.
Her non-director role makes Coladangelo responsible for "overseeing and monitoring performance", meaning she effectively marks Hancock's homework as secretary of state. A DHSC spokesperson this morning moved to play down suggestions she was improperly appointed, saying the hire was "made in the usual way and followed correct procedure".
Transport Secretary Grant Shapps, who this morning faced a tough media round after the story broke late last night, has also denied that Coladangelo was incorrectly hired to the role, telling Sky News that "anyone who's been appointed has to go through an incredibly rigorous process in government".
Pushed on whether the rules had been followed, he added: "I think it's a bit of a red herring in this case. I think it's really a personal story, so I don't intend to comment on somebody's personal life."
Hancock, for now, appears to be in the clear given Johnson's acceptance of his apology and, just possibly, his boss's personal history with infidelity.
But should evidence emerge that Coladangelo was hired because of their personal relationship, his "rap sheet" could "all too quickly become too heavy to survive", The Telegraph's Bodkin says.

Continue reading for free
We hope you're enjoying The Week's refreshingly open-minded journalism.
Subscribed to The Week? Register your account with the same email as your subscription.