Windsor framework: has Rishi Sunak got Brexit done?
Prime minister hails 'decisive breakthrough' that could end seven long years of UK-EU negotiations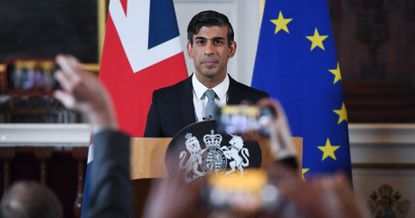 (Image credit: Chris J. Ratcliffe/Bloomberg via Getty Images)
Rishi Sunak has hailed his Brexit deal with the EU as a "new way forward", claiming the so-called "Windsor framework" unveiled yesterday represents a "decisive breakthrough" on the rules governing trade in Northern Ireland.
The widely expected backlash from Tory Eurosceptics has so far "failed to materialise", said The Telegraph, with even Steve Baker, a diehard Brexiteer and member of the hardline European Research Group of Tory MPs, congratulating Sunak and claiming: "He's done it."
But does this deal really represent the end of seven long years of negotiations between the UK and EU and the promise made by multiple prime ministers during that time to "get Brexit done"?
Subscribe to The Week
Escape your echo chamber. Get the facts behind the news, plus analysis from multiple perspectives.
SUBSCRIBE & SAVE
Sign up for The Week's Free Newsletters
From our morning news briefing to a weekly Good News Newsletter, get the best of The Week delivered directly to your inbox.
From our morning news briefing to a weekly Good News Newsletter, get the best of The Week delivered directly to your inbox.
What did the papers say?
"Yes, there may still be a devil in the details," said The Sun, "but his new deal on Northern Ireland looks a big win."
The paper congratulated Sunak, adding that "he may just have got Brexit done at last".
Asking whether the deal represented a "light at the end of the (now-infamous) tunnel", Politico said: "There are hopes stretching from the press pack of political journalists to Conservatives scarred from the Brexit battles of the past half decade that within a few weeks Westminster will never have to talk about ongoing Brexit negotiations again. Maybe."
"We've been here before," warned John Crace in The Guardian. First there was Theresa May's Chequers agreement, then Boris Johnson's "oven-ready" deal. Now Rishi Sunak's Windsor framework, "the likeliest contender yet", he said. "Not least because everyone is so fed up with Brexit – no one wants reminding of what a disaster it has been – that even the hardest of hardliners can't be bothered to oppose it."
The Windsor framework is "an acknowledgement of a central reality of Brexit", said BBC political editor Chris Mason. "Northern Ireland continues to have a different relationship with the EU than the rest of the UK and for as long as governments at Westminster say 'no' to closer economic ties with Brussels, that different relationship is guaranteed.
"It is a relationship destined to be bespoke, challenging and awkward – juggling a project about borders, Brexit, with an open border between Northern Ireland and the Republic," he said. "While many in Northern Ireland are comfortable with that, some unionists will probably never be."
What next?
No. 10 will now wait for the all-important backing for the deal from the Democratic Unionist Party. Sunak has said he is "confident" his new arrangement addresses the DUP's concerns as he travelled to Belfast this morning to sell it to the people of Northern Ireland.
Reports in The Irish News that the DUP is expected to back the deal and return to power sharing at Stormont were quickly shot down by party leader Jeffrey Donaldson. He has said that his party will not be rushed into making a final decision on whether to support or oppose the deal – "we will take our time" – but he did hail "significant progress" yesterday.
Nevertheless, the mood music appears, for now, to be overwhelmingly positive. Paul Waugh, chief political commentator for the i newspaper, said the deal announced yesterday prompted "the biggest outbreak of UK-EU harmony since the Leave vote seven long years ago".
US President Joe Biden, meanwhile, described it as "an essential step", raising the prospect he could make a historic visit to Northern Ireland to mark the 25th anniversary of the Good Friday Agreement in a few months.
The deal could also have serious political implications for the prime minister. If the DUP eventually approves this deal, "Sunak will be able to boast that not only is he a better dealmaker than Johnson, he is a better guarantor of the Union than the man who effectively threw Unionists under a bus for his own ends", said Waugh.
If finally ending the Conservatives' long love affair with Johnson is not enough, "the bigger prize for the PM is that this breakthrough can revive his own premiership, but that's a much tougher ask", he added.
"Rishi Sunak has so far been a disappointing prime minister but if he pulls off this Brexit breakthrough on Northern Ireland, he will be more than a caretaker for a government limping to the end of its days," said Alice Thomson in The Times. "He will have given his party back some dignity and made them look more credible, constructive and competent after an atrocious 2022 in which it mislaid two prime ministers."
Ultimately when assessing the future of Brexit, though, the Windsor framework can be celebrated as "an agreement which redresses some of the most egregious imbalances in the original protocol", said UnHerd political editor Tom McTague. But it essentially deems Northern Ireland as "both a source of permanent tension – and a kind of permanent forced friendship".
"The solution Britain and the EU have arrived at does not mean Brexit is done," said McTague. "It means both sides have agreed it never can be."

Continue reading for free
We hope you're enjoying The Week's refreshingly open-minded journalism.
Subscribed to The Week? Register your account with the same email as your subscription.