Pickleball: obscure sport 'will be bigger than golf in 5 years'
More than 36 million Americans played the racket sport last year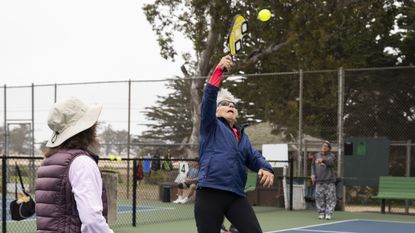 (Image credit: Jessica Christian/San Francisco Chronicle via Getty Images)
A cross between tennis, badminton and table tennis, pickleball has surged in popularity with the over 65s in the United States – and could soon be seen across the UK.
More than 36.5 million Americans played pickleball from August 2021 to August 2022, according to a new report by the Association of Pickleball Professionals seen by CNBC. It puts the game's popularity close to more "traditional" sports in the US, such as basketball, tennis and golf.
Even Tiger Woods' former coach, Hank Haney, has predicted that pickleball could become "bigger than golf in 5 years", according to pickleball news site The Dink.
Subscribe to The Week
Escape your echo chamber. Get the facts behind the news, plus analysis from multiple perspectives.
SUBSCRIBE & SAVE
Sign up for The Week's Free Newsletters
From our morning news briefing to a weekly Good News Newsletter, get the best of The Week delivered directly to your inbox.
From our morning news briefing to a weekly Good News Newsletter, get the best of The Week delivered directly to your inbox.
What is pickleball?
If the phrases "nasty Nelson, dink shot and flat face" mean anything to you, then you're probably already a pickleball enthusiast, said Metro.
Combining elements of badminton, table tennis and tennis, the game can be played as singles but is usually played between pairs, either on an outside or indoor court.
The game has its own "idiosyncrasies" continued the paper, but the aim of the game is simple: "to hit a perforated ball over a net with a paddle, and to prevent the opposing side from returning it". Volleying is prohibited in a zone seven feet either side of the net, so the ball has to be allowed to bounce there.
It was created in 1965 in Bainbridge Island, Washington state, by Joel Pritchard, Bill Bell and Barney McCallum. The three neighbours initially invented the game as a way to "keep their bored kids busy on a rainy day", said Forbes.
Pickleball was first played using some "old Ping-Pong paddles and a perforated ball on a badminton court" before the first permanent pickleball court was constructed in 1967. And now what was once a "rainy-day activity has blossomed into a worldwide phenomenon".
Why is it called 'pickleball'?
No one is really sure, but there are a few theories. One is that it's simply named after one of the inventors' family dog, Pickles. Others contend that it is named after a rowing boat with a weaker, mismatched crew – sometimes referred to as a "pickle boat", said Pickleball Portal.
Who is playing the sport?
The sport has "trended older" in the past, said The New York Times, but that could soon change. According to 2021 data from USA Pickleball, half of all serious pickleball players in the United States, defined as those who play eight or more times a year, were 55 or older. But the "vast majority of casual players" are under 55, with the "fastest-growing" group of players those under 24, said the NYT.
It's not just older Americans who enjoy the sport; it's rapidly gaining ground elsewhere too. Although the sport has just 7,000 players in the UK, Pickleball England believes it could have as many as 25,000 "picklers" by 2025.
Why has it become so popular?
The "astronomical uptick in pickleball play" was driven in part by the Covid-19 pandemic, said Forbes. According to Laura Gainor, director of media relations for USA Pickleball, many Americans picked up the sport as a way to "stay healthy and active near their homes" during the pandemic.
And due to the small size of a pickleball court, which is a quarter the size of a tennis court, it is easy to create a court in a "driveway, in a parking lot or within a gym space", said Gainor.
But pickleball's popularity was on the rise even before the pandemic struck, with many picklers describing the game as a great workout that is easier on the hips and knees than other racket sports. "The game is multi-generational, so we're seeing grandparents playing with their grandkids and young adults in their 20s and 30s enjoying playing with their parents," Gainor told Forbes.
Any downsides?
Not everyone is pleased with the sudden popularity of the sport. Its "rapid spread" has created "dilemmas" for public parks and recreation departments in the US who have limited space and funds to build specially designed courts. They also want to avoid encroaching on other sports like tennis or basketball, reported CBS News.
The game is also much "noisier" than tennis as it can fit a greater number of players into the same space as a tennis court and has more frequent rallies. One resident who lives next to a pickleball court in Vienna, Virginia, described the "constant popping 12 hours a day 7 days a week" of pickleball rallies as "borderline torture".
The game is not totally without risk, either. According to the Financial Times, analysts at investment bank UBS have warned that pickleball-related injuries appear to be driving a surge in health insurance claims. UnitedHealth Group reported an increase in the frequency of hip replacements, knee surgeries and other elective procedures among Americans aged 65 and over.
UBS estimated that up to $500 million of medical costs were "directly attributable to pickleball", adding that it was "plausible" that the game was behind up to 10% of unexpected medical costs this year.

Continue reading for free
We hope you're enjoying The Week's refreshingly open-minded journalism.
Subscribed to The Week? Register your account with the same email as your subscription.