'Pray to stay': Church of England facing questions over asylum seeker conversions
Tory MP vows to launch investigation into apparent 'loophole' in system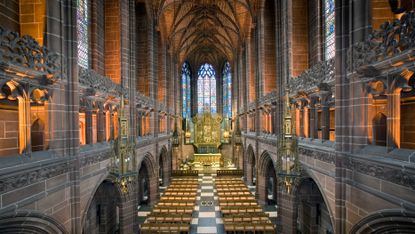 (Image credit: Education Images/Universal Images Group via Getty Images)
The Church of England has defended itself against accusations of having helped asylum seekers "game the system" by converting to Christianity.
Questions were raised after it emerged that the Liverpool hospital bomb suspect, Emad Al Swealmeen, had converted to Christianity from Islam. The suspected suicide bomber is reported to have been baptised in 2015 and confirmed two years later at a ceremony in Liverpool's Anglican Cathedral, close to where he died when a home-made device detonated in a taxi on Remembrance Sunday.
According to reports, Swealmeen – who was born in Iraq – had been refused asylum in 2014, before losing further appeals.
Subscribe to The Week
Escape your echo chamber. Get the facts behind the news, plus analysis from multiple perspectives.
SUBSCRIBE & SAVE
Sign up for The Week's Free Newsletters
From our morning news briefing to a weekly Good News Newsletter, get the best of The Week delivered directly to your inbox.
From our morning news briefing to a weekly Good News Newsletter, get the best of The Week delivered directly to your inbox.
'Gaming the system'
A Home Office source told The Times that Swealmeen was among a number of asylum seekers who try to "game the system" by converting to Christianity.
The newspaper said that "applicants who show they are committed Christians can argue that their new faith would put them at risk in their home country".
The Telegraph reported that "thousands" of asylum seekers had been "welcomed into the Anglican faith in recent years, with clergy even given written guidance on how to navigate the Home Office system".
In an article published in the paper yesterday, former Scottish Labour MP Tom Harris wrote that a "crucial piece of advice" offered by people traffickers to many asylum seekers was to "get involved in a local church" immediately after lodging an initial asylum claim. "A full-on conversion to Christianity was even better, though not always necessary," Harris added.
Several newspapers pointed to a tribunal decision on an anonymous asylum case in 2017 that suggested an "improbably large" number of Iranians attending the Liverpool Anglican Cathedral cast doubt on whether they were all "genuine converts". In other cases, asylum was granted after conversions were deemed authentic.
According to The Sun, Tim Loughton, a senior Tory MP on the Home Affairs Select Committe, has vowed to launch a Commons investigation into the alleged "loophole" used by "certain" asylum seekers. Some were "playing the religious card to avoid deportation", he told the paper.
'Seeing into minds and hearts'
The allegations against the Church of England have generated a "certain amount of anger" among religious leaders, said the BBC's Harry Farley on Radio 4's Today programme.
A CoE spokesperson said: "We are not aware of any evidence to suggest a widespread correlation between conversion to Christianity, or any other faith, and abuse of the asylum system."
Separately, an insider told religious affairs reporter Farley that responsibility for assessing asylum claims laid with the Home Office, not the Church.
While it is "certainly true" that large-scale services for asylum seekers have been held in the past, including at the Liverpool Anglican Church, said Farley, "it is very difficult to see into people's minds and hearts".
Liverpool Bishop Cyril Ashton, who conducted Swealmeen's confirmation, said the Church takes the ritual seriously. The suspect "would have been thoroughly ­prepared with an understanding of the Christian faith", Ashton said.
"It seems that, sadly, despite this grounding, the bomber chose a ­different path for his life," the bishop added.
The Daily Mail said that another clergyman at the cathedral raised concerns in 2016 that asylum seekers were posing as Christians, in a scheme dubbed "pray to stay".
"There are many people abusing the system," Rev Mohammad Eghtedarian reportedly said. "I'm not ashamed of saying that. But is it the person's fault or the system's fault? And who are they deceiving? The Home Office, me as a pastor, or God?"
Another church worker who let Swealmeen live with him and his wife told the BBC that he still believed the bomb suspect was a "genuine Christian". Malcolm Hitchcott, who welcomed Swealmeen into his home for eight months in 2017, said: "What went wrong, I do not know."
'Dysfunctional system'
Home Secretary Priti Patel last night pledged to overhaul the asylum process. The case in Liverpool was "a complete reflection of how dysfunctional, how broken, the system has been", she told reporters.
The system was "a complete merry-go-round" that had been "exploited by a whole professional legal services industry", she added.
The home secretary spoke out as a newly published analysis by the Refugee Council contradicted her past claims that 70% of people who risk Channel crossings in small boats are single men who are economic migrants to the UK.
Using "Home Office data and requests under freedom of information laws", the council concluded that "nearly two-thirds of people who migrate to the UK in small boats are deemed to be genuine refugees and allowed to remain", The Guardian reported.

Continue reading for free
We hope you're enjoying The Week's refreshingly open-minded journalism.
Subscribed to The Week? Register your account with the same email as your subscription.