The white saviour complex
When celebrities support certain causes, can they do more harm than good?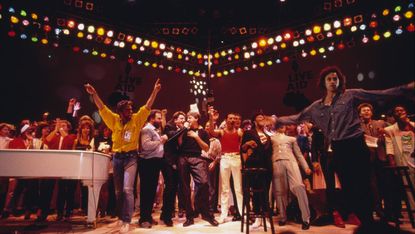 (Image credit: Georges De Keerle/Getty Images)
Bob Geldof, arguably the most prominent celebrity to have been accused of having a white saviour complex, has dismissed the term as "trite and silly".
The Irish singer, who created the Live Aid charity concert in 1985 that raised millions for famine relief in Africa, told Radio Times that most people don't "give a f***" about white saviours and that the debate over white people helping non-white people is "just a wormhole that people have disappeared down".
"Black saviours, white saviours, green saviours, I'm with them all," he added.
Subscribe to The Week
Escape your echo chamber. Get the facts behind the news, plus analysis from multiple perspectives.
SUBSCRIBE & SAVE
Sign up for The Week's Free Newsletters
From our morning news briefing to a weekly Good News Newsletter, get the best of The Week delivered directly to your inbox.
From our morning news briefing to a weekly Good News Newsletter, get the best of The Week delivered directly to your inbox.
Comic Relief controversy
The row over white saviours reared its head most significantly in 2019, when an image of TV star Stacey Dooley hugging a Ugandan child while filming for Comic Relief was criticised for perpetuating what Labour MP David Lammy described at the time as "tired and unhelpful stereotypes".
Lammy, now the shadow foreign secretary, said the images of Dooley, which she posted on her personal Instagram page, spread "tired tropes". "The world does not need any more white saviours," he wrote on Twitter. "Let's instead promote voices from across the continent of Africa and have serious debate."
Lammy's view that white people should no longer be parachuted in to "save" people of colour is one that has become more widespread since the days of Geldof's Live Aid. In response to the 2019 row, Comic Relief said that future appeals would be led by local film-makers for a "more authentic perspective" – but the topic remains a heated one.
Even the Qatar World Cup has been marred by allegations of white saviour behaviour. According to Dazed magazine, a protest led by the British activist Peter Tatchell felt like "a classic 'white saviour' move" to "many queer Arabs". "In other words," explained the publication, "an enlightened westerner trying to save the poor, benighted Arabs from a position of superiority".
Also recently, the Apple TV series Shantaram was criticised for following in the footsteps of films such as 1962's Lawrence of Arabia and 1982's Blood Diamond by depicting a white hero rescuing an exotic land.
A 'demeaning' narrative
The term "white saviour" originates from patronising colonial beliefs regarding the paternalistic responsibility of white people to guide and support non-white people. The trend has become more common since the 1980s thanks to increasing numbers of celebrities – such as Madonna, Bono and Angelina Jolie – getting involved with charities supporting people living in developing countries.
"The sight of celebrities making weepy 'personal journeys' towards understanding poverty has begun to feel more and more crass," wrote The Guardian's Gaby Hinsliff in 2019, in response to the Dooley controversy. Hinsliff added that Geldof and Bono were "practically canonised" for Live Aid and that the focus on such figures "overshadows the people whose experiences they're meant to be understanding in the first place".
White saviour narratives are also "demeaning", said Laura Seay, a professor and student of African politics, conflict and development, in The Washington Post. The original version of Do They Know it's Christmas?, the charity single written in 1984 to raise money for the famine in Ethiopia, was "awash in negative stereotypes".
The lyrics treat Africa reductively as a homogenous place "where nothing ever grows", she wrote, where "the only water flowing is the bitter sting of tears".
Powerful role of celebrities
But the topic is a complex one. Although celebrities certainly have played a significant role in perpetuating white saviour attitudes, their ability to drive charity donations cannot be disputed.
The Spectator's literary editor Sam Leith, in a piece for UnHerd, said that Dooley's Comic Relief trip to Uganda was "a PR exercise". But, he added, "that's no bad thing" as ultimately, the aim of such charity shows is to get as many people as possible to donate money "to help those less fortunate than themselves.
"Many of the less fortunate are in African countries," he explained. "The best way of achieving this aim is to get these unfortunates on the telly and get newspapers to write stories about them. And the best way of achieving that aim is to get the cameras on them."
Discrediting acts of good in the name of fixing overarching Western prejudices is self-defeating, but that doesn't mean we should be happy with the "white-saviour stereotype" that "sidelines the agency of Africans", Leith added.

Continue reading for free
We hope you're enjoying The Week's refreshingly open-minded journalism.
Subscribed to The Week? Register your account with the same email as your subscription.