Going Clear: Sky to air controversial Scientology documentary
The Church has threatened to use UK libel laws to block the 'bigoted propaganda' from being shown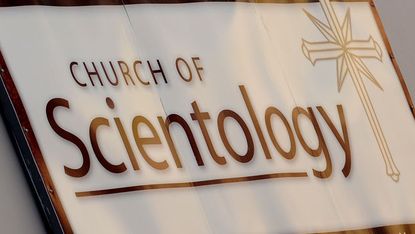 Sky Atlantic will air a highly controversial yet critically acclaimed exposé of the Church of Scientology next month, despite threats from the group's lawyers.
Going Clear: Scientology and the Prison of Belief was directed by Oscar-winner Alex Gibney and is based on the bestselling book of the same name, which "pulls back the curtain on one of the most secretive organisations at work today".
The documentary received a standing ovation at this year's Sundance Festival, attracted more than 5.5 million viewers when it made its US television debut on HBO and received seven Emmy nominations.
Subscribe to The Week
Escape your echo chamber. Get the facts behind the news, plus analysis from multiple perspectives.
SUBSCRIBE & SAVE
Sign up for The Week's Free Newsletters
From our morning news briefing to a weekly Good News Newsletter, get the best of The Week delivered directly to your inbox.
From our morning news briefing to a weekly Good News Newsletter, get the best of The Week delivered directly to your inbox.
It has been described as both "chilling and damning," by The Observer's film critic, Mark Kermode. "The powerful exposé paints a sinister portrait of Scientology, straight from the mouths of former insiders," he says.
But member of the church have denounced the film as "one-sided, bigoted propaganda" and its lawyers have threatened to use libel laws in Northern Ireland to challenge "any false or defamatory content" if it is broadcast.
However, a Sky spokesperson told The Guardian: "[We] have sought legal advice at every stage of the process and are confident that the film complies with legal requirements in the territories in which we are screening the film."
Despite having existed for more than half a century and counting some of Hollywood's biggest names among its followers, much of Scientology's history and beliefs remain unknown.
Who started it all?
An American pulp sci-fi writer called Lafayette Ronald (L. Ron) Hubbard. In 1949, he launched his new career after declaring at a science fiction convention: "Writing for a penny a word is ridiculous. If a man wanted to make a million dollars, the best way would be to start his own religion."
How did he go about it?
The following year Hubbard published a quasi-scientific self-help book entitled Dianetics: A Modern Science of Mental Health, in which he argued that the origins of all illness can be traced to the psychic scars or "engrams" inflicted in early infancy or pre-birth. These engrams can be erased from the subconscious mind through "auditing" – a form of therapy which gets you to relive the incidents embedded in your past, and which rids you of illness, anxiety and aggressive impulses and enables you to acquire a prodigious intelligence.
How did he spread the word?
In 1954, Hubbard established the first Church of Scientology in Los Angeles. From the outset Hubbard sought out "prime communicators" to spread the word. In 1955 he launched 'Project Celebrity', a campaign to recruit film and sport stars. It ultimately proved successful, years later netting such well-known Hollywood names as John Travolta, Kirstie Allen, Juliet Lewis and Tom Cruise.
What exactly do Scientologists believe?
That you must rid yourself of engrams and that this can only be done by pursuing a path of enlightenment known as 'The Bridge to Total Freedom'. It takes years to get rid of all your engrams and finally "go clear", says US author Janet Reitman, who spent months with members of the Church. Those enlightened beings who "get clear" – a group that supposedly includes Cruise – are called Operating Thetans (OTs) and constitute Scientology's elite. OTs are said to be able to leave their bodies at will, communicate with animals and move inanimate objects. They are also supposed to be immortal: Hubbard "dropped" his own body in 1986 after a crippling stroke, but promised to return.
Do they believe in God?
The religion is flexible on this. "We have no dogma in Scientology," it says in The Scientology Catechism. "Each person attains his own certainty as to who God is and exactly what God means to him." But an unusual aspect of the religion is that it withholds key aspects of its theology from all but its most exalted followers.
How many Scientologists are there?
The Church of Scientology claims to have more than ten million members, spanning 159 countries. Critics of the Church claim the true number is a fraction of that. Gibney says the organisation only has 500,000 members, but possesses assets upwards of $1 billion.
Why is Scientology so controversial?
Outsiders are most concerned by the cult-like behaviour of members and the auditing process. According to critics, the latter is a classic psychological warfare technique designed to create feelings of gratitude and dependency. Hubbard's advice on how to recruit new members was allegedly "find their ruin" – in other words, exploit their personal weakness.
In Going Clear, a former Scientology member and friend of John Travolta who escaped from the Church claims that she was forced to perform hard labour while pregnant and that her baby daughter was taken from her and "left in a urine-soaked crib and unsanitary, fly-infested conditions," USA Today reports.
"You're so thoroughly indoctrinated, deluded and not questioning anything because (Hubbard) had all the answers," she said . "So you continue to believe all the nonsense.''
Going Clear: Scientology and the Prison of Belief will air on 21 September on Sky Atlantic at 9pm

Continue reading for free
We hope you're enjoying The Week's refreshingly open-minded journalism.
Subscribed to The Week? Register your account with the same email as your subscription.