Cliodynamics: can we use history to forecast the future?
Researchers have created Seshat database to systematically gather and analyse information from our past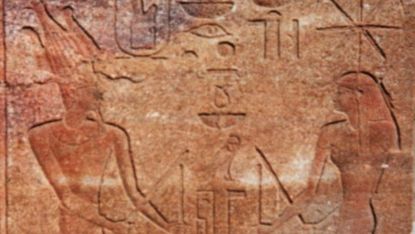 (Image credit: Wikimedia Commons)
Could gathering data from the past help us prevent a future disaster? An evolutionary anthropologist at the University of Connecticut has dedicated his career to answering this question.
Professor Peter Turchin founded a new field of academic study called cliodynamics in 2003, and then set up a research consortium eight years later to build a huge historical database called Seshat in a bid to uncover major patterns in world history.
Here is what you need to know.
Subscribe to The Week
Escape your echo chamber. Get the facts behind the news, plus analysis from multiple perspectives.
SUBSCRIBE & SAVE
Sign up for The Week's Free Newsletters
From our morning news briefing to a weekly Good News Newsletter, get the best of The Week delivered directly to your inbox.
From our morning news briefing to a weekly Good News Newsletter, get the best of The Week delivered directly to your inbox.
What is cliodynamics?
Adherents of cliodynamics treat history scientifically, studying human societies in the same way as they would complex biological systems.
"Theories are constructed and based on general principles and tested empirically with comprehensive databases. In short, we use the standard scientific method that worked so well in physics, biology and many social sciences," writes Turchin in an article on The Conversation.
Some of the groundwork for cliodynamics comes from "structural-demographic theory", first proposed by US sociologist Jack Goldstone, who explored the underlying causes of political instability and how societies go through long-term cycles of peace and unrest.
Turchin says: "It is important to stress the limitations of this approach. The theory does not predict when and how actual violence will break out, only structural conditions that make such an outcome likely."
For example, in 2010, after looking at the digitised history of US political violence dating back to 1780, Turchin publicly claimed that social indicators such as wealth inequality and public debt suggested that Western nations were approaching a period of upheaval that would peak around 2020.
To some, this "now seems remarkably prescient", says The Guardian, which notes that the Fund for Peace think-tank's Fragile States Index shows a worsening trend toward instability in both the US and the UK.
The newspaper says that the events of next year will test Turchin's theory in what may be a "taste of things to come: a world in which scholars generate the equivalent of extreme weather warnings for the social and political conditions of the future".
Turchin's work has been aided by the great advances in technology in recent decades and the ability to develop large datasets more cheaply and easily. Experts who might have previously worked in silos are able to pool together information and draw findings from the "big data".
–––––––––––––––––––––––––––––––For a round-up of the most important stories from around the world - and a concise, refreshing and balanced take on the week's news agenda - try The Week magazine. Get your first six issues free–––––––––––––––––––––––––––––––
And the reaction?
Many critics believe that lessons can only be drawn from the past in a limited way, and some even fear that a mathematical approach to history will take us backwards to the approach of many 19th century historians who were inspired by social Darwinism.
Timur Kuran, an economist and political scientist at Duke University, insists "we cannot produce laws" from the past.
"There is a visceral feeling, not only among historians but also among many ordinary people, that humans cannot be reduced to data points and equations," says The Guardian.
How does Seshat work?
Named after the Ancient Egyptian goddess of wisdom, knowledge and writing, Seshat is essentially an electronic encyclopedia being built by historians, scientists, archeologists and other experts that covers 10,000 years of history.
The aim is to catalogue the disparate information held within separate publications, artefacts and the minds of specialists across the world onto one platform with a defined way of coding it all.
The data relates to hundreds of variables such as warfare, ritual, religion, institution and resources in societies across the globe, enabling Turchin and his team to carry out systematic statistical analysis and test theories about the evolution of societies and human existence in general.
Seshat is designed to accommodate disagreements between historians and to support "a much more rigorous, comprehensive and quantitative methodology than has been available to historians up until now", according to its creators.
"In the future, Turchin believes, historical theories will be tested against large databases, and the ones that do not fit – many of them long cherished – will be discarded," says The Guardian. "Our understanding of the past will converge on something approaching an objective truth."

Continue reading for free
We hope you're enjoying The Week's refreshingly open-minded journalism.
Subscribed to The Week? Register your account with the same email as your subscription.