10 things you need to know today: February 13, 2022
Ukrainian defense minister says Russia 'will not capture' any of Ukraine's cities, former Afghan president says funds seized from ousted government should be returned to Afghanistan, and more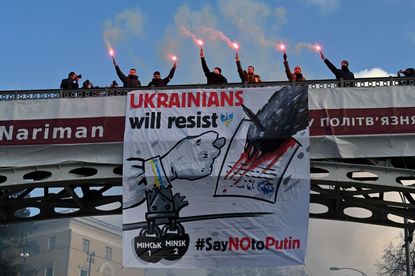 (Image credit: SERGEI SUPINSKY/AFP via Getty Images)
1. Russia 'will not capture' any of Ukraine's cities, Ukrainian defense minister says
Ukrainian Defense Minister Oleksiy Reznikov said Saturday that he believes country's military could fend off a Russian invasion. "Everyone who has looked into the eyes of our soldiers at least once is sure that there will be no repeat of 2014, the aggressor will not capture either Kyiv, Odessa, Kharkiv or any other city," Reznikov said. He also cited the availability of sophisticated weaponry, improved training, the experience soldiers have gained in the ongoing conflict with Russian-backed separatists, and strong international support as reasons for his confidence. U.S. Gen. Mark Milley gave a very different assessment earlier this month, suggesting that Kyiv could fall to the Russians within 72 hours of an invasion.
2. Giving seized Afghan funds to families of 9/11 victims is 'unjust,' former Afghan president claims
Former Afghan President Hamid Karzai said Sunday that the White House's decision to distribute funds seized from the country's ousted pro-Western government to the families of 9/11 victims is "unjust and unfair" and "an atrocity against Afghan people." When Afghanistan fell to the Taliban last summer, the Biden administration froze some $7 billion the U.S.-backed government had deposited at the Federal Reserve Bank in New York and now plans to distribute half that money to relatives of victims of the Sept. 11, 2001, terrorist attacks and put the other half toward humanitarian aid in Afghanistan. The United Nations warned earlier this year that as many as one million Afghan children are in danger of starvation.
Subscribe to The Week
Escape your echo chamber. Get the facts behind the news, plus analysis from multiple perspectives.
SUBSCRIBE & SAVE
Sign up for The Week's Free Newsletters
From our morning news briefing to a weekly Good News Newsletter, get the best of The Week delivered directly to your inbox.
From our morning news briefing to a weekly Good News Newsletter, get the best of The Week delivered directly to your inbox.
3. Freedom Convoy: Protesters continue to block Ambassador Bridge
Canadian demonstrators protesting the country's COVID-19 restrictions continued to block Ambassador Bridge on Sunday morning, impeding the flow of international trade for the seventh consecutive day. The protesters chose not to disperse after a judge ordered them to leave the bridge Friday night, though several vehicles departed and others have since been towed away. Meanwhile, though, more protesters arrived on foot to — at least partially — maintain the blockade. Several people were arrested. Ambassador Bridge connects Detroit, Michigan, with Windsor, Ontario. Detroit automakers have been forced to slow down production in recent days due to the reduced flow of parts from Canada.
4. Clinton campaign funded attempt to 'infiltrate' Trump's servers, new legal filing alleges
Hillary Clinton's campaign recruited investigators and tech workers to "infiltrate" servers at Trump Tower, former President Donald Trump's personal apartment in New York City, and the White House in an attempt to prove Trump was colluding with Russia, a new legal filing alleges. Special Counsel John Durham, who is investigating the FBI's probe into Russia and the Trump campaign, filed the motion as part of his case against former Clinton campaign lawyer Michael Sussmann. Sussmann has been charged with making false statements to federal agents after he allegedly told the FBI he was not working on behalf of Clinton when he presented them with evidence that supposedly tied Trump to a Kremlin-linked bank.
5. Biden talks directly with Putin as Ukraine invasion threat looms
President Biden and Russian President Vladimir Putin spoke by phone Saturday in what could be a last-ditch attempt to avert a Russian invasion of Ukraine. Putin initially tried to schedule the call for Monday, but Biden requested on Friday that it take place as soon as possible. Biden was at Camp David during the call, which was his first direct conversation with Putin since December. According to the official White House summary, Biden "reiterated that a further Russian invasion of Ukraine would produce widespread human suffering and diminish Russia's standing" and said the U.S. "remains prepared to engage in diplomacy" but is "equally prepared for other scenarios."
The White House The Associated Press
6. Black Lives Matter signs get Library of Congress exhibit
Digitized versions of signs and other pieces of art created during the summer 2020 Black Lives Matter protests in Washington, D.C., are now part of a Library of Congress exhibit. Activist Nadine Seiler removed over 800 signs from the fence that separated protesters from Lafayette Park near the White House. The signs are being stored in a D.C. storage unit until they can be scanned by Baltimore's Enoch Pratt Free Library. After that, Seiler plans to gift them to museums and other Black liberation organizations. Currently, there are 37 images available via the Library of Congress.
7. U.S. evacuates Kyiv embassy
The U.S. began evacuating its embassy in Kyiv on Saturday as intelligence sources warn a Russian invasion could begin at any moment. The State Department announced Saturday that almost all of the 200 Kyiv-based embassy staff would be evacuated but that the embassy "will keep a small number of 'core' diplomats" in place. Russia announced Saturday that it is also cutting back its diplomatic presence in Ukraine. Russian Foreign Ministry spokeswoman Maria Zakharova said Russia is carrying out a "certain optimization" of embassy and consulate staffing due to fears of "certain provocations by the Kyiv regime or third nations." The United Kingdom, Canada, and Australia have also pulled diplomats out of Ukraine's capital.
Politico The Wall Street Journal
8. 2022 Olympics: Real snow causes problems at the Winter Olympics
Snow fell on Olympic facilities in and around Beijing on Saturday and Sunday, prompting organizers to postpone some competitions and even cancel a training run. So far, events have made do with artificial snow, which is easier to control and predict and does not impede visibility or make it more difficult to reach facilities. Buses transporting spectators placed chains on their tires. Alpine skiers and biathletes skied and shot despite the snowfall. Organizers were, however, forced to cancel a women's downhill training run. The U.S. sits in fourth place in the medal rankings with five gold medals, five silvers, and one bronze. Norway, Germany, and the Netherlands hold the top three spots.
The New York Times International Olympic Committee
9. French protest convoy rolls into Paris
Authorities have ordered more than 7,000 additional law enforcement officers to Paris as a French "Freedom Convoy" inspired by the one occupying the Canadian capital converged on Paris to protest the country's COVID-19 restrictions. France requires that people show proof of vaccination to enter public places. A negative test is no longer sufficient for unvaccinated people. Police say they stopped 500 vehicles from entering the city on Saturday, but at least several dozen — cars, campers, tractors, and other vehicles — were able to enter Paris and impede traffic around the Arc de Triomphe and on the Champs Elysees. Hundreds of protesters were ticketed, fined, or tear-gassed.
10. Super Bowl ads: Coinbase, Budweiser, and more pay an average of $6.5 million for 30-second ads
A 30-second ad slot for Super Bowl LVI, which airs Sunday on NBC, costs an average of $6.5 million dollars this year, and there is no shortage of buyers. Companies representing burgeoning industries like cryptocurrency, online sports gambling, at-home COVID-19 testing, and electric vehicle charging will all air their first Super Bowl ads this year. Travel company Expedia will run an ad after sitting out last year's Super Bowl due to COVID lockdowns. Longtime favorites like the E*Trade babies and Budweiser Clydesdales are also set to return. Celebrities featured in the big game's ads include Lindsay Lohan, Megan Thee Stallion, Charlie Puth, Mary J. Blige, Seth Rogan, Paul Rudd, Idris Elba, and Guy Fieri.
The Wall Street Journal CBS Sports

Continue reading for free
We hope you're enjoying The Week's refreshingly open-minded journalism.
Subscribed to The Week? Register your account with the same email as your subscription.