What is transhumanism?
The futuristic cyborg character from Years and Years may be closer than you think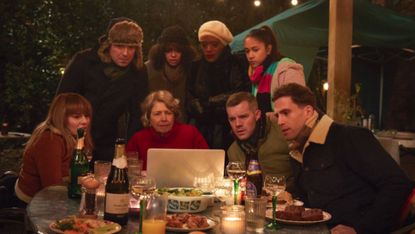 (Image credit: BBC)
Sign up to our 10 Things You Need to Know Today newsletter
A free daily digest of the biggest news stories of the day - and the best features from our website
Thank you for signing up to TheWeek. You will receive a verification email shortly.
There was a problem. Please refresh the page and try again.
The recent BBC near-future drama Years and Years delved into the idea of transhumanism, with one of the characters uploading their consciousness to the internet.
But could this one day become a reality?
Scientists at Harvard and Surrey universities are indeed suggesting we are on track for the transhumanist world that the fictional series presented, reports The Independent.
Subscribe to The Week
Escape your echo chamber. Get the facts behind the news, plus analysis from multiple perspectives.
SUBSCRIBE & SAVE
Sign up for The Week's Free Newsletters
From our morning news briefing to a weekly Good News Newsletter, get the best of The Week delivered directly to your inbox.
From our morning news briefing to a weekly Good News Newsletter, get the best of The Week delivered directly to your inbox.
The group's study, published in the journal Nature, looks at "nanoscale probes" that have the ability to measure the electric current that runs within cells (electrophysiology), potentially leading to an "intersection between humans and machines", according to Surrey University's Dr Yunlong Zhao in an interview with Science Daily.
What does transhumanism mean?
Transhumanism is defined by Dictionary.com as a "philosophy that explores human transcendence above or beyond organic corporeal limitations through technological and philosophical evolution".
In layman's terms, it is a way to think of the future based on the current representation of humans as just the early phase of growth and development. This is beyond the typical devices like hearing aids, glasses and prosthetic limbs.
Originally seen in an essay by British geneticist J.B.S. Haldane in the 1920s, the idea of transhumanism has gradually developed over the past two decades. Haldane's writing predicted benefits of scientific applications to human biology, reports i News.
The term, though, derives from a 1940s paper by Canadian philosopher W.D. Lighthall.
The idea of transhumanism affirms that the possibility of improving the human condition through applied reasoning and developing technology can enhance our species greatly. Developments could eliminate ageing, as well as improve intellectual, physical and psychological capacities, allowing a person to become "posthuman", reports What is Transhumanism?
It is believed that humans will be able to overcome any limitations – or changing "our frail version 1.0 human bodies into a far more durable and capable 2.0 counterpoint," as one transhumanist group told The Observer.
Is this really possible?
Anqi Zhang, who was part of the Harvard research team, told the Independent that "significant advancement in the next 10 to 15 years" can address the predictions in the Years and Years episode.
"The ability to read electrical activities from neurons is the foundation of many brain-machine interface applications, such as brain activity mapping and neural prosthetics."
The technology to achieve a transhumanist goal is not yet sufficiently developed, so some pioneers want to have their bodies cryogenically preserved - or stored in liquid nitrogen at low temperatures - to be later revived and augmented with the technological advances. Four such facilities have been constructed so far, says the Observer; three in the US and one in Russia.
Crystal L'Hote, an associate professor of philosophy at Saint Michael's College in Vermont, told the Independent, though, that we are a long way from being able to "purchase implantable communication devices on the open market, though there's reason to think it's just a matter of time".
In some ways, though, this "integration" has already begun, notes the Independent. Some hearing aids allow users to connect to their smartphones, while Elon Musk recently announced a "mind-reading" microchip with his company Neuralink.
Who is this for?
Transhumanist believers want this to be for everyone. They recognise the necessary costs, though, reports What is Transhumanism?
"The typical pattern with new technologies is that they become cheaper as time goes by. In the medical field, for example, experimental procedures are usually available only to research subjects and the very rich. As these procedures become routine, costs fall and more people can afford them," the site notes.
Humanity+ is a nonprofit organisation that works to promote discussions of these radical human developments for anyone to take part in.
The group suggests that to "become a posthuman" one should live healthily, keep up with current research, support the development and in the meantime sign up for cryonics to be preserved.
Isn't it risky?
What is Transhumans? blatantly states that yes, it is risky. This means that the risks must be analysed before they materialise for human use.
But the website does state that limiting the technological developments is detrimental as well. "Trying to ban technological innovation on these grounds, however, would be misguided. If a society judges existing inequalities to be unacceptable, a wiser remedy would be progressive taxation and the provision of community-funded services such as education, IT access in public libraries, genetic enhancements covered by social security, and so forth."
However, not everyone agrees. An article by engineer Bill Joy for Wired argues that the applications are very dangerous.
"Due to improved techniques the elite will have greater control over the masses; and because human work will no longer be necessary the masses will be superfluous, a useless burden on the system," he writes. "Each of these technologies also offers untold promise: The vision of near immortality…"
L'Hote seems to agree: "Perhaps a greater threat to humanity than the limited incorporation of specific enhancement technologies is the technological mindset that motivates it. Adopting an instrumental attitude towards our bodies and towards the natural world has proven to pose a greater existential risk."
The greatest risk What is Transhumanism? points to is self-replicating nanotechnology, which could essentially destroy a human's biosphere by creating chemical reactions and non-biological structures.
Others in the field agree with the FAQ website. Cybernetics expert Kevin Warwick of Coventry University told the Observer: "What is wrong with replacing imperfect bits of your body with artificial parts that will allow you to perform better – or which might allow you to live longer?"
Andy Miah, a bioethics professor at Salford University, adds: "Transhumanism is valuable and interesting philosophically because it gets us to think differently about the range of things that humans might be able to do – but also because it gets us to think critically about some of those limitations that we think are there but can in fact be overcome.
"We are talking about the future of our species, after all."
Continue reading for free
We hope you're enjoying The Week's refreshingly open-minded journalism.
Subscribed to The Week? Register your account with the same email as your subscription.