Spencer Perceval to David Amess: a history of MPs murdered in office
Death of Southend West MP comes just five years after Jo Cox was killed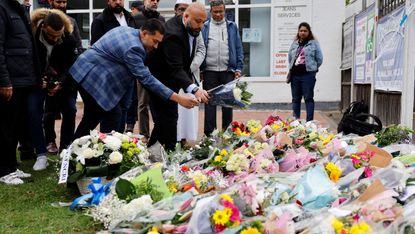 (Image credit: Tolga Akmen/AFP via Getty Image)
The safety of MPs at their constituency surgeries has become a major talking point following the shocking death of David Amess, who was fatally stabbed in his Southend West seat in Essex on Friday.
Amess, who had been a Conservative MP for nearly four decades, was stabbed multiple times at Belfairs Methodist church in Leigh-on-Sea. The 69-year-old father of five was known for his campaigning against abortion and on animal welfare issues.
Ali Harbi Ali, a 25-year-old British national, has been arrested on suspicion of murder and is currently detained at a London police station under the Terrorism Act. It remains unclear why Amess was specifically targeted. According to The Independent, police are following several lines of enquiry, including Amess's leadership of the all-party parliamentary group on Qatar.
Subscribe to The Week
Escape your echo chamber. Get the facts behind the news, plus analysis from multiple perspectives.
SUBSCRIBE & SAVE
Sign up for The Week's Free Newsletters
From our morning news briefing to a weekly Good News Newsletter, get the best of The Week delivered directly to your inbox.
From our morning news briefing to a weekly Good News Newsletter, get the best of The Week delivered directly to your inbox.
On Sunday, Amess's family appealed for public unity. In a statement released via the police, they asked people to "set aside their differences and show kindness and love to all".
"This is the only way forward," the family added. "Set aside hatred and work towards togetherness. Whatever one's race, religious or political beliefs, be tolerant and try to understand. As a family, we are trying to understand why this awful thing has occurred. Nobody should die in that way. Nobody."
Leaders from across the political spectrum have paid tribute to Amess, including the prime minister who described him as "one of the kindest, nicest, most gentle people in politics" with "an outstanding record of passing laws to help the most vulnerable".
Boris Johnson will lead more tributes to Amess in the House of Commons today, followed by further discussions on protecting MPs in their local constituencies. Speaking to the BBC's Andrew Marr on Sunday, Home Secretary Priti Patel said she was looking at "a way to do things differently around surgeries".
Amess was the ninth British MP to have been killed while serving a term in parliament. His death came five years after the murder of Labour MP Jo Cox outside her constituency surgery, an event which stunned and appalled the country. Here are the other lawmakers who have been murdered.
Spencer Perceval, Tory (1762-1812)
The only British prime minister to have been assassinated, Spencer Perceval was gunned down in the lobby of Parliament on 11 May 1812 by John Bellingham, a failed merchant from Liverpool, said the BBC History Extra site.
Perceval had served as the Tory MP for Northampton since 1796 and as PM for two-and-a-half years. He is thought to have been murdered over what Bellingham considered to be an injustice against himself. Bellingham had been falsely imprisoned for debt in Russia in 1804, and was angry that neither the British embassy nor the UK government would facilitate his release nor grant him compensation that he felt he was owed after being freed.
Bellingham was sentenced to death in a quick trial and was hanged in public exactly a week after killing Perceval.
Lord Frederick Cavendish, Liberal (1836-1882)
Lord Frederick Cavendish of the Liberal Party was the first sitting MP to be killed by Irish Republican extremists. Just hours after travelling to Dublin to take up the role of chief secretary for Ireland on 6 May 1882, Cavendish and the permanent under secretary at the Irish Office, Thomas Henry Burke, were stabbed to death by members of the Irish National Invincibles, a splinter group of the Irish Republican Brotherhood.
Five of the assassins were tried and hanged the following year, while several others were sentenced to long prison terms, according to Encyclopedia Britannica.
Sir Henry Wilson, Ulster Unionist (1864-1922)
Field Marshal Sir Henry Wilson, a decorated soldier and MP for North Down in Northern Ireland, was assassinated on the steps of his home in London on 22 June 1922.
Two London-based members of the Irish Republican Army, Reginald Dunne and Joseph O'Sullivan, were apprehended at the scene and later hanged, but no chain of command has ever been established, and the orchestrator of the assassination has never been determined.
Wilson had been staunchly anti-Republican, and his assassination "led directly to the civil war in Ireland", said The Irish Times.
Airey Neave, Conservative (1916-1979)
Just weeks before an election that would see his party leader Margaret Thatcher take power, then shadow secretary of state for Northern Ireland Airey Neave was fatally wounded by an Irish National Liberation Army bomb as he left a House of Commons car park on 30 March 1979.
Neave, who had been the first British officer to escape from Colditz during the Second World War, was a close ally and friend of Thatcher, who was said to have been "numb with shock" upon hearing of his death. He had served as the Conservative MP for Abingdon since 1953.
Reverend Robert Bradford, Ulster Unionist (1941-1981)
Just two years after the death of Neave, Irish republican militants orchestrated the shooting of Belfast South MP Robert Bradford.
In a statement claiming responsibility for the attack, the IRA alleged that Bradford had been "one of the key people responsible for winding up the loyalist paramilitary sectarian machine". As The New York Times reported at the time, Bradford "was an outspoken critic of the Irish nationalist guerrillas" and had "repeatedly called for the reimposition of capital punishment in the province and for other strong deterrent measures".
Sir Anthony Berry, Conservative (1925-1984)
Enfield Southgate MP Anthony Berry, who served as deputy chief whip under Thatcher, was killed on 12 October 1984 in the IRA's bombing of the Grand Hotel in Brighton, where the PM and her cabinet were staying during the Conservative Party conference.
The bomb, planted by IRA member Patrick McGee, killed four other people, and left Norman Tebbit's wife paralysed. McGee was given eight life sentences by the British courts but was released in 1999 under the terms of the Good Friday Agreement.
Ian Gow, Conservative (1937-1990)
At the tail end of the Thatcher era, tensions between the UK and Ireland escalated once again following the assassination by the IRA of Ian Gow, the Conservative MP for Eastbourne since 1974. He was killed by a car bomb as he reversed out of his driveway at his home in East Sussex on 30 July 1990.
Following his death, The Chicago Tribune reported that Gow had been widely known for his "outspoken scorn for the Irish Republican Army" and had also frequently failed to follow recommended security protocol. "He was one of but a handful of MPs who allow their addresses to be published" and, against the advice of security officials, had held "regular weekend schedule of public meetings with his constituents and services at the village church", the newspaper said.
Jo Cox, Labour (1974-2016)
Jo Cox, who became MP for West Yorkshire's Batley and Spen in the 2015 general election, was murdered on 16 June 2016, a week before the EU referendum. She was stabbed 15 times and shot three times outside her constituency surgery in Birstall, near Leeds.
As she lay bleeding on the street, Cox told her assistants to run away and save themselves, rather than help her. She died shortly afterwards in the back of an ambulance, despite emergency surgery. She was 41.
During the attack, Cox's assailant, Thomas Mair, shouted "this is for Britain", "keep Britain independent" and "Britain first". He was sentenced to prison for the rest of his life following a seven-day Old Bailey trial during which he made no effort to defend himself.
Cox's death prompted outrage and tributes from across the world. The Jo Cox Foundation was established in September 2016 by her friends and family, with the objective of promoting "a kinder, more compassionate society where every individual has a sense of belonging and where we recognise that we have more in common than that which divides us".
In May 2017, a memorial designed by the murdered MP's young children was unveiled in the House of Commons, at the first of the foundation's Great Get Together celebrations. These nationwide events are designed to bring together people who would never normally meet, encouraging the public to celebrate unity in diversity.

Continue reading for free
We hope you're enjoying The Week's refreshingly open-minded journalism.
Subscribed to The Week? Register your account with the same email as your subscription.