The evolution of the electric vehicle
From the first Teslas to robot cabs, a lot has changed in a decade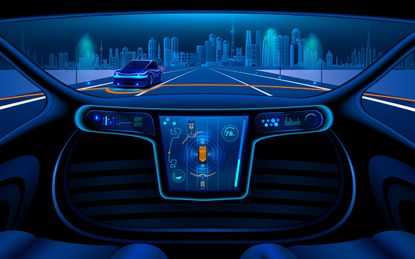 The shift to electric vehicles (EVs) has been on the cards for some time. About ten years ago, people began to buy electric cars as a way of reducing their carbon footprint and cutting the cost of their fuel bills. Models such as the Nissan Leaf and Mitsubishi i-MiEV were the cars of choice for early adopters, but their limited range and high prices meant they were something of a rarity on Britain's roads.
A lot can change in a decade. Advances in battery technology mean electric cars now travel much further on a single charge, while competitive finance options and government grants serve to draw buyers away from combustion-engined rivals. The switch will have a huge impact on life as we know it. Petrol stations could make way for charging facilities, roads will become far quieter and - crucially - pollution levels will plummet.
The electric pioneers
Subscribe to The Week
Escape your echo chamber. Get the facts behind the news, plus analysis from multiple perspectives.
SUBSCRIBE & SAVE
Sign up for The Week's Free Newsletters
From our morning news briefing to a weekly Good News Newsletter, get the best of The Week delivered directly to your inbox.
From our morning news briefing to a weekly Good News Newsletter, get the best of The Week delivered directly to your inbox.
Drop the words "electric car" into a conversation and there's a good chance people will picture a Tesla. The company, headed by South African-born billionaire Elon Musk, started making small electric sports cars in 2008, but its saloons and hatchbacks have turned it into one of the most recognisable names in the business.
The rise has been meteoric. According to electric car news site CleanTechnica, Tesla delivered just 321 vehicles during the third quarter of 2012. Fast forward to the same period in 2019, and the figure rises to a staggering 97,000. They're as quick off the line as they are off the forecourt, too. The company's range-topping Model S Performance can sprint from 0-60mph in just 2.4 seconds, which is fast enough to make million-pound hypercars blush. It does so without sacrificing range, rated as 365 miles under the Worldwide Harmonised Light Vehicle Test Procedure - the latest and most realistic measurement standard.
All that progress has come at a cost, however. Although Tesla posted profits of $143m (£110m) during the third quarter of 2019, it had suffered losses of $1.1bn (£850m) during the first half of the year. It is, however, "maturing", says the Financial Times, as it switches its focus to "cost controls" after long periods of spending to get production of its budget saloon - the critically-acclaimed Model 3 - up and running.
Tesla is leading the charge into the all-electric future, but it no longer has the field to itself. The Chinese car industry, which once operated exclusively in its home market, now includes dozens of startups, many of which make only EVs. Nio, a Shanghai-based manufacturer, made headlines in 2017 when its EP9 hypercar set an EV lap record at the Nurburgring, completing the 12.9-mile circuit in 6 minutes 45 seconds. It held the record until Volkswagen's ID.R prototype shaved 40 seconds off it last June. Since then, Nio has released an all-electric SUV, the ES6, one of several models that makes China the global leader for electric cars. In 2018, it accounted for 60% of the 2.1 million global EV sales.
How will automated & electric vehicles change the world?
Podcast

The end of petrol: we debate the challenges and opportunities of electric cars

Listen to podcast
Insight Report

How electric and automated vehicles are changing the world

Download now
Advertisement Feature

How Europcar is embracing change and preparing for an electric future

Read case study
The empires strike back
With demand for battery-powered vehicles at an all-time high, the industry's established manufacturers have rushed to jump on the EV boom.
After the 2015 diesel emissions scandal cost the company more than €30bn (£26bn) in fines, the Volkswagen Group switched its strategy from improving combustion technology to building electrified powertrains. As part of a five-year, $50bn (£39bn) investment "gamble", says Forbes, the company will release a range of zero-emission models across the group - including the Audi and Porsche brands. The EV drive is spearheaded by the VW Golf-sized ID.3 and the Porsche Taycan, a competitor to the Tesla Model S. Audi, meanwhile, launched its electric E-tron SUV earlier this year, and the TT will reportedly soon become an electric-only model.
The VW Group isn't the only long-standing carmaker to switch over to electrified models. Jaguar's I-Pace SUV launched to critical acclaim last year, while Ford has just started taking pre-orders for its first mass-production EV, the Mach-E, which takes the form of a Mustang-inspired crossover. This, in turn, has put pressure on oil companies, which face extinction if they fail to react to the seismic shift.
According to a study published by ScienceDirect, oil companies expect demand for fossil fuels to peak in the next two decades, and then gradually decline. As a result, five of the world's top eight oil companies, including Shell, Total and BP, have turned their attention to renewable energies - with solar and wind power responsible for an increasing slice of their revenue. They may need to act faster still. EU finance ministers have called for the bloc to stop funding fossil fuel projects entirely, at a potential cost to the oil firms of €2bn (£1.7bn) in investment every year, the BBC reports.
No matter what, fossil fuel companies and carmakers are going to have to make radical changes to their business models to adapt to the current climate. This might even signal the end of vehicle ownership altogether.
A new model of ownership
Until recently, most drivers aspired to own their cars, even if they financed the purchase through a loan. In today's new car market, Auto Express notes, some 78% of "buyers" spread the cost of their new vehicle through a Personal Contract Purchase (PCP), which means they pay monthly instalments to use the car for a set period, usually two or three years, but don't actually own it unless they pay a large extra sum when the contract comes to an end. Only about one in five do so - most choose to return the car, and take out another contract on a new car.
Carmakers tend to benefit from this form of leasing, which encourages drivers to change cars more regularly - but it could be the first step towards an entirely different form of ownership. If the car is no longer a personal asset, then why not cut out ownership altogether?
Canoo, a California-based company founded by former BMW executives, believes the future of mobility lies in electric vehicles available through a monthly subscription service, which can be stopped and started at will. The "left-field" purchasing model brings "the convenience and affordability of a Netflix movie service to the auto industry," says the Top Gear website, bundling "boring" aspects of car ownership - such as insurance and maintenance - into one monthly fee.
"Canoo executives argue customers would prefer car subscriptions but options have been few because of carmakers' legacy relationships," the Financial Times reports. "When Volvo launched a subscription service in 2017, for instance, dealers revolted." The futuristic Canoo "microbus" will be available in 2021.
Waymo, a subsidiary of Google parent company Alphabet, is taking things a step further. The company operates a self-driving taxi service in Phoenix, Arizona - just like Uber, but minus the driver (although they do have a safety driver). Waymo's advantage is price, which could provide another incentive to abandon vehicle ownership. Cheap robot cabs would almost certainly tempt more vehicle owners to sell their cars and rely on ride-hailing apps for their daily commute.
To find out more about how autonomous and electric vehicles are changing the world, download our in-depth report
Sign up to our 10 Things You Need to Know Today newsletter
A free daily digest of the biggest news stories of the day - and the best features from our website