What is the fourth industrial revolution?
The technology driving change and how it is transforming industry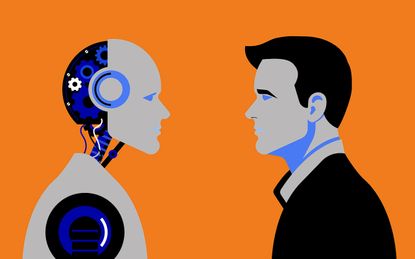 In 2016, the World Economic Forum in Davos chose "Mastering the Fourth Industrial Revolution" as its theme. It was one of the first public uses of a term that has quickly entered the mainstream.
As a catch-all description of a wave of disruptive new technologies, some already in the wild and others in the pipeline, it brings together a diverse collection of products and services with the potential to change not just industry but wider society. They include 5G networks, Wi-Fi 6, the internet of things (IoT), autonomous vehicles, artificial intelligence and machine learning, renewable power, 3D printing, blockchain finance, robotics, nanotechnology, quantum computing and biotechnology.
The backstory
Subscribe to The Week
Escape your echo chamber. Get the facts behind the news, plus analysis from multiple perspectives.
SUBSCRIBE & SAVE
Sign up for The Week's Free Newsletters
From our morning news briefing to a weekly Good News Newsletter, get the best of The Week delivered directly to your inbox.
From our morning news briefing to a weekly Good News Newsletter, get the best of The Week delivered directly to your inbox.
The industrial revolution - the first one - took place in the 19th century, when mechanisation in factories, driven by steam power, replaced craftsmanship and cottage industry.
The second revolution, during which electricity and gas took over from steam, spanned the late 19th and early 20th centuries, and then the third came with the rapid development in information technology from the 1960s onwards, including the rise of the personal computer and the invention of the microchip.
Now a new disruptive force is upon us, driven by the internet and by the arrival of artificial intelligence.
A new revolution
Is it really another industrial revolution? The answer seems to depend on who you ask.
World Economic Forum (WEF) founder Klaus Schwab, one of the pioneers of the concept, is adamant that the transformative power of emerging technologies will justify the label. By contrast, the US economist Jeremy Rifkin suggests that many of the innovations said to belong to the fourth industrial revolution should be grouped with the rise of computing since the 1960s as part of the third industrial revolution.
Some of the technologies are certainly not new - AI, for example, has been around for decades - but together they are changing the way we work, shop, communicate and entertain ourselves more rapidly now than before.
There will always be debate about what to call big moments of change, and where to draw the dividing line between one movement and another. Clarity will come with hindsight, but for now the fourth industrial revolution (or 4IR, as it is sometimes styled) is a useful shorthand to describe the powerful but disparate developments that are quietly shaping our lives./>
Dizzying pace of change
Artificial intelligence, automation and the internet are changing so many fields of human behaviour that it can be hard to keep up. To give just a few examples:
• In classrooms, children are learning from online software. Human teachers step in to help them with the parts they struggle to understand, once those have been identified by the app.• In warehouses, robots can locate, pick and transport items without any human intervention.• Rather than employing a journalist to write a story about changing share prices, financial websites use algorithms that display neat graphs automatically and without errors.• Police and private companies in the UK are using AI to look for the faces of criminals in crowds. A court ruled in September that doing so is not a breach of human rights.• Legal firms now sit new clients in front of software which asks them a series of questions and drafts documents appropriately. In some circumstances, doctors can be replaced with a diagnostic algorithm and a nurse.
Some 4IR technologies are tangible products: for example, Microsoft's HoloLens augmented reality glasses. These glasses add computer graphics to the wearer's real-world view, and could be used to help engineers visualise their plans or help surgeons to work more quickly and precisely.
Others are less visible, such as systems of processing "big data". With the growth of digital technology has come a proliferation of information, some of which is on such a large scale that conventional software struggles to analyse it.
The fourth industrial revolution
Podcast

How high-tech connected cities will change their inhabitants' lives

Listen to podcast />
Insight Report

How the fourth industrial revolution will change the world

Download now />
Advertisement Feature

How Ticketer's disruptive technology drives buses

Read case study
Tracking commuters through London
One such data-harvesting opportunity was identified by Transport for London (TfL), which runs the London Underground. In July, TfL announced it was starting to collect data about commuters from their smartphones on the Tube, using the Wi-Fi hubs now installed in 97% of stations. Initially intended to let smartphone users send or receive data when they're on the platform, these beacons are now also being used to track individual users as they move around the network.
Since the introduction of the Oyster card, TfL has known where travellers tap in and out of the network - but the new approach provides a much richer picture. The Wi-Fi data lets planners plot precise journeys, showing where people changed trains, how long each part of the journey took - and even the route passengers took across a station concourse. This isn't just big data - it's huge. When TfL trialled the system for four weeks in 2016, it collected 509 million pieces of data from 5.6 million handheld devices on 42 million journeys, according to the report it subsequently released.
Not so long ago that volume of data would have been overwhelming. Now new techniques have been created to crunch the numbers, and advanced artificial intelligence platforms, rather than human analysts, can look for patterns in data. The TfL trial threw up some surprises: travelling on the Underground from Liverpool Street to Victoria, most passengers changed at Oxford Circus. But 2% - a small proportion but a large number of individuals - inexplicably used three lines to go via Holborn and Green Park.
This greater understanding of how passengers travel - including how they respond to delays or line closures - should help TfL run a more efficient service. But there may be another reason: TfL has a "clear commercial incentive" for collecting the data, says Wired: targeted advertising. According to the magazine, Freedom of Information requests revealed that advertising might now be sold based on journey patterns - so that the same advert appears along a given route. "The spectre of advertising following you to work is a grim one," it says, "and there are obvious privacy concerns with this system."
The internet of things
One defining quality of 4IR technologies is connectivity. An increasing number of devices will connect to the internet - and the idea of a fridge that orders more milk when it realises you are close to running out is certainly seductive.
In 1999, Kevin Ashton of Procter & Gamble coined the phrase "internet of things" - although he now reportedly prefers "internet for things" - to describe this autonomous connectivity. Two decades later, analysts are forecasting that soon, more inanimate objects than people will be using the internet. This level of connectivity brings several dangers, from security risks - what if a hostile government or individual could hack into a hospital to turn off ventilators? - to concerns about privacy.
In June this year, the Washington-based Electronic Privacy Information Centre (Epic) warned of a "growing risk to [the] privacy and security of internet-connected devices" in a letter to the US Senate committee. "The unregulated collection of personal data and the growth of the internet of things has led to staggering increases in identity theft, security breaches, and new cybersecurity threats," it said. New regulations will be needed to counteract the threats and reduce the risks, Epic said.
From the rise of the internet of things to the increasing presence of AI and automation in many areas of industry, it's clear that technological advancements are making a huge impact on life as we know it. And that's something that can certainly be described as revolutionary.
To find out more about how the fourth industrial revolution will change the world, download our in-depth report
Sign up to our 10 Things You Need to Know Today newsletter
A free daily digest of the biggest news stories of the day - and the best features from our website