52 ideas that changed the world - 38. Anaesthesia
Pain-relief changed medicine and 'became a touchstone for humanitarianism'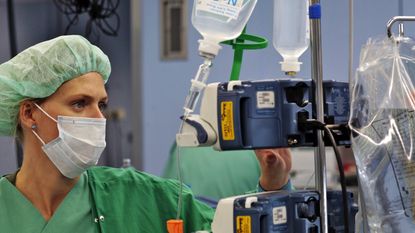 (Image credit: Carsten Koall/ Getty Images)
In this series, The Week looks at the ideas and innovations that permanently changed the way we see the world. This week, the spotlight is on anaesthesia:
Anaesthesia in 60 seconds
Anaesthesia is the controlled, temporary loss of sensation or awareness that is induced in humans and animals for medical purposes. It is most commonly associated with unconsciousness and the relief from pain.
Subscribe to The Week
Escape your echo chamber. Get the facts behind the news, plus analysis from multiple perspectives.
SUBSCRIBE & SAVE
Sign up for The Week's Free Newsletters
From our morning news briefing to a weekly Good News Newsletter, get the best of The Week delivered directly to your inbox.
From our morning news briefing to a weekly Good News Newsletter, get the best of The Week delivered directly to your inbox.
Anaesthesia allows for the painless performance of medical procedures that would otherwise cause intolerable pain to an unanaesthetised patient.
There are three broad categories of anaesthesia. They are:
General anaesthesia: this surpasses central nervous system activity, results in unconsciousness and total lack of sensation in the patient.
Sedation: suppressing the central nervous system to a lesser degree. This method of anaesthesia inhibits anxiety and the creation of long-term memories without causing unconsciousness.
Local (also called regional) anaesthesia: this blocks nerve transmissions from a specific part of the body, temporarily reducing or removing sensation. It is often used on its own – for example, in dentistry – but can also be combined with sedation. Some local anaesthesia can target the central nervous system, for example, the administration of an epidural during childbirth.
How did it develop?
Attempts to alleviate the pain of disease, injury or simple surgical procedures by producing unconsciousness are almost as old as civilisation, though early techniques were crude, says the Royal College of Anaesthetists (RCoA).
Records show the use of methods including the ingestion of ethanol or herbal mixtures, or even "knock-out" blows to the head.
Di-ethyl ether, the first anaesthetic to be successfully demonstrated in public, was used as far back as the 13th century.
"There are early reports of it producing both pain relief and loss of consciousness, but such observations were not applied clinically for centuries – examples of a recurring theme: clinical use of the effect did not follow until long after its original observation," says the RCoA.
It was not until the Enlightenment, in the latter half of the 18th century, that more advanced methods of anaesthesia began to arise from discoveries made in Britain.
The gases carbon dioxide (Joseph Black, 1754), oxygen (Joseph Priestley, 1771), and nitrous oxide (Priestly, 1772) were all discovered during the Enlightenment, starting the now common practice of pneumatic (gas-powered) anaesthesia.
In 1798, Thomas Beddoes established the Pneumatic Institute near Bristol, and it was here that Humphry Davy suggested the inhalation of nitrous oxide during surgical operations, to relieve pain.
Moving to the Royal Institution in London, Davy was joined by an assistant – Michael Faraday, who would become famous for discoveries of electromagnetism – who studied the inhalation of ether as a method of anaesthesia.
Horace Wells, a dentist from Hartford, Connecticut, demonstrated the uses of nitrous oxide in medical anaesthesia, inspiring Harvard medical student William Morton to study and test the idea of pneumatic anaesthesia, says Oxford University Press.
Morton went on to successfully demonstrate ether anaesthesia at Massachusetts General Hospital in 1846. As the RCoA says: "Before a large audience, Morton administered ether vapour to Gilbert Abbott before [surgeon Dr John] Warren removed a tumour from Abbott's neck without any sign of distress." News of this success spread around the world, and general anaesthesia was accepted into clinical practice.
Local anaesthesia followed shortly afterwards, with the numbing effects of cocaine first noted in 1860. Sigmund Freud and Carl Koller experimented with the drug as a local anaesthetic, and in 1884 Koller's colleagues presented a paper on its clinical use, says Wired.
Word quickly spread and within months local anaesthesia was being practised by doctors around the world. Greater anatomical knowledge saw the arrival of spinal anaesthesia in 1898 and the epidural block in 1921.
Muscle relaxation, induced hypotension and the evolution of modern anaesthesia all contributed to the ongoing improvement and success of its use in medical practice.
How did it change the world?
"Pain is a universal experience," says Stephanie J. Snow in her journal article, Blessed Days of Anaesthesia: How Anaesthetics Changed the World. But thanks to anaesthesia, it is an experience that is far rarer and much more controlled than before its introduction.
Snow describes how the attitude towards pain across the world changed as a result of the introduction of anaesthetics, documenting the shift in thought from pain as a natural part of life, to one that medicine can control.
The ability to control pain introduced countless new possibilities for life-changing and life-saving surgery and treatment of disease that was previously unthinkable.
Modern surgery and medical procedures, from a triple heart bypass to a new filling, rely on anaesthesia. Without it, these procedures would not be possible, and pain and death would be far more prevalent.
In addition to its direct, practical medical uses, anaesthesia changed broader understanding of pain and suffering on a fundamental level.
"Beyond medicine, anaesthesia became a touchstone for humanitarianism, fuelling public distaste of pain and concern about the morality of inflicting suffering," writes Snow.
In 2007, the British Medical Journal asked readers to nominate the most important medical milestones since the forerunner of the BMJ was first published in 1840.
Anaesthesia was voted just behind sanitation and antibiotics as the biggest breakthrough. In the 19th century, the BMJ says it was "heralded as a civilising factor of the Western world", becoming "a symbol for the wider humanitarian movement… the most vivid example of medicine's capacity to diminish human suffering."

Continue reading for free
We hope you're enjoying The Week's refreshingly open-minded journalism.
Subscribed to The Week? Register your account with the same email as your subscription.