Should you buy gold coins?
When buying gold coins, it's important to decide whether you are collecting or investing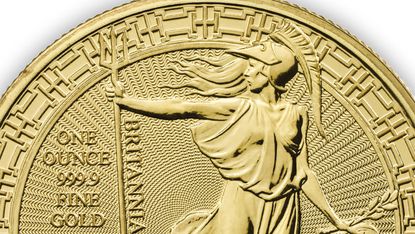 (Image credit: Royal Mint)
With central banks spraying unprecedented amounts of printed money at the global economic system, it's little wonder the gold price soared by 18% in the six weeks following the stockmarket meltdown. All the extra money sloshing around means the chances that consumer price inflation will take off and erode the value of your cash have risen sharply.
While central banks can create as much paper money as they like, gold can't be produced at the touch of a button. As a result gold is trusted as a store of value and a safe haven. These qualities mean it typically flourishes when the news is bad and risky assets such as stocks slump. That's why we always advocate holding up to 10% of your portfolio in gold as a form of insurance.
Subscribe to The Week
Escape your echo chamber. Get the facts behind the news, plus analysis from multiple perspectives.
SUBSCRIBE & SAVE
Sign up for The Week's Free Newsletters
From our morning news briefing to a weekly Good News Newsletter, get the best of The Week delivered directly to your inbox.
From our morning news briefing to a weekly Good News Newsletter, get the best of The Week delivered directly to your inbox.
When it comes to buying physical gold, for most of us that means snaffling away a few gold coins. They are small and convenient. And provided you can do so securely, you can keep them at home. Just remember, you may need to let your insurers know, or you can pay somebody else to look after them for you safely.
At the end of March, meanwhile, auction house Spink & Son presided over a bumper sale of collectable coins, some of which were gold. "It suggests investors are once again looking to the commodity," said This Is Money. But hang on. Collectable gold coins and bullion gold coins are two very different types of investment.
Medieval gold Henry IV ryal © BullionByPost
Collectable gold coins
Collecting coins can indeed be lucrative. Knight Frank compiles a Luxury Investment Index, and its calculations show that the value of collectable coins in general (not just gold ones) increased by 175% in the decade to the fourth quarter of 2019. Between 2010 and 2019, the FTSE All-share index rose by 52%. Collectable coins have "numismatic" value.
The materials they are made of are important. But so are their rarity and beauty – key elements in the "stories" behind the coins that collectors love. A coin may, for example, have been struck in error, such as the 20p coins from 2008, which emerged without the year on them.
Or it might point to a milestone in history, such as the "Flowing Hair" dollar – the first to be minted by the newly independent US in 1794, one of which sold for $10m in 2013. A $20 "Double Eagle" from 1933 became the world's most expensive gold coin to be sold at auction – and the second-most overall after the "Flowing Hair" dollar – in 2002, when it fetched $7.6m.
Some coin collectors will also tell you that rare coins are also a safe haven from stockmarket falls. So says Dr Alain Baron, founder of Swiss coin dealer Numismatica Genevensis, whom I interviewed before the latest crash.
Gold 2020 Britannia © Royal Mint
Bullion gold coins
What is bearish for stocks tends to be bullish for the gold price. That their bullion comes in the shape of small, circular discs with pretty designs impressed upon them is incidental to bullion investors. It doesn't really matter. Only the weight and the purity of the gold it contains does. When it comes to the latter, investors want their gold coins to be at least 99.90% pure (that is 990 parts gold per 1,000), as that is the minimum to be classified as "investment gold" by the taxman, making it free of VAT. (The purity value of gold bars needs to be higher, at 99.95% or 995 parts per 1,000.)
The popular Britannia bullion coins from the Royal Mint are 99.99% pure gold (999 parts per 1,000) and as pure as gold comes. Your "investment gold" coins also need to have been minted after 1800 or otherwise included on a list of acceptable foreign gold coins, available at gov.uk. And because the one-troy-ounce Britannia, with a face value of £100, (along with the smaller, £1 gold sovereign) is legal tender in Britain, it is also exempt from capital-gains tax. That is one big advantage these British gold coins have over bars for UK-based gold investors.
The big disadvantage of coins compared with bars is that you will pay a much higher premium over the "spot" gold price (the current market price for immediate delivery). This is to cover all of the associated costs that go into making and distributing them. For a one-troy-ounce coin – a Britannia, say – you will pay on average 4% above the spot price, says Jan Nieuwenhuijs on Seeking Alpha.
"Coins weighing less than one troy ounce have a higher premium, because their manufacturing costs are higher relative to the value of the gold in the coin." (Just to confuse matters, gold coins are often weighed in "troy ounces". One troy ounce is about 10% heavier than a regular ounce.)
So, while collectable and bullion gold coins both have their merits in terms of investments, which you buy depends on what you are trying to achieve as a buyer. Are you looking for a safe, reliable store of value, the price of which may appreciate in these fevered times? If so, bullion is your bag. But if you are fascinated by beautiful, rare and exceptional pieces, then collectable coins are a worthy asset, but consider them more of a hobby than an investment.
How to buy your coins
Gold coins have been traded since at least the Bronze Age and collecting them is a hobby almost as old. The first-century Roman emperor Augustus was an "avid collector" of ancient Greek gold coins, says Amanda Foreman in The Wall Street Journal. His face was featured on the aureus, later to be replaced with the solidus as the gold coin of the later, Eastern Roman world.
Angels, ryals and guineas would pop up among others as variations of gold coins in England from the Middle Ages onwards, down to the 24-carat Britannias and 22-carat sovereigns that are still legal tender today (although no longer in circulation)
BullionByPost sells all of these, including the "high-grade gold" ryal of King Henry IV (1367-1413) pictured above. It is on the market for £2,650. If you're after a specific historic coin, the Royal Mint will track it down for you.
BullionVault, as its name suggests, sells bullion coins. Aside from the Britannia, other common one-troy-ounce gold bullion coins you will come across include the American Buffalo (USA), Krugerrand (South Africa), Maple Leaf (Canada), Gold Panda (China) and Gold Nugget (Australia). But only the Britannia is free of capital-gains tax in the UK. For a full list of where to buy physical gold, head to moneyweek.com/where-to-buy-gold-coins-and-bars.
This article was originally published in MoneyWeek

Continue reading for free
We hope you're enjoying The Week's refreshingly open-minded journalism.
Subscribed to The Week? Register your account with the same email as your subscription.