10 things you need to know today: July 31, 2014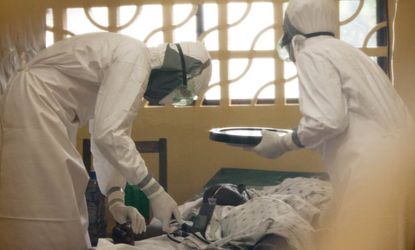 (Image credit: (AP Photo/Samaritan's Purse))
1. House GOP approves lawsuit against Obama
House Republicans voted Wednesday to authorize Speaker John Boehner (R-Ohio) to file a lawsuit against President Obama for allegedly abusing his power with executive actions, including delaying parts of his signature health-care law. "This isn't about Republicans and Democrats, it's about defending the Constitution that we swore an oath to uphold," Boehner said. Obama called the move a "political stunt."
2. Peace Corps volunteers leave West Africa as Ebola spreads
The Peace Corps announced Wednesday that it was pulling its 340 volunteers from Liberia, Sierra Leone, and Guinea because of an Ebola outbreak that has killed 456 people in West Africa. The World Health Organization has confirmed more than 800 cases, although there could be as many as 1,200. "This epidemic is without precedent," said Bart Janssens, director of operations for Doctors Without Borders.
Subscribe to The Week
Escape your echo chamber. Get the facts behind the news, plus analysis from multiple perspectives.
SUBSCRIBE & SAVE
Sign up for The Week's Free Newsletters
From our morning news briefing to a weekly Good News Newsletter, get the best of The Week delivered directly to your inbox.
From our morning news briefing to a weekly Good News Newsletter, get the best of The Week delivered directly to your inbox.
3. Second quarter economic growth jumps to four percent
The economy grew by an unexpectedly strong four percent annual rate this spring, according to government data released Wednesday. The rebound was fueled by robust spending by consumers and businesses rebuilding their inventories. The numbers marked a stark contrast with the first quarter, when harsh winter weather weighed on growth.
4. Russia scoffs at new U.S. and European Union sanctions
Russia reacted defiantly on Wednesday to harsher new economic sanctions imposed by the U.S. and Europe over its support for Ukrainian separatists, saying the measures would only push it to strengthen its economy while worsening its relations with the West. Ukraine welcomed the measures and vowed to continue an offensive against the pro-Russian rebels.
5. Bank of American fined $1.3 billion over Countrywide loan program
A federal judge in New York on Wednesday ordered Bank of America to pay $1.3 billion in penalties over a mortgage program that Countrywide Financial ran. Insiders referred to the program as "the hustle." It involved the fast-tracking of mortgage applications from August 2007 through May 2008, ending shortly before Bank of America bought Countrywide, so the parent bank is paying for mistakes made before it took over.
6. Ex-IRS official said some conservatives were "crazies"
Former Internal Revenue Service official Lois Lerner referred to conservative talk radio hosts as "crazies" and "a**holes" in emails released Wednesday by House Republicans. The messages were part of a collection of evidence delivered to the Justice Department by House Ways and Means Committee Chairman Dave Camp (R-Mich.) to support a GOP call for a special counsel to investigate the IRS' Tea Party-targeting scandal.
7. Argentina misses a debt-payment deadline
Argentina defaulted on its debt when it missed a deadline for paying interest on $13 billion of restructured bonds on Wednesday after talks with bondholders failed. It was the second default in 13 years for the South American nation, which has $200 billion in foreign-currency debt, including $30 billion in restructured bonds. The court-appointed mediator in New York said the consequences were uncertain, "but they certainly are not positive."
8. Economy gains 218,000 private-sector jobs
American companies hired 218,000 workers in July, falling slightly short of projections and the figure for June, according to a survey released Wednesday by private payroll firm ADP. It was the fourth straight month in which the U.S. gained more than 200,000 private jobs. Economist Mark Zandi of Moody's Analytics said the figures indicated "a steadily improving job market" on target to "return to full employment by late 2016."
9. Netanyahu says Israel will destroy Hamas tunnels, even with a truce
Israeli Prime Minister Benjamin Netanyahu said Thursday that Israel would destroy all of the tunnels Hamas militants have used to launch attacks in Israel, "with or without a ceasefire." Israel, which just called up another 16,000 reserves, has dismantled most of the 32 tunnels it has uncovered, and expects to demolish the rest within a few days. Neighboring Arab states, wary of Islamist groups like Hamas, are quietly siding with Israel over the Palestinians.
10. George W. Bush writes his father's biography
Former president George W. Bush is writing a biography of his father, former president George H.W. Bush, that will be released in November, Crown Publishers told The Associated Press on Wednesday. The book, which does not have a title yet, will cover the elder Bush's life and influence on his son, from their earliest campaign trips together to the younger Bush's own two-term presidency.

Continue reading for free
We hope you're enjoying The Week's refreshingly open-minded journalism.
Subscribed to The Week? Register your account with the same email as your subscription.