10 things you need to know today: June 2, 2016
Obama slams Republican economic plans, a murder-suicide sparks UCLA lockdown, and more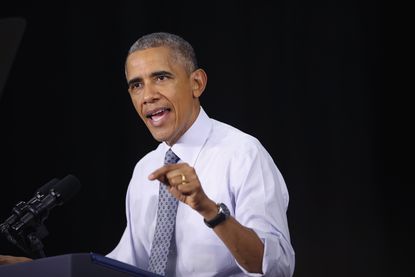 (Image credit: Scott Olson/Getty Images)
1. Hillary Clinton will pound Donald Trump's foreign policy in speech today
Hillary Clinton will give a speech in San Diego on Thursday that her aides say will directly target Donald Trump's foreign policy. "It's important that people understand this is not just about Republican versus Democrat, that Trump is unlike any presidential candidate we have seen and he is fundamentally unfit to be our commander in chief," Clinton aide Jake Sullivan said. Sullivan said Clinton will focus on Trump's willingness to sit down with North Korea's Kim Jong Un and his comments about NATO being obsolete and a bad deal for U.S. taxpayers. Some voters have found Trump's unorthodox foreign policy ideas refreshing, Sullivan added, but "once people fully understand what Donald Trump is proposing... it will not be appealing to any of them."
Reuters The Wall Street Journal
2. Obama tells voters GOP economic agenda 'is not designed to help you'
President Obama returned to Elkhart, Indiana — a manufacturing city he once visited deep in the Great Recession — to stage what he called an "intervention" for voters swayed by Republican policies and promises. "Don't think this agenda is going to help you," he said. "It is not designed to help you." Obama also said presumptive GOP nominee Donald Trump "would explode our deficit by more than $10 trillion." Indiana Gov. Mike Pence (R) said Elkhart bounced back by ignoring Obama's example, and lowering taxes and cutting regulation.
Subscribe to The Week
Escape your echo chamber. Get the facts behind the news, plus analysis from multiple perspectives.
SUBSCRIBE & SAVE
Sign up for The Week's Free Newsletters
From our morning news briefing to a weekly Good News Newsletter, get the best of The Week delivered directly to your inbox.
From our morning news briefing to a weekly Good News Newsletter, get the best of The Week delivered directly to your inbox.
3. Engineering professor identified as victim in UCLA murder-suicide
A mechanical and aerospace engineering professor, William Klug, was gunned down Wednesday in an apparent murder-suicide in an office building on UCLA's campus, authorities said. Friends and colleagues said Klug was brilliant, and a "gentle soul." No details on the identity of the alleged shooter were immediately released. The initial report of gunfire sent thousands of students running for cover, many barricading themselves inside classrooms as hundreds of armed officers swarmed the Southern California campus.
4. Obama administration unveiling new rules on payday loans
The Obama administration is expected on Thursday to unveil federal rules to extend federal oversight to the $38.5 billion payday lending industry. The rules proposed by the Consumer Financial Protection Bureau would require lenders to assess a borrower's ability to repay, and discourage rolling over loans, which can pile up lending fees. Lenders say the new rules, now opening up for public comment, would gut the industry. Consumer advocates say the rules are necessary to protect borrowers who can be ruined by loans with effective interest rates that can exceed 390 percent.
The Wall Street Journal The New York Times
5. Hillary Clinton calls Donald Trump's defunct university a 'scam'
Hillary Clinton on Wednesday called her likely general election opponent, Donald Trump, a "fraud." "He is trying to scam America the way he scammed all those people at Trump U," Clinton said, referring to newly released documents in a lawsuit over the now-defunct school. Trump, who vows to win the lawsuit, responded by calling Clinton "a person with no actual talent" who should not be allowed to run because her use of private email while secretary of state was a breach of federal law.
6. Ken Starr resigns as Baylor chancellor
Ousted Baylor University president Ken Starr announced Wednesday that he also was resigning as chancellor of the school, effective immediately. The move came a week after he was stripped of the more powerful president's role after the university acknowledged mishandling sexual assault allegations against several football players. Starr said he was not initially aware how widespread the problem was, but accepted responsibility. "The captain goes down with the ship," said Starr, a former federal judge and independent counsel whose report to Congress led to Bill Clinton's 1998 impeachment.
7. Uber gets $3.5 billion investment from Saudi Arabia
Uber said Wednesday that it had received a $3.5 billion investment from Saudi Arabia's Public Investment Fund, the kingdom's main investment fund. The infusion of cash was the ride-hailing service's largest yet. The investment valued Uber at $62.5 billion, right where the last valuation put it. The investment does not cash out any previous investors. As part of the deal, a managing director at the Public Investment Fund will get a seat on Uber's board.
8. French ship detects underwater signal from EgyptAir black box
The French naval ship La Place detected signals from one of EgyptAir Flight 804's data recorders on the bottom of the Mediterranean Sea, investigators said Wednesday. The French Aircraft Investigation Committee confirmed that the signals came from one of the plane's black boxes. Search crews have been looking for the recorders and other parts of the Airbus A320 since it crashed on May 19 on the way from Paris to Cairo with 66 people on board.
9. Florida officer indicted on manslaughter charge for killing of stranded motorist
A grand jury has indicted former Palm Beach Gardens police officer Nouman Raja on manslaughter and attempted murder charges for fatally shooting 31-year-old Corey Jones, a local musician, seven months ago, prosecutors said Wednesday. Jones, 31, was waiting for a tow truck after his car broke down on an Interstate 95 off-ramp. He was armed with a gun he had purchased three days earlier. Raja was in plainclothes and driving an unmarked car. According to documents released Wednesday, he never identified himself as a police officer.
The Washington Post The Palm Beach Post
10. 15 killed in al Shabaab bombing of hotel in Somalia
An al Shabaab suicide car bomber killed at least 15 people in an attack on a hotel in Somalia's capital, Mogadishu, on Wednesday. The blast was followed by gunfire. Two lawmakers who lived in the hotel were among the dead. Al Shabaab, an Islamist extremist group affiliated with al Qaeda, claimed responsibility. Authorities said many people were rescued from the Hotel Ambassador, including several other lawmakers.

Continue reading for free
We hope you're enjoying The Week's refreshingly open-minded journalism.
Subscribed to The Week? Register your account with the same email as your subscription.