10 things you need to know today: February 1, 2017
Trump nominates Judge Neil Gorsuch to Supreme Court, Democrats delay confirmation of two Trump nominees, and more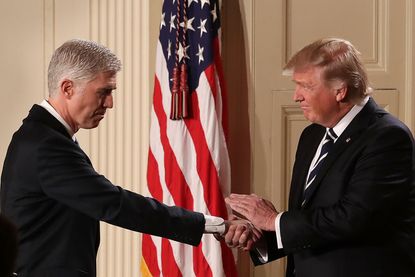 (Image credit: Chip Somodevilla/Getty Images)
1. Trump nominates Judge Neil Gorsuch to Supreme Court
President Trump on Tuesday nominated Neil Gorsuch, a federal appeals court judge in Colorado, to fill the Supreme Court seat left vacant when conservative Justice Antonin Scalia died last February. Like Scalia, Gorsuch is a conservative and believes in a strict, originalist interpretation of the Constitution. Gorsuch, at 49, is the youngest Supreme Court nominee in 25 years. He is a widely respected jurist, but still could face a bitter confirmation battle. His confirmation would restore the court's 5-4 conservative majority. Some Democrats questioned Gorsuch's record on women's rights. Others vowed to fight Trump's nominee because they felt former President Barack Obama should have been the one to fill the vacancy. Obama nominated another highly respected judge, Merrick Garland, for the seat last year, but Republicans blocked the nomination, refusing to consider any Obama nominee.
2. Senate Democrats delay confirmation of two Trump Cabinet nominees
Senate Democrats boycotted planned committee votes on President Trump's nominees to head the Treasury, and Health and Human Services departments, delaying the process. At least one Democratic member of the committees must be present to hold a vote on whether to recommend the nominees for approval by the full Senate. Senate Finance Committee Chairman Orrin Hatch called the boycott "shocking" and "offensive." Democrats say they want further information about reports contradicting testimony Steven Mnuchin, the treasury secretary nominee, made to the committee. They also want Rep. Tom Price, Trump's health and human services nominee, to explain a report that he received an offer to buy a biomedical stock at a discount, contrary to what he said in his confirmation hearing.
Subscribe to The Week
Escape your echo chamber. Get the facts behind the news, plus analysis from multiple perspectives.
SUBSCRIBE & SAVE
Sign up for The Week's Free Newsletters
From our morning news briefing to a weekly Good News Newsletter, get the best of The Week delivered directly to your inbox.
From our morning news briefing to a weekly Good News Newsletter, get the best of The Week delivered directly to your inbox.
3. San Francisco sues Trump over immigration order
San Francisco filed a lawsuit against President Trump on Tuesday over his executive order threatening to yank federal funding from so-called sanctuary cities that refuse to cooperate with immigration agents and provide protection for undocumented immigrations. San Francisco City Attorney Dennis Herrera called Trump's action unconstitutional and "un-American." There are about 400 jurisdictions around the country that meet some descriptions of sanctuary cities, although there is no official designation. The White House says such cities "willfully violate federal law" by shielding from deportation people who are in the U.S. illegally.
4. Senate committee backs Betsy DeVos, but confirmation still uncertain
A Senate panel on Tuesday narrowly voted to recommend the confirmation of Betsy DeVos as President Trump's education secretary. The nomination now goes to the full Senate. All 12 Republicans on the Senate Committee on Health, Education, Labor, and Pensions voted for DeVos, while all 11 Democrats voted against her. Republicans on the committee argued that DeVos was the reformer the department needed, while Democrats said the Michigan billionaire private school voucher advocate would undermine public schools. Two Republicans, Sens. Susan Collins of Maine and Lisa Murkowski of Alaska, said they had not decided whether they would back DeVos in a floor vote, indicating that her confirmation was not a sure thing.
5. Trump promises faster drug approval but calls for lower prices
President Trump said Tuesday in a White House meeting with pharmaceutical executives that he would speed up drug approvals and bring down drug costs. "For Medicare, for Medicaid, we have to get the prices way down," Trump said. "We're also gonna be streamlining the process so that from your standpoint, when you have a drug, you can actually get it approved if it works instead of waiting for many, many years." Trump's comments marked the latest in a series of pushes to help businesses by cutting federal regulations.
6. Ex-U.N. chief Ban Ki-moon decides against running for South Korean presidency
Former United Nations leader Ban Ki-moon has decided not to run in an election expected later this year to replace President Park Geun-hye, who was impeached in December over a corruption scandal. Ban returned to South Korea last month, calling for political reform, but said Wednesday that he had been "very disappointed by some politicians' obsolete and marrow-minded" views, so he "decided that siding with them is meaningless." His decision made Moon Jae-in, a key opposition figure, the clear frontrunner.
7. British lawmakers debate Brexit bill
British lawmakers are scheduled to vote Wednesday on a bill that would give Prime Minister Theresa May permission to trigger negotiations on the U.K.'s exit from the European Union by March 31. Members of the House of Commons have signaled they would approve starting the Brexit process in the Wednesday vote, although the opposition is expected to fight for amendments next week when the bill returns for the next step in the parliamentary process, the committee stage. The government had not intended to take the matter to lawmakers, believing that voters had delivered the final word by backing withdrawal from the EU in a referendum last summer. The country's Supreme Court, however, ruled that Parliament had to approve before the government could invoke Article 50 of the EU Treaty, the starting point for the two-year process.
8. Army secretary orders permit for Dakota Access pipeline, lawmakers say
Acting Secretary of the Army, Robert Speer, has ordered the Army Corps of Engineers to issue the final permit needed to complete the Dakota Access pipeline, two North Dakota lawmakers who back the project said in statements issued Tuesday night. Sen. John Hoeven and Rep. Kevin Cramer, both Republicans, said the permit would give the pipeline company, Energy Transfer Partners, an easement to run the pipeline under Lake Oahe on the edge of the Standing Rock Sioux Reservation. Hoeven said the pipeline would be "built with the necessary safety features to protect the Standing Rock Sioux Tribe and others downstream." Protesters say the pipeline threatens the local water supply and Indian sacred sites.
9. French presidential candidate under scrutiny for family payments
French anticorruption police searched offices in the lower house of parliament on Tuesday as part of an investigation into whether presidential candidate Francois Fillon used public funds to pay family members for jobs they didn't really do. A newspaper, Le Canard Enchaine, triggered the investigation with a report last week, and on Tuesday reported new details. The paper reported that the conservative Republican party candidate's daughter and son earned $91,000 from 2005 to 2007 working for him when he was a senator, and his wife, Penelope Fillon, earned more than $900,000 over a decade. She reportedly was paid as a parliamentary assistant and contributor to a magazine, but the newspaper said she did little work.
10. Westminister Dog Show adds new breeds, and cats
This year, the prestigious Westminster Kennel Club Dog Show is adding three new canine breeds, as well as a category for cats. In addition to the hypoallergenic American hairless terrier, the North African sloughi, and the ancient Hungarian pumi, cats are joining the dog show for the first time in its 140-year history. In previous years, pedigreed cats were given a separate event. "The club has maintained its traditions while expanding to accommodate an ever-changing, dog-loving public," said Westminster spokeswoman Gail Miller Bisher. More than 2,800 dogs will show at Madison Square Garden in Manhattan from Feb. 11-14.
The New York Times The Associated Press

Continue reading for free
We hope you're enjoying The Week's refreshingly open-minded journalism.
Subscribed to The Week? Register your account with the same email as your subscription.