10 things you need to know today: February 9, 2017
Jeff Sessions confirmed as attorney general, Supreme Court nominee calls Trump judiciary criticism "demoralizing," and more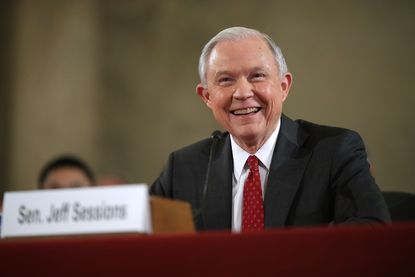 (Image credit: Getty Images)
1. Jeff Sessions confirmed as attorney general
The Senate confirmed Sen. Jeff Sessions (R-Ala.) as attorney general on Wednesday night after a contentious and racially charged debate. No Republicans defected in the 52-to-47 party-line vote, the latest example of the partisan battles over President Trump's most controversial Cabinet nominations. Sessions was confirmed a day after the GOP leadership silenced Sen. Elizabeth Warren (D-Mass.) for reading a 1986 letter by Coretta Scott King accusing Sessions of using his power as a prosecutor to "chill the free exercise of the vote by black citizens." Senate Majority Leader Mitch McConnell (R-Ky.) said Warren had violated a seldom-used rule against accusing a colleague of conduct unbecoming a senator. Several other Democrats later read the King letter and entered it into the Senate record with no objections.
2. SCOTUS nominee Gorsuch calls Trump judiciary attacks 'demoralizing'
President Trump's Supreme Court nominee, appeals court judge Neil Gorsuch, told lawmakers that Trump's attacks on judges who are considering a challenge to his immigration order were "demoralizing" and "disheartening," Sen. Richard Blumenthal (D-Conn.) said Wednesday after meeting with Gorsuch. A member of the "sherpa" team helping Gorsuch navigate the confirmation process confirmed the comments. Trump has called the jurist who halted his travel ban a "so-called judge," and said a hearing by a three-judge panel of the 9th Circuit Court of Appeals was "disgraceful" and "so political."
Subscribe to The Week
Escape your echo chamber. Get the facts behind the news, plus analysis from multiple perspectives.
SUBSCRIBE & SAVE
Sign up for The Week's Free Newsletters
From our morning news briefing to a weekly Good News Newsletter, get the best of The Week delivered directly to your inbox.
From our morning news briefing to a weekly Good News Newsletter, get the best of The Week delivered directly to your inbox.
The Washington Post The New York Times
3. Trump slams Nordstrom for dropping Ivanka Trump brand
President Trump on Wednesday criticized the Nordstrom department store chain for dropping his daughter Ivanka Trump's clothing line. "My daughter Ivanka has been treated so unfairly by @Nordstrom," the president tweeted. "She is a great person — always pushing me to do the right thing! Terrible!" Nordstrom shares briefly dropped but quickly recovered. Nordstrom said it dropped the brand due to poor sales. A social media campaign called Grab Your Wallet has called for boycotts of stores that carry Trump family products. T.J. Maxx and Marshalls on Wednesday told employees to stop displaying Ivanka Trump merchandise separately, and discard the brand's signs.
The Associated Press The New York Times
4. Yemen says U.S. ground raids not prohibited, but need approval
Officials in Yemen on Wednesday said they were conducting a "reassessment" of a Jan. 28 U.S. commando raid on a local al Qaeda affiliate. They said the government had not withdrawn permission for future U.S. commando raids, as The New York Times reported, although it will have to approve any new U.S. ground missions in advance. The raid left a U.S. service member dead. Human rights groups say as many as two dozen civilians, including an 8-year-old girl, also were killed in the crossfire during a firefight between Navy SEALs and militants. A U.S. defense official said "nothing has changed" in Yemen. Officials in the country, however, said that "the green light that the U.S. had for conducting ground missions is now red."
5. Six Afghan Red Cross workers fatally shot
Gunmen killed six Afghan staff members of the International Committee of the Red Cross on Wednesday, and abducted two others. The Red Cross convoy was attacked as the workers were distributing livestock in a remote area in northern Afghanistan where Islamic State militants operate. "This is a huge tragedy," said the ICRC's president, Peter Maurer. "We are in shock." The attack occurred a day after a suicide bomber blew himself up at the Afghan Supreme Court building in the capital city of Kabul, killing 19 people.
6. 7 Phoenix protesters arrested trying to block woman's deportation
Police arrested seven people on Wednesday after protesters tried to block U.S. Immigration and Customs Enforcement vans they feared were carrying a mother of two headed for deportation. The protest erupted after the woman, Guadalupe Garcia de Rayos, was taken into custody after appearing for a routine check-in. Dozens of activists blocked the gates at the immigration office in central Phoenix, thinking the 36-year-old woman was being sent back to Mexico. The protesters were mostly peaceful, but police said on Twitter that "despite repeated warnings, some [protesters] engaging in criminal acts" refused to cooperate.
7. Russian opposition politician convicted of fraud
Russian opposition politician Aleksei A. Navalny was convicted on fraud charges on Wednesday, disqualifying him from running for president next year. President Vladimir Putin is expected to run for re-election, and the verdict removes a Kremlin critic widely considered to be Putin's only viable rival. Navalny, who received a five-year suspended prison sentence and $8,400 fine, said he would appeal. His supporters say the charge that he embezzled $500,000 worth of timber from a state-owned company was politically motivated. "We don't recognize this verdict," Navalny said, "and it will be overturned."
8. Kenyan court blocks plan to close world's largest refugee camp
Kenya's high court on Thursday blocked a government plan to close the Dadaab refugee camp, the largest in the world. The government last year issued an order to forcibly repatriate about 260,000 Somali refugees living there. The camp was set up in 1991 to accommodate people fleeing conflict in Somalia, and some families have lived in the facility for more than two decades. The government said closing the camp was necessary for national security, as the Somalia-based al-Shabab militant group had planned attacks inside the camp, but the court said the government's plan amounted to group persecution.
9. Northeast prepares for snowstorm one day after record warm temperatures
The Northeast braced for the biggest snowstorm of this winter on Thursday, a day after record warm temperatures reached the 60s as far north as New York City. "I've never seen anything like this in my life," Mayor Bill de Blasio said Wednesday. "What feels like a summer day almost, now, and then tomorrow a blizzard. But it's going to be a blizzard and New Yorkers should get ready." New York City, Philadelphia, and Boston closed schools on Thursday as some areas expected more than a foot of snow, and more than 2,700 flights were canceled.
10. Disney to open 'Star Wars Land' theme park attraction in 2019
Disney plans to open "Star Wars Land" sections of Disneyland in California and Disney World in Florida in 2019, company CEO Bob Iger announced this week in a call with investors. The attractions will be Disney's largest ever single-themed expansion. "Star Wars Land," which was originally proposed in 2015, will take guests to "a never-before-seen planet — a remote trading port and one of the last stops before wild space — where Star Wars characters and their stories come to life." Visitors will be able to experience a battle between stormtroopers and resistance fighters, and pilot the Millennium Falcon as it comes under enemy fire.

Continue reading for free
We hope you're enjoying The Week's refreshingly open-minded journalism.
Subscribed to The Week? Register your account with the same email as your subscription.