10 things you need to know today: May 16, 2017
Trump under fire over report he revealed secret to Russians, the Supreme Court declines to review ruling against N.C. voter ID law, and more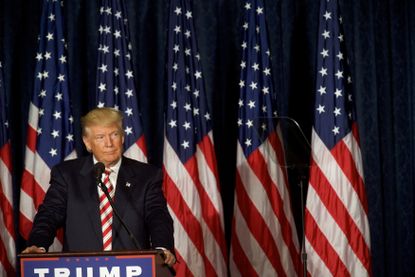 (Image credit: Mark Makela/Getty Images)
Sign up to our 10 Things You Need to Know Today newsletter
A free daily digest of the biggest news stories of the day - and the best features from our website
Thank you for signing up to TheWeek. You will receive a verification email shortly.
There was a problem. Please refresh the page and try again.
1. Reports: Trump revealed classified information to Russian diplomats
President Trump revealed highly classified information in his meeting with Russia's foreign minister, Sergey Lavrov, and Moscow's ambassador to the U.S., Sergey Kislyak, and provided details that could expose the source of the information, The Washington Post reported Monday, citing U.S. officials. The information, which the U.S. obtained through an intelligence-sharing arrangement with a partner, had to do with an Islamic State plot, and was so sensitive that the U.S. has not fully shared it with allies. Trump's national security adviser, H.R. McMaster, said he was in the meeting and Trump did not reveal any details about sources or military actions, saying, "I was in the room — it didn't happen." But on Tuesday, Trump admitted to and defended sharing "facts pertaining to terrorism and airline safety" with Russia. Critics, including Republican senators, said that by revealing the nature and location of the ISIS plot, Trump provided clues about the source. "To compromise a source is something that you just don't do," said Sen. Bob Corker (R-Tenn.).
The Washington Post The New York Times
2. Supreme Court declines to review ruling against N.C. voter ID law
The Supreme Court on Wednesday said it would not review a ruling that found a North Carolina voter ID law unconstitutional. A 4th Circuit Court of appeals panel ruled against the law in 2016, saying that Republican lawmakers had used "almost surgical precision" to limit the influence of African-American voters with the 2013 voting law. Last year, the Supreme Court — not yet at full strength after the death of Justice Antonin Scalia — split 4-4 on whether the state's law could be used in the fall elections, which meant the law remained on hold. North Carolina voters elected a Democratic governor and attorney general, who announced that they would not defend the GOP-led legislature's law in court, although Republicans wanted to keep pushing the appeal. Chief Justice John Roberts wrote that the state's new political situation affected the high court's decision, which was not a reflection on the justices' views on the case's merits.
Subscribe to The Week
Escape your echo chamber. Get the facts behind the news, plus analysis from multiple perspectives.
SUBSCRIBE & SAVE
Sign up for The Week's Free Newsletters
From our morning news briefing to a weekly Good News Newsletter, get the best of The Week delivered directly to your inbox.
From our morning news briefing to a weekly Good News Newsletter, get the best of The Week delivered directly to your inbox.
The New York Times The Washington Post
3. Cyberattack spreads as security firms find link to North Korea
A global cyberattack spread the WannaCry ransomware to thousands more computers on Monday, but there were no catastrophic disruptions like the ones reported when the attack first hit on Friday. The new breaches occurred in Asia, where most offices had shut down by the time the first wave hit at the end of last week, and the malicious software spread as people returned to work and logged in at the start of the new week. China reported that nearly 40,000 organizations, including 4,000 academic institutions, were affected. A feared second wave of copycat attacks in Europe and elsewhere did not materialize. Researchers at Google and security firms Symantec and Kaspersky Lab found similarities between WannaCry and malware created by Lazarus group, a hacking operation previously linked to North Korea.
4. France's Macron bucks tradition and picks prime minister from outside his camp
France's newly-inaugurated centrist president, Emmanuel Macron, appointed a conservative prime minister, Edouard Philippe, on Monday in a step toward fulfilling his promise to end the left vs. right politics that have dominated the nation for decades. The move, expected to broaden the appeal of Macron supporters in June legislative elections, marks the first time a modern French president has picked a prime minister from outside his own camp voluntarily, without being forced by a loss in parliamentary elections. Philippe, 46, is a moderate lawmaker from the Republicans, the center-right party, and the mayor of port city Le Havre. He joins a government that already includes politicians from the Socialist party on the left.
5. Appeals court judges question government lawyers on travel ban
Federal judges on Monday grilled Trump administration lawyers about President Trump's revised travel ban on people from six majority-Muslim countries, asking whether it discriminated against Muslims. It was the second time in a week that an appeals court had heard arguments on the policy, which courts have blocked from taking effect. Acting Solicitor General Jeffrey Wall told the three-judge panel of the 9th U.S. Circuit Court of Appeals that Trump's executive order should be revived because it falls within his authority over immigration and refugee matters. Neal Katyal, representing Hawaii, argued that Trump's campaign promise to ban Muslims from entering the U.S. indicated that his intention was to discriminate against a specific religious group.
6. U.S. says Syria burns bodies to hide executions
The State Department said Monday that Syria appears to have built a large crematorium at its notorious Saydnaya Military Prison and has burned bodies for years to hide the killings of thousands of people executed there. Stuart Jones, acting assistant secretary for the Bureau of Near Eastern Affairs at the State Department, said Syria modified a building at the prison in 2013 to make the crematorium. "Although the regime's many atrocities are well documented," Jones said, "we believe that the building of a crematorium is an effort to cover up the extent of mass murders taking place in Saydnaya prison." Jones said the U.S. has information from "credible sources" indicating that Syria has been executing 50 people a day at the prison, and despite the atrocities it still has the "seemingly unconditional support of Russia."
7. Trump to meet Erdogan at White House
President Trump will meet at the White House on Tuesday with Turkish President Recep Tayyip Erdogan. The two leaders are expected to discuss a variety of key topics, including Turkey's opposition to a Trump plan to arm Kurdish fighters for an offensive to capture the Islamic State capital of Raqqa. The Kurdish YPG fighters have been America's most effective force against ISIS, but Turkey considers them terrorists allied with the outlawed Kurdistan Workers' Party (PKK). Trump and Erdogan also are expected to address Turkey's call for the U.S. to extradite a Muslim cleric, Fethullah Gulen, whom Erdogan blames for inciting a failed coup last summer. Since the coup, Turkey has arrested 47,000 people, fired 100,000 government employees suspected of following Gulen, and jailed more than 100 journalists and a dozen opposition legislators. Human rights are not expected to be on the agenda.
8. Two crew members die in New Jersey Learjet crash
A Learjet crashed into an industrial area near Teterboro Airport in Carlstadt, New Jersey, on Monday, killing the two crew members on board. The crew members were the only people on the plane, and authorities had no information in their initial investigation that anybody had been killed on the ground. The jet took off from Philadelphia International Airport, and crashed into a parking lot at the Carlstadt Department of Public Works, about a quarter mile from the airport. Witnesses said nearby buildings shook when the plane crashed, "There was nothing left," said Nicholas Hill, an employee at the county public works department. "The plane is gone."
9. Award-winning Mexican journalist murdered
An award-winning Mexican reporter, Javier Valdez, was fatally shot in the northern state of Sinaloa on Monday, the latest in a series of attacks on journalists in the country. Valdez, who covered drug trafficking and organized crime, was driving a block from his office in the state capital, Culiacan, when gunmen stopped him, pulled him from his car, and fatally shot him. He was the sixth journalist murdered in Mexico since early March. President Enrique Pena Nieto condemned the "outrageous crime" and reiterated his government's "commitment to freedom of expression and the press, fundamental for our democracy." Later in the day, the national newspaper Milenio reported that another journalist and her son had been killed by gunmen in the state of Jalisco, another area known for activity involving drug cartels.
10. Trumps plan to enroll 11-year-old Barron Trump at Maryland school
President Trump and first lady Melania Trump's 11-year-old son, Barron, will attend the private St. Andrew's Episcopal School in Potomac, Maryland, this fall. He is finishing the current school year at his old school, Columbia Grammar and Preparatory School in Manhattan's Upper West Side, then will move to Washington with his mother. "We are very excited for our son to attend St. Andrew's Episcopal School," Melania Trump said in a statement. "It is known for its diverse community and commitment to academic excellence." The Trumps will pay tuition of about $40,000 a year at St. Andrew's, which is known for its pioneering use of brain-based research to help students at all ability levels succeed.
Continue reading for free
We hope you're enjoying The Week's refreshingly open-minded journalism.
Subscribed to The Week? Register your account with the same email as your subscription.
Sign up to our 10 Things You Need to Know Today newsletter
A free daily digest of the biggest news stories of the day - and the best features from our website
Harold Maass is a contributing editor at TheWeek.com. He has been writing for The Week since the 2001 launch of the U.S. print edition. Harold has worked for a variety of news outlets, including The Miami Herald, Fox News, and ABC News. For several years, he wrote a daily round-up of financial news for The Week and Yahoo Finance. He lives in North Carolina with his wife and two sons.