10 things you need to know today: October 9, 2017
Trump administration releases hard-line immigration wish list, Pence walks out of NFL game after players kneel during anthem, and more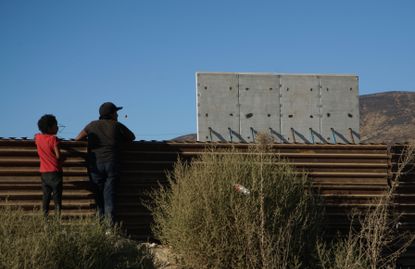 (Image credit: Sandy Huffaker/Getty Images)
1. Trump unveils tough immigration demands as conditions for a DREAMer deal
President Trump released a set of hard-line immigration principles he said must be part of any deal to protect hundreds of thousands of young undocumented immigrants, or DREAMers, from deportation. "Now is the time for Congress to adopt these immigration priorities," said Marc Short, Trump's legislative director, adding that without the changes illegal immigration "will likely increase." The wish list included funding Trump's promised Mexican-border wall, hiring 10,000 more immigration agents, and denying federal grants to so-called sanctuary cities. Senate Minority Leader Chuck Schumer (D-N.Y.) and House Minority Leader Nancy Pelosi (D-Calif.) said in a joint statement that Trump "can't be serious about a compromise or helping the DREAMers if they begin with a list that is anathema to the DREAMers."
2. Pence walks out of NFL game due to anthem protest
Vice President Mike Pence walked out of a National Football League game between the Indianapolis Colts and the San Francisco 49ers on Sunday after some of the players knelt or stood with arms locked during the national anthem to protest police violence against minorities. "I left today's Colts game because President Trump and I will not dignify any event that disrespects our soldiers, our Flag, or our National Anthem," Pence said in a statement issued by the White House. The protests were started last year by then-49ers quarterback Colin Kaepernick, but they expanded dramatically this season after President Trump sharply criticized the protests, saying team owners should fire any "son of a bitch" who refuses to stand during the anthem.
Subscribe to The Week
Escape your echo chamber. Get the facts behind the news, plus analysis from multiple perspectives.
SUBSCRIBE & SAVE
Sign up for The Week's Free Newsletters
From our morning news briefing to a weekly Good News Newsletter, get the best of The Week delivered directly to your inbox.
From our morning news briefing to a weekly Good News Newsletter, get the best of The Week delivered directly to your inbox.
3. Corker calls White House 'adult day care center' in feud with Trump
Sen. Bob Corker (R-Tenn.) on Sunday called the White House "an adult day care center" in an open clash with President Trump. Corker's tweet followed a flurry of tweets in which Trump said the Republican chairman of the Senate Foreign Relations Committee had decided to retire because he "didn't have the guts" to run for re-election next year after he "begged" for Trump's endorsement but didn't get it. Corker also told The New York Times that Trump is making reckless threats to other countries that could put the U.S. "on the path to World War III." Several days ago, Corker said several key Trump advisers were keeping "our country from chaos."
The Washington Post The New York Times
4. Anti-secession protesters in Barcelona say 'Catalonia is Spain'
Thousands of people rallied in Barcelona on Sunday against the regional Catalan government's push for independence from Spain. "Don't be fooled, Catalonia is Spain," demonstrators chanted. It was the largest pro-unity rally since Catalan leaders defied efforts by the Spanish government to block a referendum last week in which 90 percent of voters in Catalonia voted in favor of secession. Spanish Prime Minister Mariano Rajoy has vowed not to allow Catalonia to break away. Several large businesses, including Catalonia's top two banks, have said they planned to relocate to other cities in Spain to avoid being excluded from the European Union and its common market if Catalonia breaks away.
5. NRA says legislation not necessary to curb 'bump stock' sales
The National Rifle Association's executive vice president and chief executive, Wayne LaPierre, said Sunday that the gun-rights lobbying group would oppose legislation flatly banning "bump stocks," devices police say the Las Vegas attacker used to make semi-automatic rifles fire nearly as rapidly as fully-automatic ones. LaPierre and another NRA leader released a statement on Thursday saying that "additional restrictions" should be considered on accessories that increase semi-automatic rifles' firing rate, but on Sunday he said the Bureau of Alcohol, Tobacco, and Firearms could handle it by reversing an Obama-era ruling that said the devices were legal. "I think you want to tell ATF to do its job," he said. Democrats have proposed a ban on "bump stocks."
6. U.S. suspends most visa services in Turkey after official's arrest
The U.S. diplomatic mission in Turkey said Sunday it was suspending visa services after an American consulate employee in Istanbul was arrested on charges of links to a cleric blamed for a failed coup attempt last year. Turkey's embassy in Washington responded by saying it was suspending visa services, too. The U.S. mission in Ankara said the accusations against the American worker were baseless, and said it had to "reassess the commitment of government of Turkey to the security of U.S. mission and personnel." Turkey has futilely demanded that the U.S. extradite the cleric, Fethullah Gulen, to face charges in connection with the July 2016 coup attempt, which left more than 240 people dead.
7. Weakening storm Nate heads inland
The remnants of Hurricane Nate pushed north through Alabama toward Georgia on Sunday, dumping heavy rains inland as its winds quickly diminished. The storm was downgraded to a tropical depression shortly after it made two landfalls as a Category 1 hurricane on the Gulf Coast, first in southeastern Louisiana and then in Mississippi outside Biloxi. Nate was the first hurricane to come ashore in Mississippi since Katrina in 2005. It caused flooding and power outages on the Gulf Coast as it passed through, but no deaths or injuries were immediately reported.
8. 12 Rohingya Muslims die when refugee boat capsizes near Bangladesh
At least 12 Rohingya Muslims, including five children, died Monday when their boat capsized as they were fleeing Myanmar. As many as 35 people were in the overcrowded vessel when it tipped over off the shore of Bangladesh, police said. At least eight of the refugees on board survived. Search and rescue crews were looking for the other passengers. Hundreds of thousands of Rohingya have left Myanmar since Aug. 25, when the military there started cracking down after an attack by insurgents that left several police officers and border guards dead. At least 155 have died in boat accidents trying to reach Bangladesh. The United Nations has accused the Myanmar military of "ethnic cleansing."
9. Kim Jong Un promotes his sister in latest move to solidify family's power
North Korea's ruling Workers' Party promoted the younger sister of the communist regime's leader, Kim Jong Un, at a key weekend meeting, in the latest move to boost his family's power. The combative leader's sister, Kim Yo Jong, was named to the powerful party political bureau. The watchdog group NK Leadership Watch said she is a close aide of Kim Jong Un's, "and since his accession manages his public events, itineraries, and logistical needs, among other tasks." Her profile has been rising since she was made deputy director of the Propaganda and Agitation Department of the Workers' Party in 2014. Like most members of the Kim family, not much beyond her official title is known about Kim Yo Jong.
10. Harvey Weinstein's company fires him over sexual harassment scandal
Hollywood movie mogul Harvey Weinstein has been forced out of his own independent film company as sexual harassment allegations against him expand. The Weinstein Company's board voted to remove him and transfer control of the studio to his brother, Bob Weinstein, and chief operating officer David Glasser, the company's board said Sunday. "In light of new information about misconduct by Harvey Weinstein that has emerged in the past few days, the directors of The Weinstein Company — Robert Weinstein, Lance Maerov, Richard Koenigsberg, and Tarak Ben Ammar — have determined, and have informed Harvey Weinstein, that his employment with The Weinstein Company is terminated, effective immediately," the board said. The scandal erupted with a New York Times report on legal settlements of sexual harassment complaints spanning decades.

Continue reading for free
We hope you're enjoying The Week's refreshingly open-minded journalism.
Subscribed to The Week? Register your account with the same email as your subscription.