10 things you need to know today: December 3, 2017
Trump tweet on Flynn suggests obstruction of justice, Trump deflects obstruction of justice accusations with Comey attacks, and more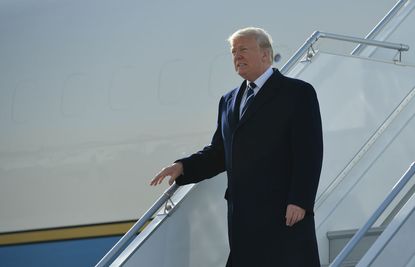 (Image credit: Mandel Ngan/Getty Images)
1. Trump tweet on Flynn suggests obstruction of justice
Saturday morning, President Trump tweeted that he "had to fire" former National Security Adviser Michael Flynn "because he lied to the Vice President and the FBI," a comment The Washington Post reported, citing unnamed sources, was written by Trump's personal lawyer, John Dowd. While Dowd said the tweet "simply paraphrases what [White House lawyer] Ty Cobb said" about Flynn's guilty plea, critics argue it says much more. When Trump fired Flynn on Feb. 13, he only mentioned lies to Vice President Pence, ostensibly learning of the lies to the FBI three days later. If Trump knew about the FBI lies when Flynn was fired, his alleged Feb. 14 request that then-FBI Director James Comey let the Flynn investigation go could be obstruction of justice.
2. Trump deflects obstruction of justice accusations with Comey attacks
President Trump on Sunday responded to accusations that one of his Saturday tweets inadvertently admitted to obstruction of justice by indicating he knew former National Security Adviser Michael Flynn had lied to the FBI at the time he allegedly asked former FBI Director James Comey to drop his Flynn investigation. Trump's response was to post additional tweets attacking Comey and denying his account of the "let this go" conversation about the Flynn probe. Trump said he "never asked Comey to stop investigating Flynn" and that Comey's leadership left the FBI's reputation in "Tatters - worst in History!"
Subscribe to The Week
Escape your echo chamber. Get the facts behind the news, plus analysis from multiple perspectives.
SUBSCRIBE & SAVE
Sign up for The Week's Free Newsletters
From our morning news briefing to a weekly Good News Newsletter, get the best of The Week delivered directly to your inbox.
From our morning news briefing to a weekly Good News Newsletter, get the best of The Week delivered directly to your inbox.
3. Mueller fired FBI agent from Russia probe over anti-Trump texts
Special Counsel Robert Mueller removed FBI agent Peter Strzok, deputy head of the agency's counter-intelligence team, from his investigation into alleged Trump campaign involvement in Russian election meddling efforts after Strzok was caught exchanging anti-Trump text messages with a colleague. President Trump tweeted and retweeted repeatedly on the news Sunday morning, arguing that because Strzok was central to the probe into former Secretary of State Hillary Clinton's use of a private email server, "it all starts to make sense" that Clinton was not prosecuted.
The New York Times The Washington Post
4. Trump celebrates suspension of ABC reporter Brian Ross, proposes lawsuits
ABC News on Saturday suspended investigative reporter Brian Ross for four weeks without pay because of a report in which he made a "serious error" about former National Security Adviser Michael Flynn. Ross reported that President Trump directed Flynn to make contact with the Russian government while he was still a candidate; he later corrected the story to indicate Trump gave the order as president-elect, a significant difference for the investigation into whether Trump's campaign colluded with Moscow to sway the vote. Before the correction, the stock market temporarily plunged. Trump issued two tweets on the subject, the first praising ABC for the suspension, and the second on Sunday proposing that anyone who lost money during the market dip should sue ABC for millions.
5. McMaster says potential for war with North Korea is 'increasing every day'
National Security Adviser H.R. McMaster said Saturday the risk of war between the United States and North Korea is "increasing every day." McMaster was speaking at the Reagan National Defense Forum in California, where he argued Pyongyang is "the greatest immediate threat to the United States" and "we are in a race to be able to solve this problem." He did concede there are "ways to address this problem short of armed conflict," but said there is "not much time left" for those options because of North Korea's technological progress.
6. Trump suggests openness to higher corporate tax rate
After Senate Republicans passed their version of the GOP tax reform plan Saturday, President Trump in comments to reporters indicated he is open to a higher corporate tax rate than he previously promised. "Business tax all the way down from 35 percent to 20 percent," he said. "It could be 22 percent when it comes out but it could also be 20 percent. We'll see what ultimately comes out." Trump committed to 15 percent on the campaign trail, but then said 20 percent was his "red line." Senate Majority Leader Mitch McConnell (R-Ky.) said Saturday he has the votes for 20 percent, but not 22 percent.
The Washington Post Business Insider
7. Moore-Jones Senate race heads toward photo finish
The Alabama Senate race between Roy Moore, the Republican judge accused by multiple women of sexual assault and other misconduct toward girls as young as 14, and Doug Jones, his Democratic rival, is heading toward a photo finish, new poll results released Saturday show. The Washington Post-Schar School survey puts Jones three points ahead at 50 percent support to Moore's 47 percent, a lead inside the poll's 4.5 percent margin of error. Answers show about three in four Alabamians are following the race closely, and the same proportion of registered voters say they are certain or likely to make it to the voting booth on Election Day.
8. Body discovered likely belongs to missing 3-year-old girl
Law enforcement in North Carolina believe they have found the body of Mariah Woods, a 3-year-old girl who has been missing for nearly a week. The discovery was made by a diving team after a major search effort that included sorting through some 95,000 pounds of trash in a nearby landfill. Earl Kimrey, the live-in boyfriend of Woods' mother, has been arrested and charged with concealing of death, obstruction of justice, and more in connection to Woods' death. Warrants specify he is believed to have "secretly disposed of the dead child's body."
9. Former Stanford swimmer appeals sexual assault conviction
Former Stanford University swimmer Brock Turner, who was convicted last year of sexual assault for attacking an unconscious woman after a fraternity party, has filed an appeal asking for a new trial to overturn his conviction. Turner's legal team claims the first trial was marred by "a detailed and lengthy set of lies" and did not include enough positive character testimony about Turner. Around 60 pages of the appeal "focuses on how heavily intoxicated the victim" was during the attack, The New York Times reports. Turner's case drew national attention because of the lenient sentence he received.
NBC Bay Area The New York Times
10. College football playoff selections coming Sunday
The announcement of which four teams will compete in this year's college football playoffs is coming Sunday around 12 p.m. Eastern live on ESPN. The Clemson Tigers have likely secured top seed with a 12-1 season, and teams including the Oklahoma Sooners, the Georgia Bulldogs, the Ohio State Buckeyes, and the Alabama Crimson Tide are vying for the remaining spots. "Our charge is very simple," said selection committee chair Kirby Hocutt on Saturday: "to come in and select the four very best teams for selection into the semifinals for the playoff, and that's what we'll do."

Continue reading for free
We hope you're enjoying The Week's refreshingly open-minded journalism.
Subscribed to The Week? Register your account with the same email as your subscription.