10 things you need to know today: December 19, 2017
GOP tax overhaul heads to a vote, three die after speeding Amtrak train derails in Washington state, and more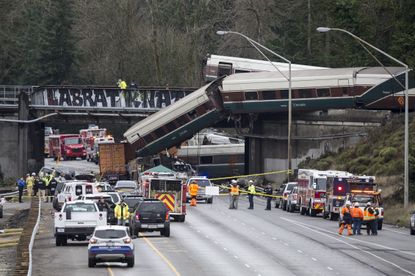 (Image credit: Stephen Brashear/Getty Images)
1. GOP makes final push to pass tax overhaul
Republicans launch the final push to pass their tax overhaul on Tuesday with a vote in the House. The Senate is expected to follow by late Tuesday or Wednesday, with both votes expected to be along party lines. With a narrow 52-48 GOP majority in the Senate, the plan, which includes big tax cuts for corporations and the wealthiest Americans, appeared to be headed for trouble, but last-minute negotiations won over holdouts, including Sens. Marco Rubio (R-Fla.), Bob Corker (R-Tenn.), Susan Collins (R-Maine), and Mike Lee (R-Utah). The legislation is the biggest reworking of the federal tax code in three decades. It permanently cuts the tax rate for corporations from 35 percent to 21 percent and reduces the top rate for the wealthy, with more modest reductions for others. The legislation adds $1.46 trillion to deficits over a decade.
2. 3 die after speeding Amtrak train derails in Washington state
An Amtrak train on Monday jump off tracks south of Tacoma, Washington, sending several cars off an overpass onto a highway below, and killing at least three people. The National Transportation Safety Board said the train was going 80 mph in a 30 mph zone. It was making its first run on a new high-speed route between Seattle and Portland. The fallen railcars crushed two vehicles on the highway. More than 70 people were injured. The train was carrying 80 passengers and five crew members, and 13 of its 14 cars jumped the tracks. Firefighters used ladders, air chisels, jaws of life, and other equipment to rescue train passengers.
Subscribe to The Week
Escape your echo chamber. Get the facts behind the news, plus analysis from multiple perspectives.
SUBSCRIBE & SAVE
Sign up for The Week's Free Newsletters
From our morning news briefing to a weekly Good News Newsletter, get the best of The Week delivered directly to your inbox.
From our morning news briefing to a weekly Good News Newsletter, get the best of The Week delivered directly to your inbox.
The Seattle Times The Associated Press
3. Puerto Rico to reassess Hurricane Maria death toll
Puerto Rico Gov. Ricardo Rosselló on Monday ordered a review of all deaths on the island since Hurricane Maria as evidence mounts suggesting authorities undercounted the number of people who have died due to the Sept. 20 storm. Maria knocked out power to the entire island, leaving hospitals and clinics without electricity. Parts of the U.S. Caribbean territory are still in the dark three months later. The official death count is 64, but two reviews by journalists found about 1,000 more deaths than usual on the island in the 42 days immediately following the storm. Rosselló acknowledged the toll "may be higher" than the certified count, which the government previously defended. "This is about more than numbers, these are lives," Rosselló said.
4. Appeals judge announces retirement after allegations of sexual misconduct
Prominent federal appeals court Judge Alex Kozinski announced Monday that he was retiring because he could not be "an effective judge" while facing more than a dozen allegations of sexual misconduct. Kozinski, a conservative Reagan appointee, was accused of showing clerks pornography and improperly touching women. He also allegedly kept a chart detailing his college sexual partners. Two of his four law clerks resigned last week as attention to the case spread online. The 9th Circuit Court of Appeals called for an investigation, although it had not begun before Kozinksi's abrupt resignation.
5. Trump unveils security strategy presenting China and Russia as rivals
President Trump unveiled a new national security strategy on Monday, presenting China and Russia as rivals seeking to "challenge American power, influence, and interests, [and] attempting to erode American security and prosperity." Trump's policy statement additionally reflects the America First themes of his campaign, reversing Obama-era warnings about climate change, and emphasizing the economic implications of U.S. foreign policy. In comments Monday, Trump called the strategy "principled realism" and explained: "To succeed we must integrate every dimension of our national strength and we must compete with every instrument of our national power."
The Washington Post The Associated Press
6. Trump judicial nominee withdraws after video of harsh questioning
The White House said Monday that Matthew Spencer Petersen, one of President Trump's judicial nominees, has withdrawn from consideration after enduring brutal questioning by Republican Sen. John Kennedy (La.) during his confirmation hearing last week. Asked highly specific questions about his experience, Petersen struggled to answer basic legal questions. He had been nominated to be a district judge for the U.S. District Court for the District of Columbia. In a letter to Trump, Petersen wrote that he was withdrawing from consideration because he felt he had become "a distraction." Petersen is Trump's third failed judicial nominee, after the nominations of Brett Talley and Jeff Mateer also stalled.
7. Trump administration blames North Korea for 'WannaCry' cyberattack
The Trump administration has publicly blamed North Korea for the so-called WannaCry cyberattack that targeted major corporations, hospitals, and other institutions around the world last year. In an op-ed published in The Wall Street Journal on Monday night, President Trump's Homeland Security Adviser Tom Bossert said the attack was "widespread and cost billions, and North Korea is directly responsible. North Korea has acted especially badly, largely unchecked, for more than a decade, and its malicious behavior is growing more egregious. WannaCry was indiscriminately reckless." The announcement is seen as an attempt to hold North Korea publicly accountable as its hacking and nuclear weapons capabilities pose a rising threat to the U.S. and its allies.
8. Charlottesville police chief abruptly resigns
Charlottesville Police Chief Alfred Thomas resigned on Monday, just over two weeks after the release of a report that criticized his department's handling of the August white supremacist rally that erupted into violence and left a counter-protestor dead. The report, prepared by a former U.S. attorney, Timothy Heaphy, said Charlottesville police were unprepared for the clashes between white supremacists and counter-protestors, with "disastrous results." Thomas, an Air Force veteran, started the job as police chief in May 2016, and was the first African American to serve in the position. "I will be forever grateful for having had the opportunity to protect and serve a community I love so dearly," he said.
9. Senate panel investigating Jill Stein for possible Russia collusion
The Senate Intelligence Committee is investigating Jill Stein's Green Party presidential campaign for possible collusion in Russia's effort to influence last year's election. Senate Intelligence Committee Chairman Richard Burr (R-N.C.) said his panel has "two other campaigns that we're just starting on," in addition to its ongoing look at ties between the Trump administration and the Kremlin. Stein attended a 2015 Moscow dinner where she and President Trump's former national security adviser, Michael Flynn, were photographed at a table with Russian President Vladimir Putin. Burr previously indicated that his committee was investigating reports that the Democratic National Committee and the Hillary Clinton campaign paid for research that contributed to a dossier with largely unverified allegations that Moscow has dirt it could use against Trump.
10. Twitter suspends white nationalists' accounts
Twitter on Monday suspended the accounts of several well-known white nationalists in a bid to weed out abusive content. One of the first accounts cut off was that of the far-right group Britain First, which frequently posted anti-Muslim posts. President Trump sparked a controversy last month when he retweeted a post by one of the group's leaders, Jayda Fransen. The accounts of Fransen and another Britain First leader, Paul Golding, also were suspended. Civil rights groups praised Twitter. Jonathan Greenblatt, CEO of the Anti-Defamation League, said the microblogging service had taken "significant steps to tackle hate on their platform." The group Muslim Advocates also praised Twitter for removing "violent and hateful accounts."

Continue reading for free
We hope you're enjoying The Week's refreshingly open-minded journalism.
Subscribed to The Week? Register your account with the same email as your subscription.