10 things you need to know today: December 30, 2017
Iran warns against 'illegal gatherings' to protest corruption, North Korea says don't 'expect any change' in nuclear policy in 2018, and more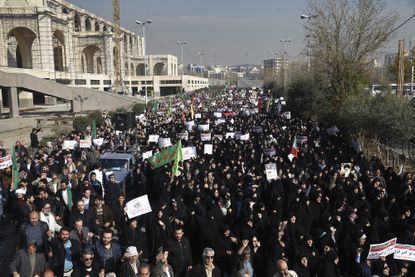 (Image credit: Ebrahim Noroozi/The Associated Press)
1. Iran warns against 'illegal gatherings' to protest corruption
Scores of people were arrested at rallies in multiple cities across Iran Thursday and Friday. The demonstrations reportedly varied in size from dozens to thousands of protesters objecting to government corruption, rising prices, and lowered standards of living. On Saturday, about 2,000 pro-government demonstrators gathered in Tehran in a pre-scheduled event which received considerably more attention on state-run media outlets, and Iran's interior minister warned citizens "not to participate in" the "illegal gatherings" criticizing the government. In a tweeted comment Friday night, President Trump told Tehran to "respect their people's rights" because the "world is watching." The White House and State Department issued similar statements.
2. North Korea says don't 'expect any change' in nuclear policy in 2018
North Korea issued a report via state-run media Saturday warning the United States against expecting "any change" in Pyongyang's nuclear policy next year. North Korea's "entity as an invincible power can neither be undermined nor be stamped out," the statement said with typical bombast, adding that North Korea, "as a responsible nuclear weapons state, will lead the trend of history to the only road of independence and justice, weathering all tempests on this planet." The report included a timeline of nuclear advancements Pyongyang claims to have made in 2017, including alleged ability to strike the U.S. mainland. Defense Secretary James Mattis does not believe Pyongyang has that capability.
Subscribe to The Week
Escape your echo chamber. Get the facts behind the news, plus analysis from multiple perspectives.
SUBSCRIBE & SAVE
Sign up for The Week's Free Newsletters
From our morning news briefing to a weekly Good News Newsletter, get the best of The Week delivered directly to your inbox.
From our morning news briefing to a weekly Good News Newsletter, get the best of The Week delivered directly to your inbox.
3. Child playing with stove sparked deadly Bronx fire
A three-year-old boy playing with his family's gas stove is believed to have started a four-alarm fire in the Bronx on Thursday that left 12 people dead and four others with critical injuries. "He had a history of playing with the burners," New York City Fire Department Commissioner Daniel A. Nigro said Friday. About 170 firefighters worked to extinguish the blaze in the Belmont section of the Bronx, near the Bronx Zoo. The victims include a baby and several children, NBC New York reports. Speaking to reporters, Mayor Bill de Blasio called it "the worst fire tragedy we have seen in this city in at least a quarter-century."
4. State Department publishes Huma Abedin's emails
The State Department on Friday published about 2,800 work-related emails from Huma Abedin, Hillary Clinton's top aide during her tenure as secretary of state and on the campaign trail. Abedin's messages were sent from a private email address and were found on a laptop belonging to her husband, former Rep. Anthony Weiner (D-N.Y.), with whom she has filed for divorce. Weiner's computer was searched by the FBI as part of an investigation into his lewd messages sent to an underage girl, for which he is now in prison. Five of the emails include redacted classified information. Publication was prompted by a Freedom of Information Act lawsuit.
5. Russian tankers reportedly smuggled fuel to North Korea
Russian tankers have smuggled fuel into North Korea by making cargo transfers at sea on at least three occasions in the past few months, Reuters reported Friday, citing two unnamed senior security sources from Europe. If the transfers did occur, they violated United Nations' sanctions on the isolated regime. "There is no evidence that this is backed by the Russian state," one of the two sources told Reuters, "but these Russian vessels are giving a lifeline to the North Koreans." This report comes one day after news that South Korea detained a Hong Kong-registered vessel allegedly making a similar sale.
6. Police kill man targeted by 'swatting' prank
Police in Wichita, Kansas, fatally shot an unarmed father of two, Andrew Finch, during a SWAT raid now known to be instigated as part of a prank called "swatting," a hoax in which an emergency call is made to summon a SWAT team to deal with a nonexistent crisis. Officers were responding to a 911 call reporting someone had been shot in the head. When Finch, 28, opened his front door to see why emergency vehicles were outside his home, he was shot and his family arrested. "What gives the cops the right to open fire?" asked his mother, Lisa Finch, the next morning. "That cop murdered my son over a false report."
The Washington Post The Wichita Eagle
7. At least 9 dead in Cairo church attack
A local branch of the Islamic State has claimed responsibility for a Friday attack on a Coptic church in Cairo, Egypt, that killed at least nine people. The church was full for a Friday Mass when a gunman opened fire, shooting at worshippers leaving the building. He was killed by police before he could get inside. ISIS has killed more than 100 Coptic Christians in Egypt this year, targeting the minority population in a bid to gain new power as it loses territory in Iraq and Syria. President Trump issued a statement condemning the attack.
The Washington Post The New York Times
8. California workplace shooting leaves 2 dead
A gunman opened fire in a law firm's office in Long Beach, California, on Friday, killing one person and then himself. The shooter has not yet been identified, though authorities have indicated he was a former employee of this firm or perhaps of a different law firm. A third person who was shot was able to transport himself to the hospital and is not in critical condition. "The police are doing an active investigation," said Long Beach Mayor Robert Garcia. "All of us are sad and thinking about the victims and families involved."
9. Historic cold snap grips northern half of America
Some 220 million Americans are experiencing dangerously cold Arctic air that has settled over the northern half of the country, and meteorologists warn relief likely won't come for another week. New record lows include 23 below in National Mine, Michigan, and minus 36 in International Falls, Minnesota. With 110 mile per hour wind gusts at Mt. Washington in New Hampshire, the wind chill is registering at negative 89 degrees. At least two people have died in Chicago from the cold and in the Midwest, "temperature anomalies on Saturday could be as much as 30 to 35 degrees below normal," NOAA reports.
10. NYPD prepares biggest security detail ever for New Year's Eve
The New York City Police Department is preparing for every possible threat ahead of the annual New Year's Eve celebration in Times Square. The event, which last year drew 2 million revelers, will have its largest security detail ever following a number of recent terrorist attacks in the city. Police are clearing and closing all 125 parking garages in the vicinity and preparing rooftop observation and counter-sniper teams. "There are no direct credible threats to New York City," said Police Commissioner James P. O'Neill, explaining the preparations are due to "an abundance of caution."
The Associated Press The New York Times

Continue reading for free
We hope you're enjoying The Week's refreshingly open-minded journalism.
Subscribed to The Week? Register your account with the same email as your subscription.