10 things you need to know today: March 14, 2018
Trump ousts Secretary of State Rex Tillerson, Pennsylvania's special House election is deemed too close to call, and more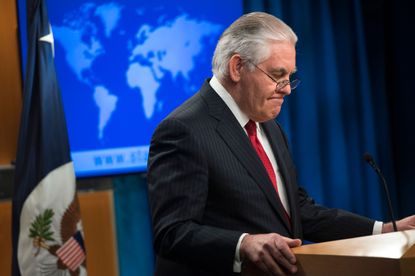 (Image credit: SAUL LOEB/AFP/Getty Images)
1. Trump fires Secretary of State Rex Tillerson
President Trump said Tuesday that he had pushed out Secretary of State Rex Tillerson and would nominate CIA Director Mike Pompeo to replace him. The move marked a major shakeup of Trump's national security team ahead of an unprecedented plan for the president to meet with North Korean leader Kim Jong Un after escalating tensions over Pyongyang's nuclear weapons program. Tensions had been bubbling up between Trump and Tillerson for months over differences on key policies, such as the Iran nuclear deal and Tillerson's push for a diplomatic approach toward North Korea. Trump is tapping Pompeo's deputy, Gina Haspel, to lead the CIA. If confirmed, Haspel would be the first-ever female director of the spy agency.
2. Democrat Conor Lamb declares victory in Pennsylvania vote deemed too close to call
Tuesday's special election to fill a House seat in a deeply conservative district remained too close to call overnight. Democrat Conor Lamb, leading by roughly 600 votes over Republican Rick Saccone with more than 1,000 absentee ballots still to be counted, declared victory early Wednesday. After being introduced as "Congressman-elect," the 33-year-old Marine veteran told supporters that voters had told him to "do your job," and added, "Mission accepted." National Republicans, fearing a stinging loss in a district President Trump won by 20 percentage points in 2016, poured $10 million into the race. Trump twice visited the district in an attempt to rally support for Saccone. "It's not over yet," Saccone told reporters.
Subscribe to The Week
Escape your echo chamber. Get the facts behind the news, plus analysis from multiple perspectives.
SUBSCRIBE & SAVE
Sign up for The Week's Free Newsletters
From our morning news briefing to a weekly Good News Newsletter, get the best of The Week delivered directly to your inbox.
From our morning news briefing to a weekly Good News Newsletter, get the best of The Week delivered directly to your inbox.
3. Trump's personal assistant abruptly fired
President Trump's personal assistant, John McEntee, was fired and escorted out of the White House on Monday for "security" reasons, according to news reports. Some outlets reported that McEntee had lost his security clearance, while others said he was under investigation for "serious financial crimes" that were not connected to Trump. McEntee reportedly is moving over to work on Trump's 2020 re-election campaign, where he will serve as a senior adviser. The news broke on a hectic day, as Trump fired Secretary of State Rex Tillerson, and Steve Goldstein, undersecretary of state for public diplomacy, was booted for giving reporters unauthorized accounts of how Tillerson learned of his own ouster.
4. Tillerson praises State Department colleagues, doesn't mention Trump
Rex Tillerson, the outgoing secretary of state who was fired by President Trump on Tuesday, reflected on his time in office during a farewell speech Tuesday afternoon. Tillerson explained that he received a call from the president "a little after noontime," meaning Trump called three hours after tweeting that he was replacing Tillerson with CIA Director Mike Pompeo. Tillerson said he would serve through the end of the month. He said he and the rest of the State Department had "exceeded the expectations" in diplomacy with North Korea, highlighted ceasefires achieved in Syria, and called for a stronger response to Russia's "troubling behavior." Tillerson notably did not thank Trump in his speech.
5. Russia threatens retaliation if U.K. imposes sanctions over ex-spy's poisoning
Russia on Tuesday threatened to retaliate if the U.K. imposes sanctions in response to a suspected nerve-agent attack in England against former Russian spy Sergei Skripal and his daughter. "Any threats will not remain unanswered," the Russian Foreign Ministry said in a statement. British investigators have concluded the poison was Novichok, which was developed by the former Soviet Union. Russian Foreign Minister Sergey Lavrov said Russia had no intention of complying with British Prime Minister Theresa May's demand for an official explanation of how the poison came to be used in an attack in southern England. May said it was "highly likely" Moscow was linked to the attack.
6. Students to stage walkout to protest gun violence
Students at more than 2,800 schools across the U.S. and as far away as Australia and Germany plan to walk out of class for 17 minutes at 10 a.m. Wednesday to protest gun violence and mark the one-month anniversary of the mass shooting at Marjory Stoneman Douglas High School in Parkland, Florida. Seventeen people were killed in that shooting, and most of the students participating will be calling for stricter gun laws. Some schools are embracing the protests, while others pledge to suspend any students who participate. Another walkout is planned for April 20, the 19th anniversary of the Columbine High School shooting, and a march in Washington on March 24. The Broward County, Florida, state attorney's office said Tuesday that prosecutors would seek the death penalty against confessed Parkland shooter Nikolas Cruz.
7. Trump feuds with Brown in California visit
President Trump made his first visit to California as president on Tuesday, and harshly criticized Gov. Jerry Brown (D) over the state's sanctuary policies on immigration, saying they "put the entire nation at risk." Trump said Brown "does a very poor job running California," and called on Congress to punish jurisdictions in the state that refuse to cooperate with federal immigration authorities. Trump also visited an area on the Mexico border to inspect prototypes for his promised border wall. Brown fired back via Twitter. "Thanks for the shout-out, @realDonaldTrump," Brown tweeted. "But bridges are still better than walls. And California remains the 6th largest economy in the world and the most prosperous state in America. #Facts."
8. Driver dies in bus crash involving high school band members
A bus carrying 40 high school band members and six adults home to Texas from Disney World plunged off Interstate 10 and down a 50-foot ravine in Alabama on Tuesday. The driver was killed and at least 37 passengers were injured. First responders had to rappel down the steep slope in the middle of the highway and cut victims free. The injured were taken to 10 hospitals in Alabama and Florida, some by ambulance and others by helicopter. Investigators said it was not immediately clear why the bus went off the road. "Some students were stuck under seats, some were on top of other students, and there's a lot of panic to get people out," student DeWayne Benson, 15, said.
9. Russian exile found dead in London
Russian exile Nikolai Glushkov was found dead at a house in London on Tuesday. Police said the cause of death was "unexplained." Glushkov was a close friend of Russian oligarch Boris Berezovsky, a noted critic of Russian President Vladimir Putin who was found dead in 2013. The Metropolitan Police counterterrorism unit took over the case "because of associations that the man is believed to have had," police said. Glushkov's death came a week after an attack with a nerve agent linked to Moscow left former Russian spy Sergei Skripal and his daughter, Yulia, in critical condition.
10. Physicist Stephen Hawking dies at 76
Stephen Hawking, the British theoretical physicist and cosmologist, has died at his home in Cambridge, a spokesman for his family announced Wednesday. He was 76. His children, Lucy, Robert, and Tim, called their father "a great scientist and an extraordinary man whose work and legacy will live on for many years." Hawking worked on black holes and quantum fluctuations. His 1988 book A Brief History of Time sold more than 10 million copies and made him a global celebrity known for his wicked sense of humor. Hawking had an early-onset form of amyotrophic lateral sclerosis (ALS) that progressed slowly, ultimately leaving him paralyzed and using a computer to speak. When he was diagnosed at 21, he expected to live only two more years.

Continue reading for free
We hope you're enjoying The Week's refreshingly open-minded journalism.
Subscribed to The Week? Register your account with the same email as your subscription.