10 things you need to know today: November 8, 2018
Trump fires Attorney General Jeff Sessions, a gunman kills at least 12 in a Southern California bar, and more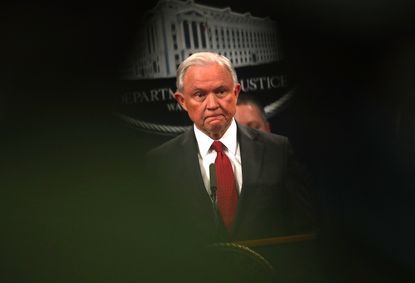 (Image credit: Photo by Justin Sullivan/Getty Images)
1. Attorney General Jeff Sessions ousted by Trump
Attorney General Jeff Sessions resigned on Wednesday, forced out by President Trump. The president, who has repeatedly and harshly criticized Sessions for recusing himself from the Russia investigation, replaced Sessions with a loyal ally, Justice Department Chief of Staff Matthew Whitaker, who has said Special Counsel Robert Mueller's investigation into Russian election meddling and possible collusion by Trump associates was "going too far." Trump announced Sessions' departure in a tweet. As acting attorney general, Whitaker takes over control of the Russia investigation from Deputy Attorney General Rod Rosenstein, casting doubt on the future of Mueller's team. House Minority Leader Nancy Pelosi tweeted that it was "impossible to read Attorney General Sessions' firing as anything other than another blatant attempt" by Trump to undermine the Russia inquiry.
2. Gunman kills 12 in Southern California bar
A gunman opened fire in a crowded Southern California bar late Wednesday, leaving at least 13 people dead, including the suspected shooter and a sheriff's deputy who responded to the scene. The Borderline Bar & Grill, a country-western dance bar in Thousand Oaks, 40 miles west of Los Angeles, was packed with hundreds of people for a college-themed night. Witnesses said the attacker, dressed in black with a large trenchcoat, threw smoke bombs and started spraying gunfire with a semi-automatic weapon. Customers scrambled for cover, some hiding in bathrooms and others breaking windows to escape. The gunman was still shooting when officers arrived and exchanged fire with the attacker.
Subscribe to The Week
Escape your echo chamber. Get the facts behind the news, plus analysis from multiple perspectives.
SUBSCRIBE & SAVE
Sign up for The Week's Free Newsletters
From our morning news briefing to a weekly Good News Newsletter, get the best of The Week delivered directly to your inbox.
From our morning news briefing to a weekly Good News Newsletter, get the best of The Week delivered directly to your inbox.
3. Trump threatens 'war-like posture' if Democrats investigate him
President Trump held a post-election media conference on Wednesday, alternating between offering to cooperate with Democrats who won the House and threatening to assume a "war-like posture" if the Democrats use their House majority's subpoena power to investigate him. Trump said "we are all better off" now that Democrats have seized control of the House from Republicans, "because the Democrats will come to us with a plan for infrastructure, a plan for health care, a plan for whatever they're looking at, and we'll negotiate." Trump said that if Democrats instead choose to focus on looking into possible corruption in his administration, "They can play that game, but we can play it better, because we have a thing called the United States Senate."
The Washington Post The New York Times
4. Obama congratulates Democrats for sending 'new blood' to Washington
Former President Barack Obama on Wednesday congratulated Democrats for "competing in places we haven't been competitive in a long time," and called for the nation to come together after Tuesday's bitterly fought midterm elections. "I'm hopeful that going forward, we'll begin a return to the values we expect in our public life — honesty, decency, compromise, and standing up for one another as Americans, not separated by our differences, but bound together by one common creed," Obama wrote in a statement. Obama also called the election of record numbers of women, minority candidates, and young veterans a promising infusion of "new energy and new blood into our democratic process."
5. Georgia gubernatorial race still contested
Georgia's gubernatorial race remained up in the air on Thursday, with Republican Brian Kemp declaring victory but Democrat Stacey Abrams refusing to concede defeat. Election workers were still counting absentee ballots, but Kemp, who as secretary of state was responsible for overseeing the election, had 50.3 percent of the vote, with a lead of 63,000 votes. If his percentage of the ballots holds, he will have enough to avoid a runoff. His office said the race was over because there were fewer than 25,000 ballots, most of them provisional ballots, remaining to be counted, not enough to change the result. Abrams' campaign scoured the state for uncounted ballots and prepared a legal challenge based on allegations of mismanagement and voter suppression.
6. Florida's tight Senate race could go to recount
Florida's Senate race remained too close to call Thursday, with Republican Gov. Rick Scott holding onto a 25,920-vote lead over Democratic Sen. Bill Nelson. That edge amounted to 0.32 percent of the 8.1 million ballots cast, and Florida law says the state must initiate a machine recount if the margin between the two candidates is half a percentage point or less. The trailing candidate can waive the right to a recount, but Nelson said, "We are proceeding to a recount." Scott spokesman Chris Hartline said Nelson was "desperately trying to hold on to something that no longer exists." Arizona's Senate race between Republican Martha McSally and Democrat Kyrsten Sinema also remained undecided, with 600,000 ballots still uncounted and McSally ahead by just 15,000 votes.
7. House leaders prepare for shift to Democrat control
With Democrats seizing control of the House in Tuesday's midterms, Republicans on Wednesday got started preparing to relinquish the House speakership and choose new leadership as House Speaker Paul Ryan (R-Wis.), prepares to leave Congress. As Democrats consider who will be speaker, with former speaker House Minority Leader Nancy Pelosi (D-Calif.) expected to return to the job, House Majority Leader Kevin McCarthy (R-Calif.) and Rep. Jim Jordan (R-Ohio) are expected to battle for the House Minority Leader post. Majority Whip Steve Scalise (R-La.) and Rep. Liz Cheney (R-Wyo.) will also seek leadership roles among the newly-shrunken Republican coalition.
Politico The Washington Examiner
8. Health insurance stocks get a boost from midterm results
Health insurance stocks rose sharply on Wednesday as investors bet that Republicans would not be able to repeal the Affordable Care Act after Democrats seized control of the House in Tuesday's midterm elections. UnitedHealth, the biggest insurer, gained 4.2 percent; Anthem rose by 6.6 percent; and HCA, the largest hospital company, jumped by 4.7 percent. The health law, commonly referred to as ObamaCare, expanded health insurance to millions of Americans, boosting the health-care industry. Cannabis companies also gained on Wednesday after several states voted to partly legalize marijuana. Shares of New Age Beverages Corp., which is expanding into cannabis products, rose by 20.1 percent. U.S. shares of Canadian companies Canopy Growth Corp., Aurora Cannabis Inc., and Cronos Group Inc. gained between 8 and 10 percent.
9. China imports beat forecasts despite U.S. tariffs
China on Thursday reported October exports and imports that exceeded forecasts despite new U.S. tariffs, rising 16 percent over the same month last year. The data came as a surprise because October was the first full month since the Trump administration escalated its trade war against China by starting to collect new tariffs on $200 billion of Chinese imports. One reason for the rise was that some exporters were rushing through U.S. orders to avoid higher future levies. Economists expect China's export growth to slow through the end of the year. China showed a $31.8 billion trade surplus with the U.S., down from a record $34.1 billion in September. China's total surplus with the U.S. so far this year reached $258 billion.
10. White House suspends credentials of CNN's Jim Acosta
The White House on Wednesday suspended CNN chief White House correspondent Jim Acosta's press credentials "until further notice," White House press secretary Sarah Huckabee Sanders said Wednesday. The decision followed after a tense exchange between Acosta and President Trump in a press conference on the results of Tuesday's midterm election. Acosta pressed Trump on several issues, including the Russia investigation and the Central American migrant "caravan" heading through Mexico, when a White House intern tried to take the microphone away, but Acosta held onto it. "You are a rude, terrible person," Trump said. White House Press Secretary Sarah Huckabee Sanders baselessly accused Acosta of "placing his hands" on the intern. Acosta said Sanders' account was "a lie."

Continue reading for free
We hope you're enjoying The Week's refreshingly open-minded journalism.
Subscribed to The Week? Register your account with the same email as your subscription.